Horner calls for Hamilton apology as Albon says he could have won in Austria without collision
You wouldn't blame Alex Albon if he was feeling a cruel sense of déjà vu after the Austrian Grand Prix, as his hopes of a maiden podium finish – or possibly even victory – were dashed, for the second time in three races, by contact with Lewis Hamilton. Contact which Red Bull boss Christian Horner believes the world champion should apologise for…
Having run steadily in the upper order all afternoon, Albon gambled with a switch to soft tyres during the second safety car period, dropping from third to fourth as the Mercedes of Valtteri Bottas and Lewis Hamilton and the Racing Point of Sergio Perez all stuck to the same rubber.
REPORT: Bottas beats Leclerc and Norris to win dramatic Austrian GP as Hamilton is penalised
It would prove an inspired call as first Albon raced past Perez - just before a third safety car interlude - and then 10 laps from home launched an attack around the outside of Hamilton into Turn 4, the Briton vulnerable from a gearbox issue.
But just as in Brazil, the duo tangled, with Albon dropping right down the order and Hamilton ultimately earning a five-second penalty for causing a collision, dropping him from second to fourth at the flag.
Afterwards, Albon was lost for words: "I'm a bit fresh right now, so I've got to be careful what I say," he sighed. "But yeah, it is what it is. I really felt like we could've won that race.
"Of course I think Mercedes had the outright pace today but the guys did a great job with strategy. Honestly when I did the pitstop I came out on track and didn't know where I was. Then as soon as it all played out it looked really strong for us, and I knew basically they were on the hard tyres and the first five laps I was going to do the overtakes..."
READ MORE: Hamilton accepts penalty for Albon clash as he admits he 'can't believe it happened again'
As for the collision, Albon felt there was no doubt Hamilton deserved a penalty, just as in Sao Paulo: "I feel like this one, I wouldn't say it hurts more but I felt like Brazil was a bit more 50/50.
"I felt like [today] I did the move already. I was kind of already focused on Bottas in front. It was so late, the contact.
"I think there's always a risk of overtaking on the outside but I gave as much space as I really could, I was on the edge. I thought if I give him as much space as I can give him, it was up to him if he wants to crash or not and yeah…"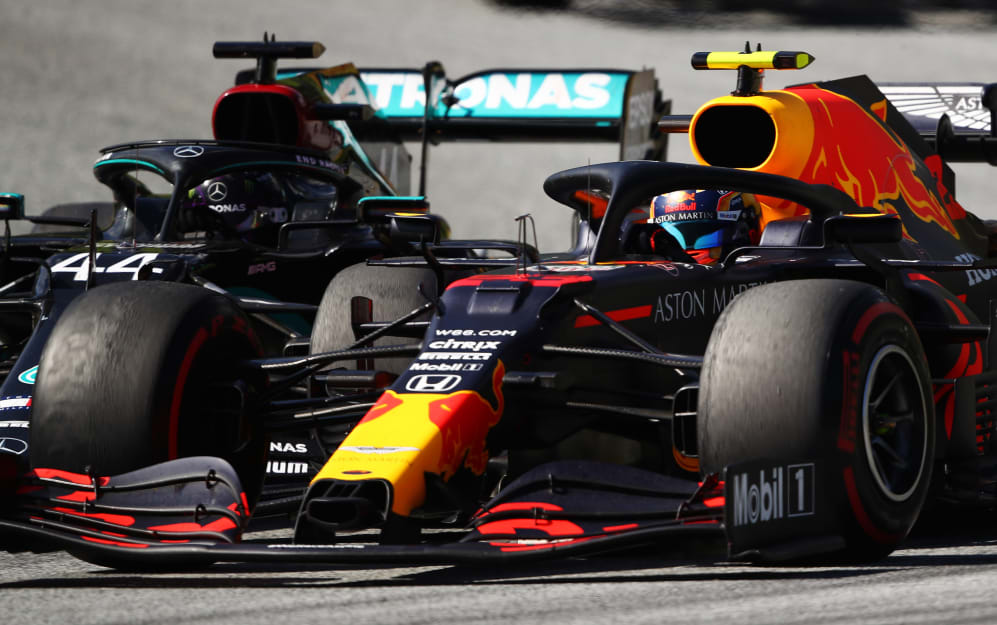 Red Bull boss Christian Horner was left to rue the missed opportunity, with Albon ultimately joining team mate Max Verstappen in retiring his car, the Dutchman having stopped with an electrical issue early on.
"It looks something on the power unit side with Alex. We don't know if that's a result of the knock that he had or the trip through the gravel. We turned the engine off as a precaution.
"This sport can be pretty brutal sometimes and it feels like today's been one of those days. Alex drove a great race, he didn't deserve that – five seconds [as a penalty for Hamilton] doesn't doesn't do anything for him. He could've won that race, we strategically made the right call, gone onto the soft tyres, he was in a strong position..."
Asked if Albon should have been more patient, Horner replied: "You can say that but he got the job done, so, the pass was made. It's not like he was on the entry so what overtake is safe at the end of the day? I doubt Lewis was ever going to wave him past.
"It was just a misjudgement by Lewis at the end of the day and it'd be good if he apologised for it."
For his part, Hamilton said he accepted the blame for the clash, and couldn't believe the duo had come together again.