Hamilton and Mercedes will take 'far-fetched' Russia penalties on the chin and move on, says Wolff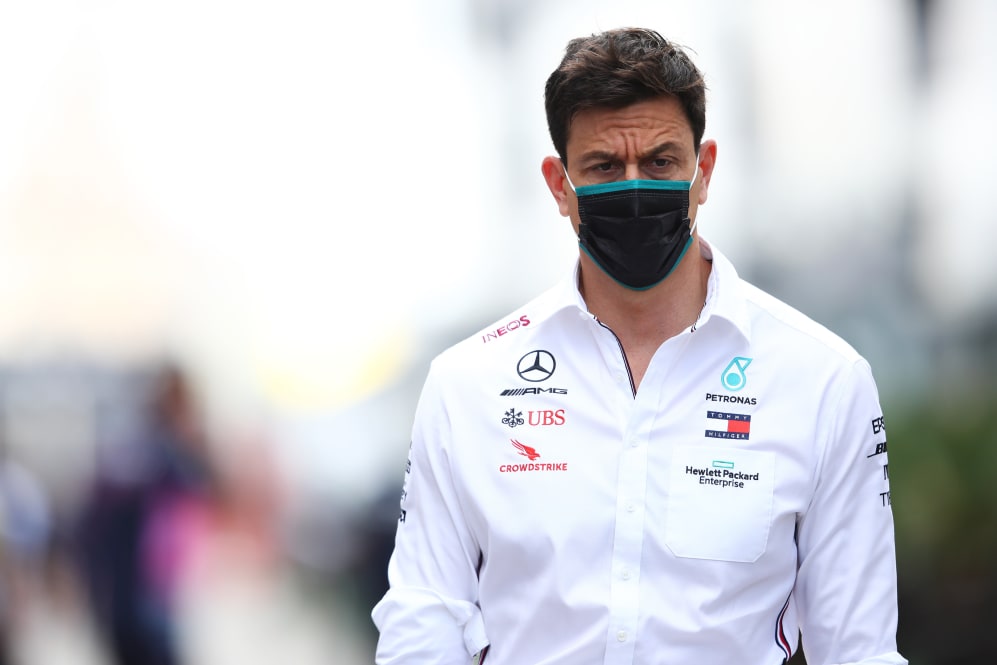 Mercedes Team Principal Toto Wolff celebrated the seventh straight Russian Grand Prix win for the Silver Arrows following Valtteri Bottas' victory at the Sochi Autodrom. But a pair of penalties for third-placed Lewis Hamilton made for a bittersweet Sunday for Mercedes, with Wolff saying that he and the stewards would "agree to disagree" about the punishment meted out to them.
Bottas' win saw Mercedes maintain their 100% win record at Sochi since the race began in 2014. But polesitter Hamilton was left angry after being handed a pair of five-second penalties during the race – which he'd serve during his sole pit stop – for two pre-race practice start infringements: Hamilton having practised his starts outside of the designated area (in the pit exit), while he also failed to maintain constant throttle in the pit exit by stopping to carry out those starts.
READ MORE: Hamilton says 'it feels like we're fighting uphill' as he lashes out at 'ridiculous' penalties
But Wolff didn't believe his driver, who was left to come home in third place after serving the penalties, had any charge to answer.
"The verdict was, he wasn't in the right places," said Wolff after the race. "The race directors' notes say, if I'm well informed, that you must do practice start after the lights on the right side of the pit lane, and that's what happened… so we agree to disagree on that one.
"The other one was not driving at constant speed in the reconnaissance laps, and there again it's debatable, but the race has happened, he received 10 [seconds' worth] of penalties, so for the reconnaissance lap infringement, an in-race penalty can be debatable. But you have to take it on the chin and move on."
READ MORE: FIA refute Hamilton's 'they are trying to stop me' suggestion after Russia penalties
Asked if he was angry about the stewards' ruling, Wolff said: "I am not happy with the penalty because it's far-fetched but we agree to disagree. I will always respect the stewards in their job, but on that one, we just agree to disagree."
Article 19 of the Race Directors' Event Notes for the Russian Grand Prix stated that:
19.1 – Practice starts may only be carried out on the right-hand side after the pit exit lights and, for the avoidance of doubt, this includes any time the pit exit is open for the race. Drivers must leave adequate room on their left for another driver to pass.
19.2 – For reasons of safety and sporting equity, cars may not stop in the fast lane at any time the pit exit is open without a justifiable reason (a practice start is not considered a justifiable reason).
READ MORE: Stewards retract penalty points handed to Hamilton for practice start infringement
But asked whether he planned to raise any appeal against the penalty – which initially included two penalty points on Hamilton's licence, before these were rescinded and altered to a €25,000 fine for Mercedes – Wolff said: "No, we won't appeal.
"Things are not always black and white and it has room for interpretation… There are rules, there are things that can be interpreted in two ways. There is common sense, there is the fact that an in-race penalty was given – actually two in-race penalties were given – for an infringement that happened before the race.
READ MORE: Who were the Winners and Losers of the 2020 Russian Grand Prix?
"There was an argument that he gained an advantage by making the [practice starts] there. I think it was not an advantage because there was no grip, so much less grip than you would have on the starting positions, but it is what it is. At the end of the day, obviously we are all emotional about that, but the emotion should be towards Valtteri, who deserved a race win since a long time, and that is fundamentally what makes me happy.
"Now we need to learn from the incident, we need to look at the procedures and the communications and as every time, we will not blame the person, we will target the problem."