Report
Hamilton eases to Styrian Grand Prix victory over Bottas as Ferraris collide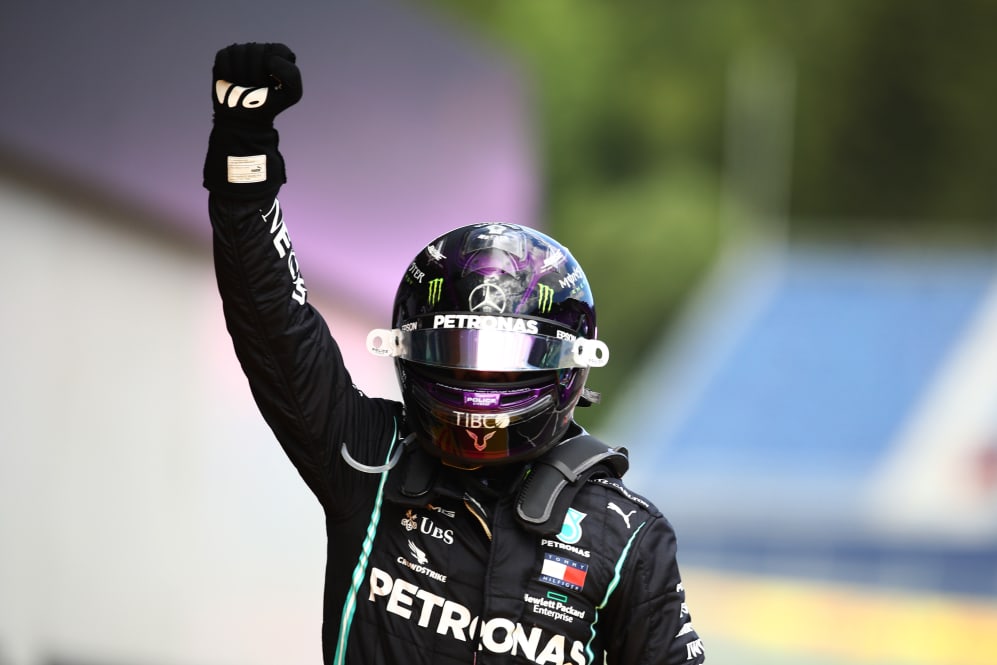 Following his sensational wet weather pole position on Saturday, Lewis Hamilton secured a comfortable victory in the Styrian Grand Prix, winning out over his Mercedes team mate Valtteri Bottas and the Red Bull of Max Verstappen – while Ferrari's Sebastian Vettel and Charles Leclerc collided on Lap 1, causing race-ending damage for both.
WATCH: Disaster for Ferrari as Vettel and Leclerc retire early after first-lap crash
Having been classified a disappointing P4 at last weekend's Austrian Grand Prix, Hamilton was strong away from the start line, before spending the race managing the gap, first to Red Bull's Verstappen then to Bottas, to secure his 85th Grand Prix win.
Despite a stern defence from Verstappen, Bottas claimed second place from the Dutchman four laps from the end, last week's Austrian Grand Prix winner limiting the damage in the drivers' championship, which the Finn still heads.
READ MORE: Styrian GP victory 'a great way to bounce back' after opening weekend struggles, says Hamilton
Behind Verstappen, an exciting finale saw the Red Bull of Alex Albon finish ahead of the McLaren of Lando Norris, Norris passing the Racing Point of Sergio Perez with one corner to go in the race after the Mexican suffered front wing damage from contact with Albon.
Perez was classified sixth, ahead of team mate Lance Stroll in seventh, with Stroll having performed a late-race pass on the Renault of Daniel Ricciardo, who finished eighth. After a frustrating day, P3 starter Carlos Sainz was ninth, taking an extra point for fastest lap, while AlphaTauri's Daniil Kvyat rounded out the top 10.
Ferrari's 2020 difficulties continued, meanwhile, with Charles Leclerc losing control of his SF1000 on the run up to Turn 3 on Lap 1 and slewing wildly into his team mate Vettel. Their contact wiped off Vettel's rear wing, with both cars forced into retirement – the second time a Leclerc/Vettel collision has caused the team a double DNF.
READ MORE: Styria Facts & Stats: Hamilton now just 6 wins shy of Schumacher record
FORMULA 1 PIRELLI GROSSER PREIS DER STEIERMARK 2020
Austria
2020
Race results
POSITION
TIME
POINTS

1

Lewis

Hamilton HAM

Mercedes

1:22:50.683

25

2

Valtteri

Bottas BOT

Mercedes

+13.719s

18

3

Max

Verstappen VER

Red Bull Racing

+33.698s

15

4

Alexander

Albon ALB

Red Bull Racing

+44.400s

12

5

Lando

Norris NOR

McLaren

+61.470s

10
AS IT HAPPENED
Hamilton was smartly away off the line at the start, as Verstappen had to defend from the fast-starting McLaren of Sainz, who got his nose ahead before a robust defence from Verstappen forced the Spaniard onto the Turn 1 run-off. Ricciardo had said ahead of the race that he was planning to be punchy – and he was true to his word, tagging the AlphaTauri of Pierre Gasly before nipping past to take P7.
As the field charged up to Turn 3, Ferrari's Sebastian Vettel was ahead of team mate Charles Leclerc, who'd started P14 and was looking to make up ground. But as the pack concertinaed, Leclerc lunged into Vettel, the kerbs launching his SF1000 into his team mate's, smashing Vettel's rear wing, and damaging Leclerc's front wing and floor.
Vettel retired that lap, while an attempt to fix Leclerc and get him back out lasted until just Lap 5, when the team retired the Monegasque too. Ferrari's woes continue, with Leclerc accepting blame from the crash and for hurting his team's chances to test their hastily fast-tracked upgrades further – while debris from the collision forced a Safety Car.
READ MORE: 'I let the team down', says Leclerc as he accepts blame for first-lap clash with Vettel
With the race getting back under way on Lap 4, qualifying star George Russell – who'd been holding his own in the early part of the race after starting P11 – undid all his hard work by running off the track at Turn 6 while battling the Haas of Kevin Magnussen, plummeting down the order and eventually finishing the race in 16th.
There was some more intra-team acrimony, meanwhile, when on Lap 17 Ricciardo – having started on mediums – was trying to find his way past his soft-shod Renault team mate Ocon, to allow him to enjoy the strategic advantage of his yellow-walled tyres.
Ocon defended robustly, though, repeating the defence a lap later, before Ricciardo eventually made it past at Turn 4 on Lap 19 – and doubtless unimpressed by his new team mate's unhelpfulness. Ocon's race would last just another seven laps, however, as he was brought into the pits to retire his R.S.20 as a precaution for a cooling issue, just as Ricciardo had been seven days previously.
Up at the front, Hamilton was managing the gap to second-placed Verstappen, eking it out to around 5s by Lap 20 of 71, while Bottas had made a key move past Sainz for P3 on Lap 6 – with Albon repeating the move on the Spaniard two laps later.
Verstappen rolled the dice on Lap 25, bolting into the pits to swap his softs for mediums and emerging P3, the team wanting to protect the Dutchman from the threat of an undercut from Bottas in third. Hamilton matched Verstappen's strategy three laps later, while Bottas stayed out on his softs until he pitted for mediums on Lap 35, emerging in P3, eight seconds off Verstappen but maintaining his advantage over Albon, who wasn't able to match the front-running pace in throughout the race.
The big movers in the early part of the race had been the two Racing Points, with Lance Stroll and Sergio Perez having worked their way up from P12 and P17 respectively to P6 and P7 by the time Stroll pitted on Lap 34.
Perez managed to make his soft tyres last until Lap 39, before taking on mediums. The Mexican emerged just in front of the McLaren of Sainz – who'd been hurt by a slow left-rear wheel nut during his stop – with Sainz DRSing past Perez on the run down to Turn 4 to briefly take P8, before Perez re-passed Sainz brilliantly around the outside of Turn 6. "Did you like that man?" Perez cooed to his race engineer after the sweetly-executed move.
READ MORE: Red Bull 'just too slow' to stop Mercedes in Austria, says Verstappen
Ten laps later and Perez had used his superior dry pace to pass the Renault of Ricciardo to move up to P5, and begin to close up to the Red Bull rear wing of Albon. With one lap to go in the race, Perez and Albon were in close quarters – and as Perez tried to a move at the exit of Turn 4, the pair touched, causing Perez front wing damage that would lead to a thrilling climax...
A few laps previously, Bottas had used his own superior pace to close up to the back of Verstappen, who was hobbled with damage to his front wing. But as Bottas breezed past Verstappen going into Turn 4, the Dutchman switched to the outside of the corner, cleverly fighting back past the Finn to maintain his advantage into Turn 6. He was merely prolonging the inevitable, however, as Bottas comfortably took over second place a lap later.
So that was the top four locked in, Hamilton winning after a supreme day at the head of the field from Bottas, Verstappen and Albon, who'd lagged behind his team mate enough during the afternoon to allow Verstappen a free pit stop two laps from the end for a failed attempt to go for the fastest lap (which eventually went to ninth-place finisher Sainz).
Fifth place, though, was far from settled. Perez held it going into the penultimate lap but had no pace thanks to his Albon-related damage. Behind on the circuit, Stroll barged past Ricciardo at Turn 3 to claim P6, but it was Norris who benefitted from the squabble, as he moved ahead of Ricciardo before sneaking past Stroll for sixth on the final tour going into Turn 4 – only to then nab fifth from the limping Perez going into the final Turn 10, the Briton executing yet another sterling drive after his maiden podium last week.
READ MORE: Norris hails 'best race in F1' after passing both Racing Points on final lap for P5
In a photo finish behind, Perez narrowly held onto sixth from Stroll and Ricciardo in seventh and eighth – with the stewards deciding after the race to take no further action on Stroll's move on Ricciardo following an investigation – while behind them, Sainz and Kvyat rounded out the top 10.
So, it's the Mercedes drivers with one win apiece in 2020 – but can any other team challenge when the action heads to the Hungaroring in a week's time?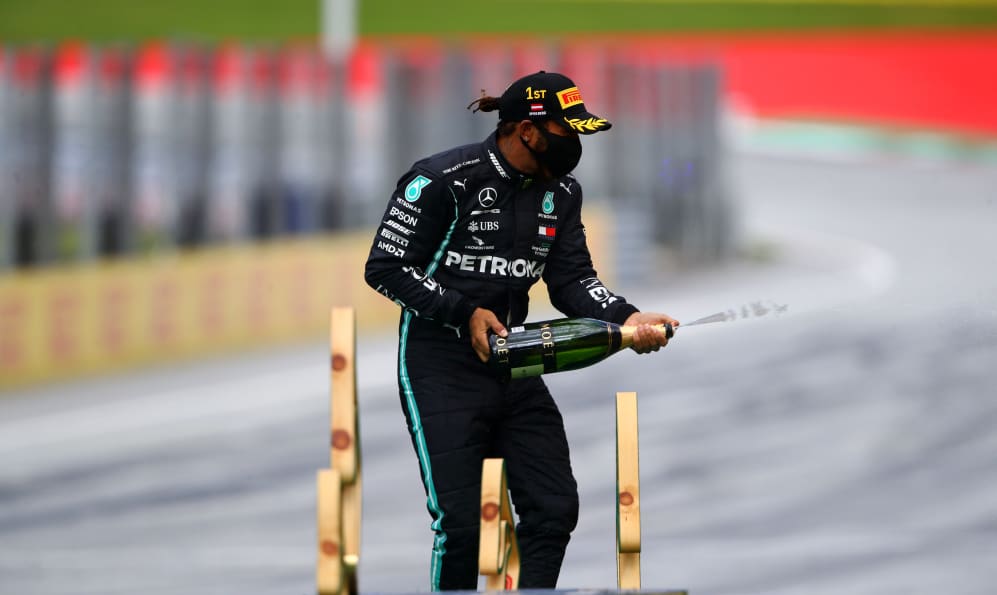 The key quote
"What a weird year it is. It's great to be back out here and to be driving and driving with this kind of performance. The team did a fantastic job with the strategy and it was just up to me to keep it together, keep off the kerbs and bring it home.
"I'm so grateful to be back in first place and honestly it feels like a long time coming since the last race last year. To come back this year after a difficult first weekend last week, this is a great step forward" – Lewis Hamilton, Mercedes
What's next?
After the two-week sojourn in the Styrian Alps, Formula 1 now decamps to Budapest and the Hungaroring for round three of the 2020 season. And with the track rewarding cars with strong downforce – compared to the Red Bull Ring, which puts a great onus on power – could we see some more upsets to the pecking order at the 2020 Hungarian Grand Prix?