Hamilton hails 'really great battle' with Alonso – but Spaniard says old rival should have passed him sooner
Two of the greats of Formula 1 sparred dramatically during the Hungarian Grand Prix, as Lewis Hamilton desperately looked for a way past his former team mate Fernando Alonso in the final laps of the race – with Hamilton praising the "very tough" driving of the Alpine racer.
Alonso had worked his way up to P4 with 10 laps of the race to go when he was caught by the fast-approaching Hamilton. The pair scrapped for several laps, as Hamilton tried and failed to execute passes at Turns 2 and 4, with Alonso positioning his car perfectly each time – only for a lock-up from Alonso on Lap 65 to ultimately allow the Mercedes driver through, with Hamilton claiming P3 as Alonso finished fifth.
READ MORE: Hamilton says he's still suffering effects of Covid as he's treated for 'fatigue and dizziness' after gruelling run to third in Hungary
"That was a really great battle," said Hamilton, who was later treated for 'fatigue and dizziness' after the race. "I knew when I was approaching him, I was like, this is going to be the hardest, because he's very, very tough, I would say probably one of the toughest drivers to overtake.
"It was very much on the limit – slightly over it at some points, but wheel to wheel racing is good, and I'm sure if I watch it back, it will just be close, and we both finished, so that's how racing should be."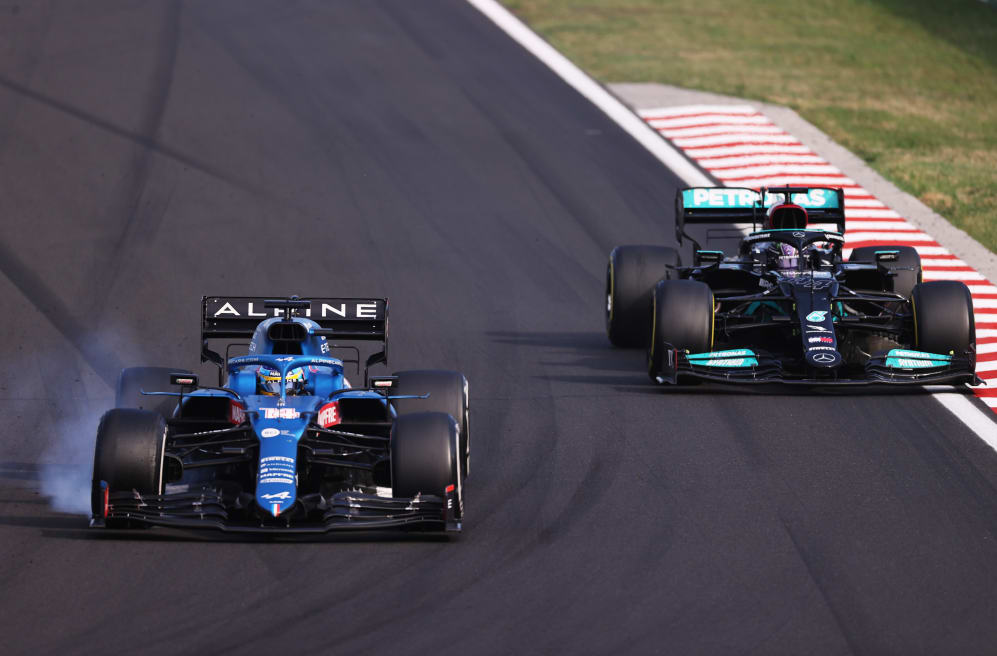 Alonso's defensive masterclass arguably helped team mate Esteban Ocon to secure his maiden Formula 1 win in the race, given that Hamilton was prevented from getting after the French driver, so long had be been held up behind Alonso.
But Alonso mischievously suggested after the race that he felt Hamilton should have passed him significantly earlier than he did.
READ MORE: Ocon thanks Alpine team mate Alonso for 'fighting like a lion' to help him to maiden win in Hungary
"Honestly, I think Lewis was making small mistakes in the last two corners – that's my honest opinion," said Alonso. "Because he had so much pace that you cannot take eight laps to pass with that pace advantage. And in fact, after changing a few lines, he got past Carlos [Sainz, for P3] immediately one lap later, so it was not difficult to pass in my opinion, but he took four or five laps to figure it out.
"I didn't know that that was enough to hold the victory for Esteban," added Alonso, "but anyway, it was 10 laps to the end, we tried to hold fourth position but eventually it was not possible. Lewis had an amazing pace in the last couple of laps."