Hamilton says he's still suffering effects of Covid as he's treated for 'fatigue and dizziness' after gruelling run to third in Hungary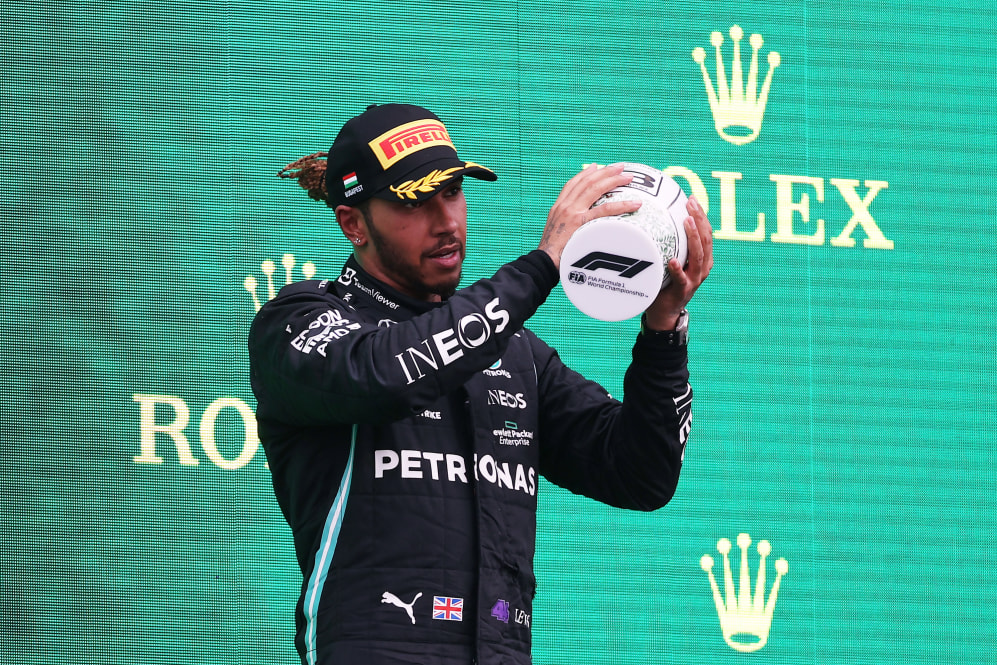 Lewis Hamilton saw his Mercedes team doctor after fighting back to second in the Hungarian Grand Prix, with his team saying he was "suffering from fatigue and mild dizziness" and Hamilton himself later revealing he'd had blurred vision while on the podium.
The reigning world champion led into Turn 1 and was clear of the pandemonium behind, which saw a multi-car collision that included his championship rival Max Verstappen and led to a red flag.
READ MORE: Ocon beats Vettel to claim shock maiden victory in action-packed Hungarian Grand Prix
But Hamilton's day turned on its head when, at the restart, he was the only driver to line up on the grid on intermediate tyres with everyone else pitting for slick tyres. Clearly on the wrong rubber, he was forced to pit the following lap under racing conditions, dropping him to last.
He then embarked on an impressive fight back, which included an intense battle with old foe Fernando Alonso, to rescue third, which became second when Vettel was disqualified.
But after completing the podium ceremony in which he looked visibly drained, Hamilton saw a team doctor, and that delayed his appearance in the TV pen and FIA press conference.
Speaking in Parc Ferme immediately after getting out of the car, Hamilton said: "It was definitely tough. We always make it difficult for ourselves and crazy to think we were the only ones on the grid at the start but these things happen and we learn from them. I gave it everything and I had nothing left at the end."
Expanding on how he felt after arriving late to the post-race press conference, Hamilton said he couldn't rule out his symptoms being caused by 'long covid', the British driver having missed a race after contracting Covid 19 late last year.
"I'm ok, had real big dizziness and everything got a bit blurry on the podium. I've been fighting all year really with staying healthy after what happened at the end of last year and it's still, it's a battle.
"I haven't spoken to anyone about it but I think [the effects of covid are] lingering. I remember the effects of when I had it and training has been different since then. The level of fatigue you get is different and it's a real challenge.
"I continue to train and prepare the best way I can. Today, who knows what it is? Maybe it's hydration, I don't know, but I've definitely not had this experience. Had something similar at Silverstone but this is way worse."
READ MORE: Verstappen laments frustrating run to P10 in Hungary after being 'taken out by a Mercedes again'
With Verstappen 10th, Hamilton reclaimed the championship lead by eight points as F1 heads into the summer break.
"We came here this weekend and we definitely didn't know how it was going to go and considering the circumstances today, I'll take it [the championship lead]," he said.