Hamilton reveals brakes were on fire before decisive pass on Bottas at Tuscan GP restart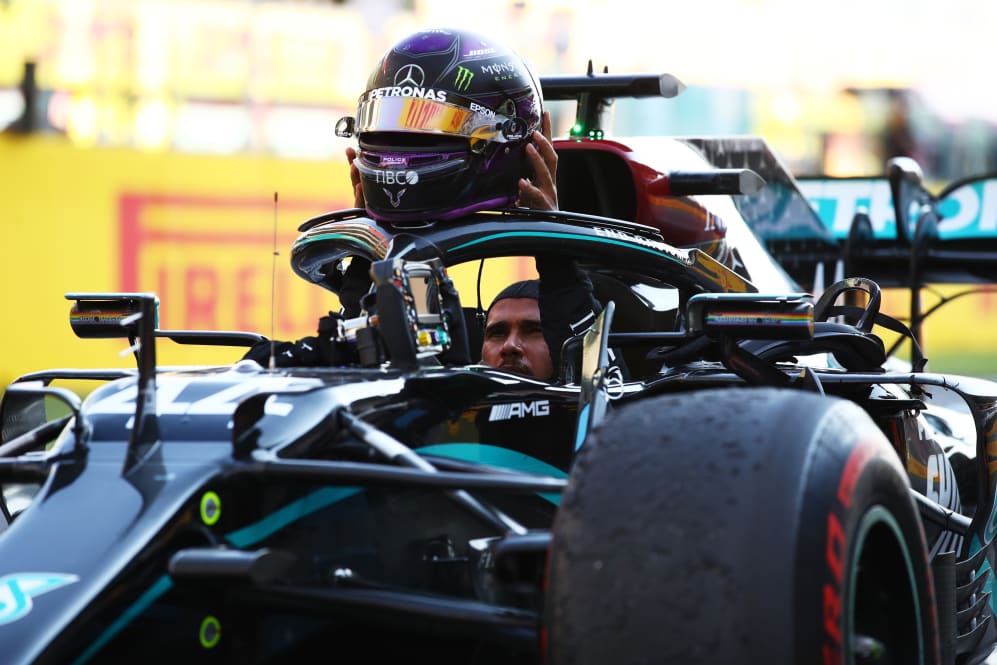 The key moment in Lewis Hamilton's defeat of Valtteri Bottas at the Tuscan Grand Prix came at the Lap 10 standing restart, as Hamilton swept around the outside of the Finn into Turn 1 to claim a lead he wouldn't relinquish. But Hamilton revealed after the race that, prior to the restart, he'd been having to deal with some brakes that were getting a little too hot for comfort…
Following the red flag stoppage period after the chaotic Lap 7 crash, onboard footage from Hamilton's Mercedes W11 showed smoke billowing out from his front brakes, particularly on the left-hand side, as he sat waiting on the grid for the race to get going again.
READ MORE: Hamilton says 'heart-racing' Tuscan GP was like 3 races in one day
But Hamilton put any worries about braking into Turn 1 to the back of his mind, as he slipstreamed his team mate off the line, before toughing it out around the outside of Bottas at the banked San Donato corner to take the lead and set himself up for his 90th win – with the six-time champion revealing after the Grand Prix just how much he'd been having to manage his brake temperatures...
"I basically had on the formation lap… a separation of my front brake temperatures by nearly two hundred degrees," said Hamilton. "So I was pushing them very hard to bring the one that was down equal. I got them up to a thousand degrees and I tried to cool them through the last corner and all the way to the start.
"I got to the grid and there was a lot of smoke coming and I was definitely worried… I think I saw a flame at one stage, which is not good, because that burns all the interior of what's in the upright. Fortunately the start… got under way relatively quickly and I didn't have a problem from there on. But it was definitely on the limit."
The Ross Brawn Column: Breathtaking Mugello more than lived up to the hype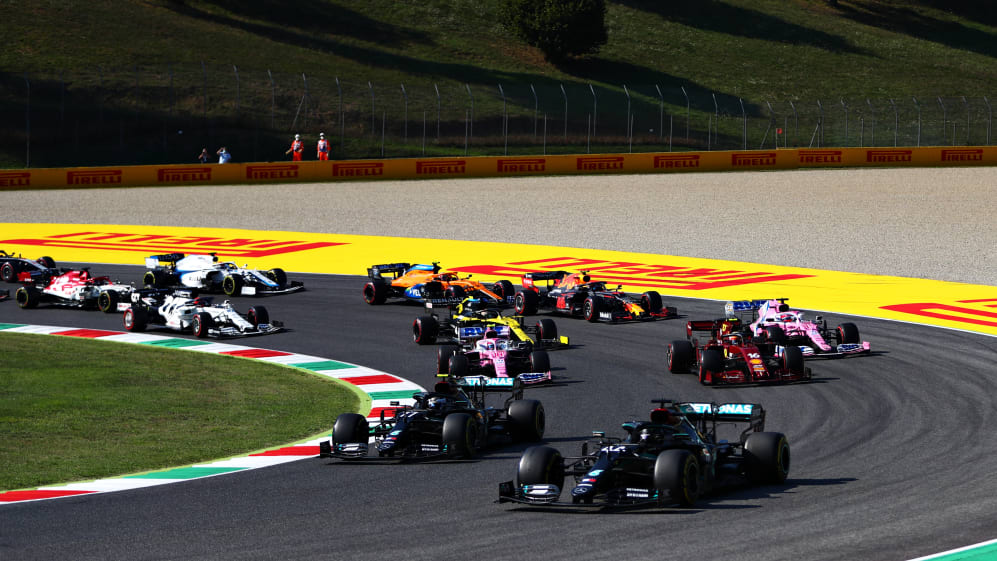 Hamilton's brakes weren't the only thing on the limit at Mugello, with drivers commenting after the Tuscan Grand Prix about how physical the race had been. But Hamilton said he'd relished the challenge of racing at the idyllic Tuscan track on Formula 1's first visit to Mugello, while refuting claims that the track had been dangerous.
"I personally love it," said Hamilton. "I don't know how it was for the racing but it was one of the toughest tracks to drive, I think, being that it's medium and high-speed.
"But it's a fantastic circuit and I don't think it was too dangerous. I think it's more old-school with the run-off areas and the gravel, so I hope they don't change that and I would love to come back."