Hamilton says 'tough' Mercedes W14 'pretty much the same' as predecessor after tricky opening day in Jeddah
After struggling on the first day of running at this weekend's Saudi Arabian Grand Prix, Lewis Hamilton labelled Mercedes' 2023 challenger, the W14, as a "tough car to drive", before also comparing it to its predecessor, the W13.
Hamilton – who earlier on Friday announced that he had split from his long-time trainer Angela Cullen – finished the second practice session down in 11th after setting the sixth quickest time earlier in the day in FP1.
DRIVER MARKET: Why Wolff is 'absolutely confident' Hamilton will extend his Mercedes contract amid silly season talk
After jumping out of the cockpit for the final time on Friday, Hamilton was asked whether the car felt better to drive in the evening session, to which he said: "Pretty much the same. A second off or whatever it was. But for me I definitely struggled in the session, I struggled in both sessions."
Mercedes have spoken openly about the need to make radical changes to their car in a search for performance. But until that happens, Hamilton says the team must continue to work with what they have, and try to find a way to make the W14 "easier to drive".
"We just continue to go into the details, try to improve the balance of the car to make it easier to drive," said Hamilton, who won the first race in Jeddah back in 2021.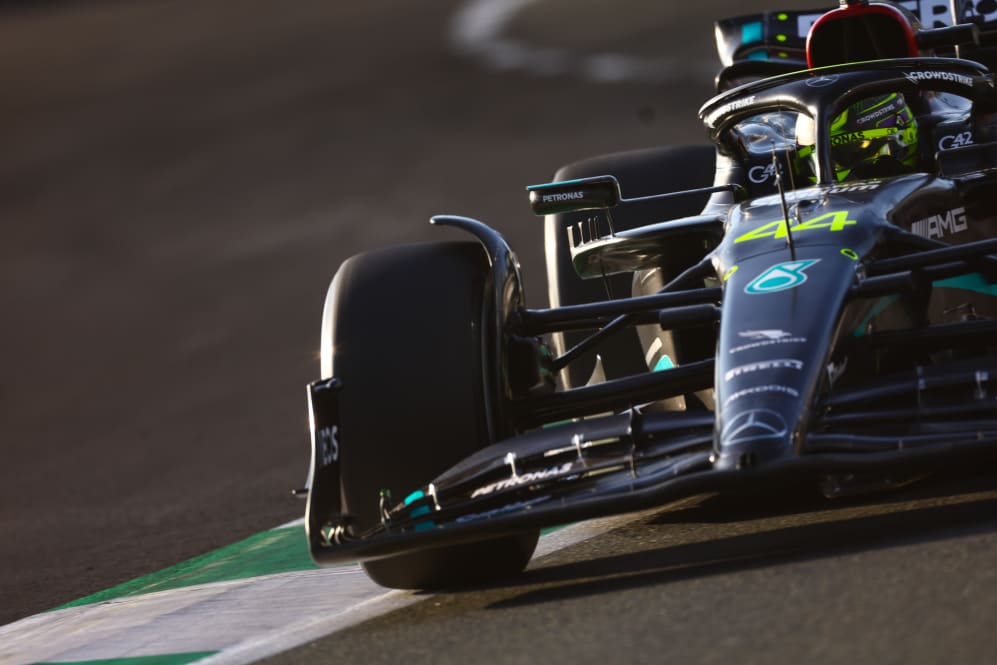 "It's just a tough car to drive. But I know everyone is working so hard back at the factory but it's just a matter of time. We just have to be patient."
Hamilton was knocked out in Q1 at last year's Saudi Arabian Grand Prix, in the W13. And when asked if the W14 felt better to drive around this circuit, the seven-time world champion replied: "Pretty much the same."
FP2: Dominant Verstappen leads Alonso at second practice session in Jeddah as track ramps up
His team mate George Russell fared much better on the opening day of running, finishing fifth fastest in both sessions, and he reflected on what had been a day of "learning" for him and his team in Jeddah.
"We need to go through it to be honest. I'm not sure what power modes everybody was running, that is always something in practice sessions," said Russell.
Russell was overheard on the radio in FP2, saying his team needed to make big changes overnight. And when asked what those might be, he replied: "I think you just can go out there and maximise the package you've got. Try and get the set-up in the sweet spot.
READ MORE: 'I will win again' – Hamilton says he maintains '100% belief' in Mercedes as seven-time champ vows to fight back with the team
"We know that we are not going to find a second overnight, as much as I would love to do that, and [with] all of the hard work everybody is putting in. But we need to try and understand [whether] the new direction we are taking as a team is the correct one."
He concluded: "That's for the guys and girls back at the factory, everybody here to unpick the data. But for me this weekend, and sort of the small group of engineers, we just go out there and try and maximise what we got."