Hamilton victory celebrations were 'disrespectful' and 'unsportsmanlike' says Verstappen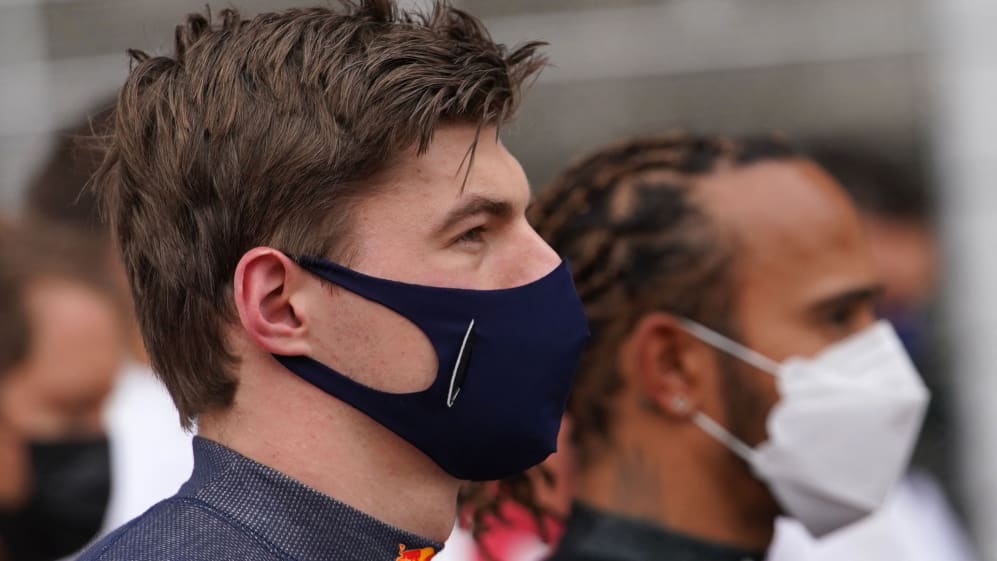 Max Verstappen says Lewis Hamilton's victory celebrations at the British Grand Prix were "disrespectful" and "unsportsmanlike" given he was still in hospital at the time, undergoing precautionary checks after their controversial lap one coming together.
Verstappen, who started on pole, ran side-by-side with his Mercedes rival down Silverstone's old pit straight before they touched going around Copse Corner, with the Red Bull pitched heavily into the barriers.
READ MORE: 'It was a desperate move' – Furious Horner hits out at Hamilton after Verstappen crash
Verstappen climbed out of the car and was taken to the medical centre before being transported to hospital for further checks. Hamilton was handed a 10-second penalty for the incident but fought his way back to secure an eighth Silverstone win.
The seven-time world champion celebrated his victory with a jubilant slowdown lap, while waving a British flag, and then exploded with emotion upon jumping out of the car, absorbing the appreciation of a delighted home crowd.
Oops! Error retrieving Twitter post
It later emerged that Hamilton - who had asked how Verstappen was during the race - was unaware the Dutchman was in hospital until some time later, while he was talking to media.
READ MORE: Hamilton says Verstappen clash 'not the way he wants to win' - but insists it doesn't take shine off win
Verstappen's first response following the crash – which Red Bull boss Christian Horner said was 51G – came via social media.
"Glad I'm ok," he tweeted. "Very disappointed with being taken out like this. The penalty given does not help us and doesn't do justice to the dangerous move Lewis made on track.
"Watching the celebrations while still in hospital is disrespectful and unsportsmanlike behaviour but we move on."
Horner was equally frustrated, describing Hamilton's move on the Dutchman as "desperate". He added it was "hollow victory" for the Mercedes driver, who is now just eight points behind Verstappen in the drivers' standings.
For his part, Hamilton said he wouldn't be bullied into being less aggressive, and that the incident did not take the shine off his victory.