Norris and Sainz delighted with P4 and P5 in Bahrain GP, as McLaren jump to third in constructors' battle
Lando Norris admitted after the Bahrain Grand Prix that no one in the McLaren camp had expected him and Carlos Sainz to take P4 and P5 in the race. But that's just what they did, with Norris spearheading the team's attack, as Sainz notched up the very first points he's ever scored at the Bahrain International Circuit, despite starting the race 15th, to move the team to third in the constructors' battle.
An underwhelming qualifying for McLaren had seen Norris take P9 on the grid, while a brake issue left Sainz a frustrated P15. But both drivers enjoyed good starts, with Norris making it up to seventh and Sainz 13th before the race was red-flagged after a horror crash for Romain Grosjean.
The stoppage allowed Norris to fix a front wing broken caused after contact with Pierre Gasly, while when the race was restarted, the McLaren pair then enjoyed fantastic pace to cross the line fourth and fifth – having both been promoted up a place after a late retirement for Sergio Perez.
READ MORE: Hamilton wins Bahrain GP interrupted by huge Grosjean crash, as Perez suffers late heartbreak
"Our day was good," said Norris, who scored his first ever career points with a P6 at the Bahrain International Circuit 20 months ago. "I guess a little bit lucky in some ways after the first start because I had some damage after having to avoid what would have been a crash. But we refocused and I did another very good start, and that set me up for a very good race.
"We had very good pace, and I knew we had that after yesterday, I just didn't show it as much as I should have done," Norris added. "I managed to show it today, and as a team, ending P4 and P5 was definitely not our expectation coming into today, so I think we can all be proud and happy of the job we've done and we kept pushing till the very end and got some more points, obviously, with the Racing Point not finishing. So it was a good day for us."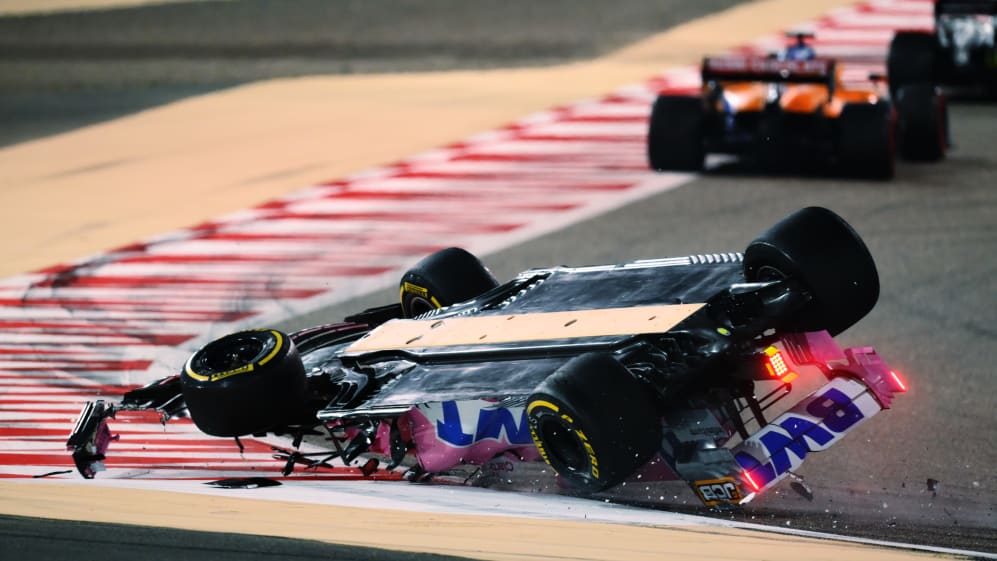 A good day indeed, with McLaren's 22-point haul – as Racing Point scored zero, with Lance Stroll having been rolled over by Daniil Kvyat at the Lap 3 race restart, before Perez's retirement compounded their misfortune – giving them P3 in the constructors' standings by a hefty 17 points from Racing Point, with two races remaining.
READ MORE: Race winner Hamilton admits it was tough to stay 'in the zone' after Grosjean crash and lengthy break
Sainz, meanwhile, had had to go on a rampage to finish behind his team mate in the race, after a brake issue had seen him fail to set a lap time in Q2 on Saturday. But it was a swashbuckling drive from the Spaniard, who'd been the only driver to start the race on the less-favoured soft tyres, ekeing out their life brilliantly as for the second race in a row, he climbed from P15 to P5 at the chequered flag – and scored his first ever points in Bahrain.
"A very good day," said Sainz, "especially with how things were looking before the race, starting 15th, all of a sudden after the first stint, I was already up to P7 after making the soft last more than the medium runners and overtaking quite a few cars in that first stint, and that set up the rest of the race to be quite a good one and I'm very, very happy, because it wasn't easy out there today."
Sainz had enjoyed a particularly tight battle with his future Ferrari team mate Charles Leclerc, meanwhile, passing him on Lap 12 of 57 – and going on to praise their tough-but-fair scrap that ultimately helped him to his fifth top-five result of the season.
"It was a good move, and it's always fun to fight Charles and these young guys because we all come a bit from the same school and I think we are giving each other just enough space and respect," said Sainz.
READ MORE: Perez says late failure 'hard to digest', but admits podium irrelevant in context of Grosjean crash
"But at the same time, we are tough with each other and racing hard with each other, which I think creates quite a good show, and happy with the moves today. Honestly, I did quite a lot! So from 15th to fifth, pretty much doing every single move on track – it was a fun race."