Hard-charging Albon revels in 'unbelievable' Red Bull pace after fighting his way to P5 finish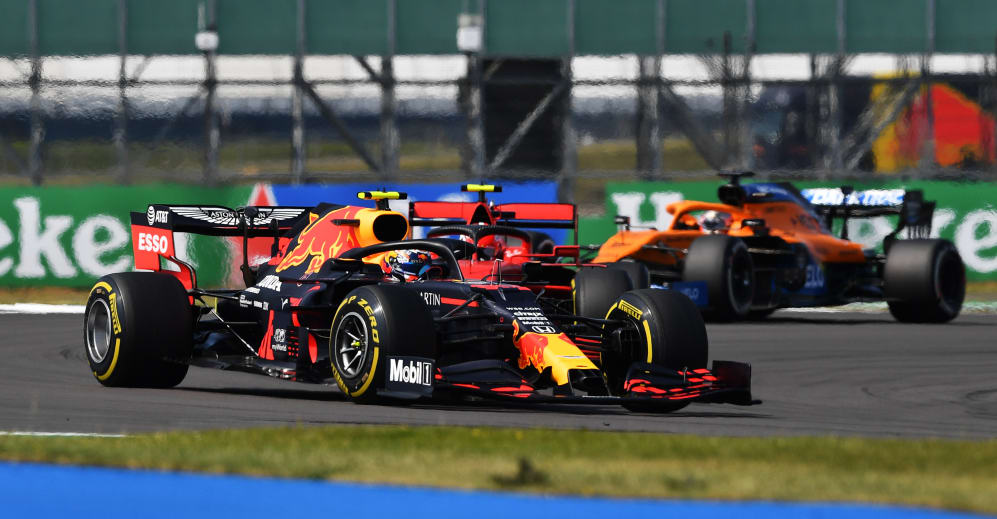 Alex Albon had it all to do after qualifying ninth for the 70th Anniversary Grand Prix but he delivered with a swashbuckling drive to P5 for Red Bull, passing the likes of Lando Norris and Pierre Gasly on his way through the midfield in a car he described as "unbelievable" on Sunday.
Having brushed off suggestions that his approach to overtaking needed a re-think after colliding with Kevin Magnussen last weekend, Albon wasted no time in working his way up the field on Sunday, and said the RB16's pace was excellent compared to qualifying on Saturday.
READ MORE: Max Verstappen defeats Mercedes duo to seal brilliant Silverstone win
"The race pace was really good, actually, to be honest the car was unbelievable today," he said after the race. "We need to understand why it was so good today compared to yesterday. It does show we have a lot of potential in the car, it's just hard to unlock it and it seems to work a bit better in races and qualifying."
He first pitted on Lap 6, earlier than anyone else, from mediums to hards, and from then on it was a gripping journey through the field for Albon. A move on Kimi Raikkonen began on the Wellington Straight and culminated in a pass on the Alfa Romeo driver on Lap 13 around the outside of Copse.
Then, AlphaTauri's Pierre Gasly – whom Albon replaced at Red Bull at the 2019 Belgian Grand Prix – was in his sights on Lap 20. This time he went for a pass around the outside of Luffield, the long right-hander.
"We were so strong as a team and a car through [Turns] 6 and 7 here, but normally it's not an overtaking spot; it is but it's really hard to overtake there," he said.
READ MORE: Verstappen hails 'incredible' victory at Silverstone, saying 'I didn't see it coming!'
"It was quite a battle with Pierre today, he was the hardest one to overtake for sure," he added.
On Lap 28, Albon had to contend with McLaren's Lando Norris before pitting for a new set of hard tyres two laps later. He passed the McLaren driver at Luffield (Turn 7) once again in a similar move to that which got him past Gasly.
"Lando's a fair racer. Their car looked very poor through here all race… but we were so strong there, [we] almost need to understand why we were so good there. We weren't quick there in qualifying and we gained a lot through there in the race," he said.
After that, a "simple" move on Esteban Ocon on the outside of Stowe and another on Lance Stroll on the main straight sealed P5 for the driver who feels that recent criticism directed towards him has been unwarranted.
READ MORE: Delighted Leclerc says fourth place 'feels like victory' after strategy gamble pays off
"I think a lot of the comments and everything have been a little unfair. The Sundays have always been strong – it's just trying to get the Saturdays better," he concluded.
Albon heads to Catalunya for his first Spanish Grand Prix with Red Bull, at a circuit on which he finished 11th for Toro Rosso in 2019. He now sits sixth in the 2020 championship with 36 points – two behind Norris.