Albon rejects call for more 'patient' approach after clashes with Hamilton and Magnussen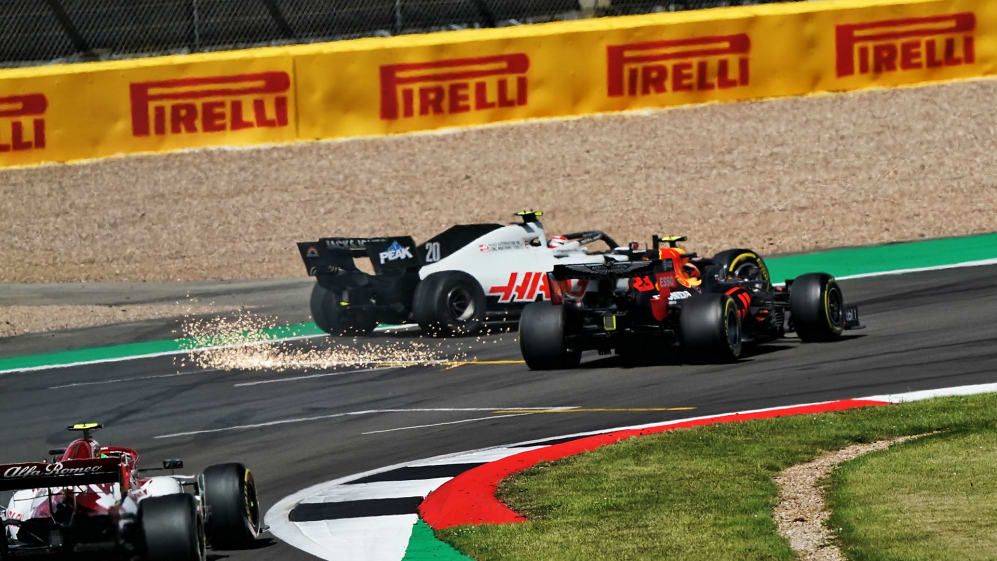 Alex Albon has had two racing collisions already in 2020, but ahead of this weekend's 70th Anniversary Grand Prix the Red Bull driver rejected the idea he needs to be more "patient" in his approach, insisting he has no regrets about how he's gone racing this season.
On his way to an eighth-place finish last time out at the British Grand Prix, Albon went down the inside of Kevin Magnussen's Haas on Lap 1, which sent the Dane into the gravel and earned himself a five-second time penalty from the stewards.
That came after an attempt to pass Lewis Hamilton late in the Austrian Grand Prix sent Albon himself off track and out of contention for his first F1 podium.
READ MORE: Red Bull boss Horner defends Albon after 'unwarranted and unfair' criticism
Asked ahead of this weekend's race at Silverstone whether he should be more "patient" in his approach, Albon replied: "No, I wouldn't change how I've approached my racing. I think yeah there's been a circumstance with Lewis, but that's just a racing incident. And even to me with Kevin's one, it could've been the same thing.
"Kevin made a mistake, he left the door open. To me, they're both racing incidents. All this 'patience' stuff – we're trying to get points and go through the field. So I could be patient and wait three laps to get past or I could do it when I know I can. It didn't work, but I wouldn't regret doing it again," he explained.
After the British Grand Prix, Albon was praised by team boss Christian Horner for his recovery from P12 to P8 and and now seems more fired-up to improve on an up and down start to the season. Sitting sixth in the championship with a best finish of P4 in Styria, the Thai-Briton has his chin up ahead of round five – as he also looks to push for a Red Bull contract extension past 2020.
"Of course, it hasn't been smooth, but we still had decent points this year, and last weekend was a rough race for us – with a crash with Kevin it wasn't easy.
READ MORE: ANALYSIS: 6 key questions about Bottas' new Mercedes deal answered
"But in terms of self-doubt or anything like that? No, you have to stay strong with yourself, ignore the questions and in the end, it's about you. And focusing on the performance is all that I'm really focused on," he concluded.