'He pushed us to develop grey areas' – Binotto on the pressure of working for Marchionne and support of current Ferrari CEO Camilleri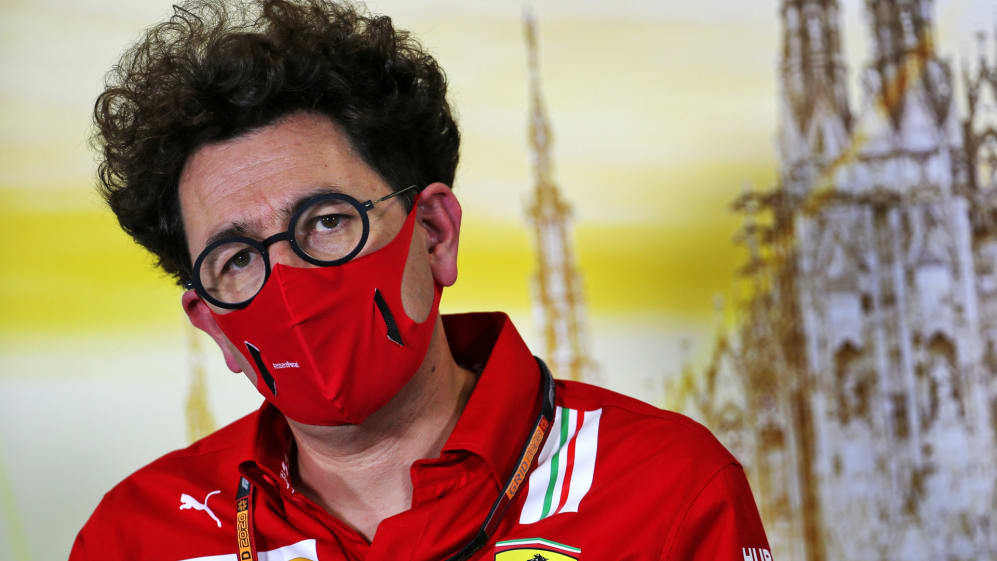 There's no doubt it has been a challenging year for Ferrari Team Principal Mattia Binotto, with the team's form having dipped significantly from where it was in 2019. The pressure has been on, but – as Binotto admits – not quite as much as when Sergio Marchionne was chairman and CEO of Ferrari…
The charismatic Marchionne became chairman of Ferrari in September 2014, replacing Luca di Montezemolo, and held the position until his untimely death in 2018. During that time, Binotto moved from overseeing the power unit to being Ferrari's technical chief, which – as he discusses on this week's episode of F1 podcast Beyond The Grid – led to him being put under increasing amounts of strain by Marchionne.
"The pressure was there, no doubt," he said candidly. "That was the most difficult thing dealing with him. The pressure was such that you had always your mobile [phone] next to you, day and night, because if he was sending you a WhatsApp, you had to reply within 30 seconds. That's the type of pressure he was putting you under. If you were not answering immediately to whatever text or message he was sending you, then it was clearly a bad start to the day.
"Living with the phone next to you was not easy. That was the type of pressure, certainly his way of putting pressure, making sure that you are always awake, always ready to reply. He'd text me in the middle of the race as well. Maybe not in the middle of the night but early morning no doubt."
Asked if that kind of pressure had pushed Ferrari towards limit of regulations in 2019, with Ferrari later reaching a settlement with the FIA after an investigation of their power unit, Binotto said: "Could be. Could be. I think, first, it's part of the sport try to interpret the grey zone of the regulations.
"I think in that respect all the teams are doing it. But then it's what you interpret as grey or not grey. I think it's obviously always a limit which is very borderline and difficult. But yes he certainly pushed us – not me, but us – a lot to develop the grey areas as much as we could."
Thankfully for Binotto, who became Ferrari Team Principal in 2019, taking over from Maurizio Arrivabene, the Swiss-born Italian says he has the relationship with which to succeed with Louis Camilleri, the marque's current CEO.
"Louis is a totally different type of leadership [to Marchionne]," said Binotto. "He is a great man, a great friend, I would say. I think I have found a friend in Louis, he's very supportive. He understands the importance of stability, he understands the importance of investing. And normally when you are investing then normally the results are not always short-term, it's more on the medium-, long-term, because you need first to invest and then get the benefit of the investment itself.
"I think that he's a great person a great leader, he's delegating a lot. He's texting me as well, but the reply within 30 seconds is not required. That at least makes quite a lot of difference!"
You can listen to the full podcast with Mattia Binotto – during which is also discusses all manner of things, including working with Michael Schumacher and how he compares to Charles Leclerc – via the player above. Alternatively you can listen and subscribe via Apple Podcasts, Spotify, Google Podcasts, Amazon Music, or your favourite podcast app.