Honda dismiss suggestion their new engine has provided Red Bull with power boost compared to previous unit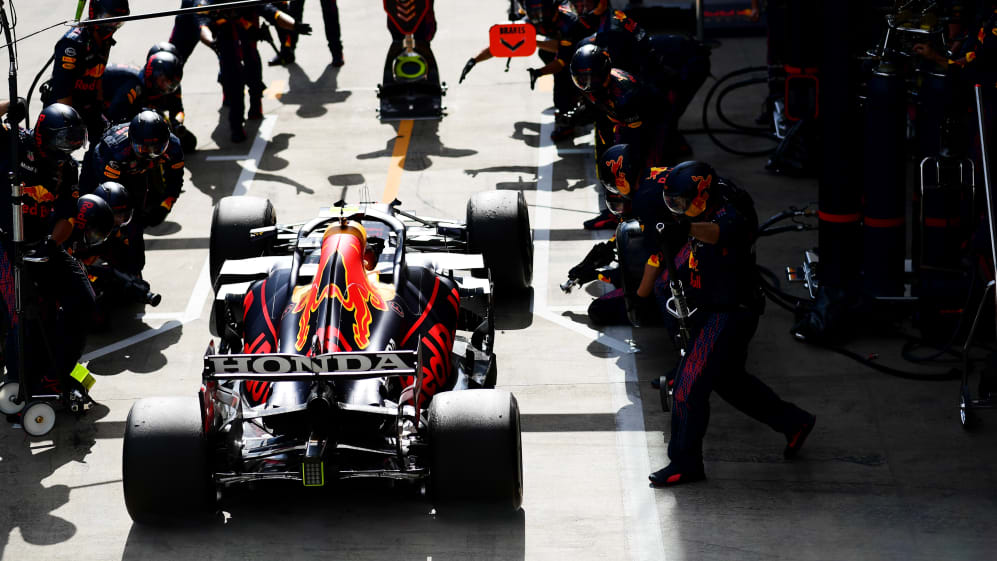 Red Bull's straight-line speed has certainly caught Mercedes' eye of late, but on the eve of the Austrian Grand Prix Honda F1 Technical Director Toyoharu Tanabe has denied that the manufacturer's recently introduced power unit - which debuted in the team's first-ever French Grand Prix win in June - is more powerful than the previous specification.
Red Bull's performance at Paul Ricard was hailed as crucial by their Team Principal Christian Horner when Max Verstappen took pole position, before he went on to win an exciting race over Lewis Hamilton.
TREMAYNE: Why the French GP marked a seismic shift in F1 – and was a turning point in the title fight
With the likes of Hamilton claiming that Honda's engine is now helping to deliver 0.25s-worth of advantage on the Red Bull Ring's straights, Honda technical boss Tanabe was asked if the French GP engine had delivered a step change in power for the championship leaders.
He replied: "I'm very happy if it is true but it's not true. Under current regulations, any performance update is not allowed to apply during the season. As a result, our second PU is the same as the first PU in terms of specification and performance."
The regulations allow power unit manufacturers to submit in-season changes on reliability grounds only, therefore Tanabe added that it would be very difficult to slip a performance improvement past teams and the FIA under the current rules.
"The current performance improvement is a result of the hard work of Honda and the teams," he continued. "Under the current PU regulations, we need to submit any changes, so, only allowed to change for reliability, cost reasons and logistics.
READ MORE: Why the Austrian GP could be very different to last week's race at the same track
"Then we need to submit very detail to the FIA first and the FIA approve the changes, FIA distribute documents to the other PU manufacturers. We need to have approval from other PU manufacturers to change any single part's specification. So, we are very careful to change the performance. And it is not possible to improve performance during the season. That is my answer to that suspicion," he concluded.
Tanabe instead suggested that any improvement that may be apparent is simply down to the way that Honda have learned to run their power unit, to maximise performance.
"We have been learning gradually how to use the PU," he said. "We improve our weakness, and then we push our strengths. As a result, the base specification, the performance, is the same, but trackside performance I believe we have been improving."
The Japanese engine suppliers will leave F1 at the end of the season with Red Bull taking over their IP to produce engines in-house at their campus. Asked if he regretted Honda's decision to leave, with Red Bull leading both championships under their thrust, Tanabe had a straight answer.
"Personally, yes," he said. "But regardless [of] the result of this year's championship, or our result, I think Honda decision will not change from the previous one, which means: leaving Formula 1."