'Hopefully it's helpful to say something positive' – Hamilton on his messages of support for Russell and Norris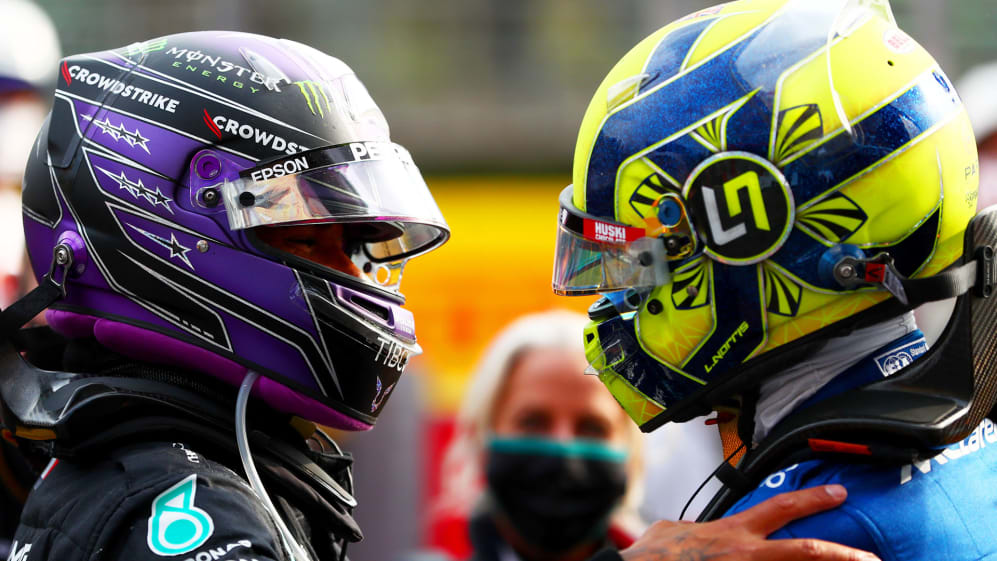 Whether he likes it or not, at 36, and having started his F1 career back in 2007, seven-time champion Lewis Hamilton now finds himself in the 'elder statesman' role in the sport. And after a recent raft of supportive messages to the likes of Lando Norris and George Russell, Hamilton said he was pleased to be able to offer the benefit of his experience to the younger generation.
Hamilton wrote messages on Instagram to both drivers during and after the Emilia Romagna Grand Prix weekend, telling Norris – who blamed himself after a track limits infringement in qualifying cost him P3 on the grid: "Nobody can knock you for giving it your all. Amazing lap, it's great to see you and the team shine. Move on, let's race."
Meanwhile to Russell, who collided with Hamilton's Mercedes team mate Valtteri Bottas, and was then moved to post an apology after blaming the Finn for the crash, Hamilton wrote: "Strength comes from vulnerability. If you don't make the mistake you can never learn the lesson. Respect for taking responsibility."
READ MORE: 'I plan to be here next year' – Hamilton explains why he did 18-inch Pirelli tyre test
And asked about the messages ahead of the Portuguese Grand Prix, Hamilton said it was important for Formula 1's drivers to support one another.
"You've got so many talented people here," said Hamilton. "We all, I think, have a huge amount of respect for each other and we communicate better than we ever have, especially since I started in Formula 1, which I'm really proud of.
READ MORE: Bottas says he's 'done and dusted' with Russell crash, as he explains Imola struggles
"We are all human beings, we have a lot in common, we are all so focused on naturally beating each other but there's a lot of really good people here and I think we really need to be supporting each other," Hamilton added.
"We're all battling and fighting against the same sort of things and it's interesting to be further down the line and know when you look back on someone who's quite a bit younger and see them going through something you've gone through a long, long time ago.
"Hopefully it's helpful to say something positive to encourage them to keep pushing, keep their head up, keep fighting."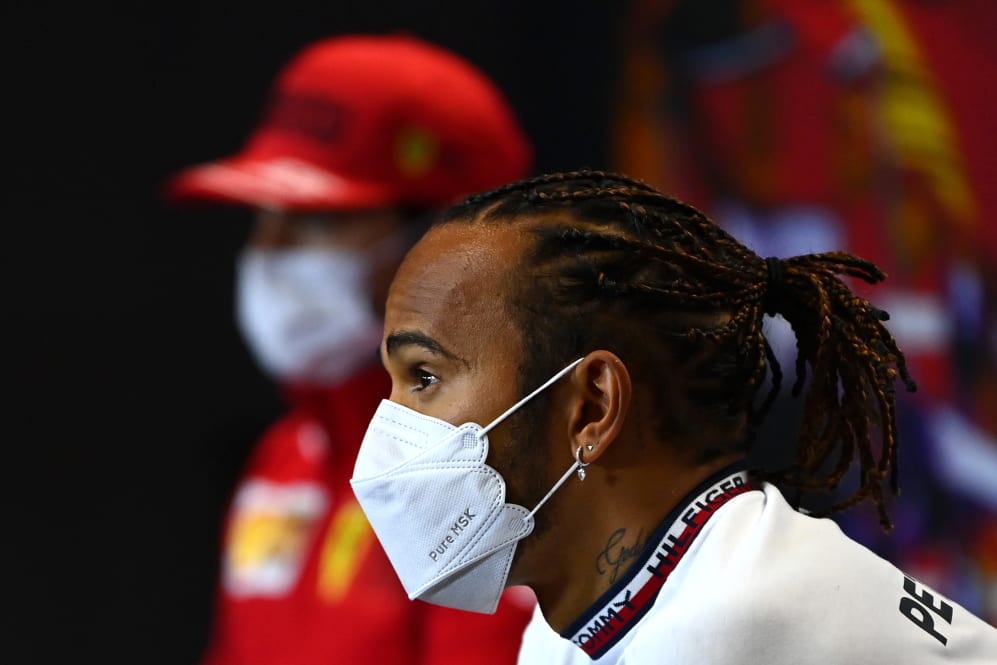 Meanwhile, referring specifically to Russell's crash with Bottas, Hamilton said he could empathise with how his fellow Briton – who substituted for Hamilton at last year's Sakhir Grand Prix when Hamilton contracted Covid-19 – had reacted in the immediate aftermath of the incident.
"The fact is when we're young we make mistakes," said Hamilton. "In the heat of the moment, it's hard for people to fully understand – when your heart's at 180 [beats per minute] and you go through an adrenaline rush experience like that, you can't always be the way people expect you to be.
READ MORE: Mercedes launch new partnership with Association for Black and Minority Ethnic Engineers UK
"Firstly the good thing is they are both safe, and then afterwards I think when he got back to his motorhome and saw exactly what happened and had time to cool down and reflect on it, he realised his actions weren't correct.
"It's not how you fall, it's how you get back up and I think in apologising, that's the first step and I'm sure he'll grow from there."
Hamilton, Norris and Russell are three of the drivers who are joining athletes from other sports including football and tennis in boycotting social media this weekend in a stand against racism.