Horner says Verstappen's Hungary win was 'one of his best drives' and backs Perez to 'come back stronger'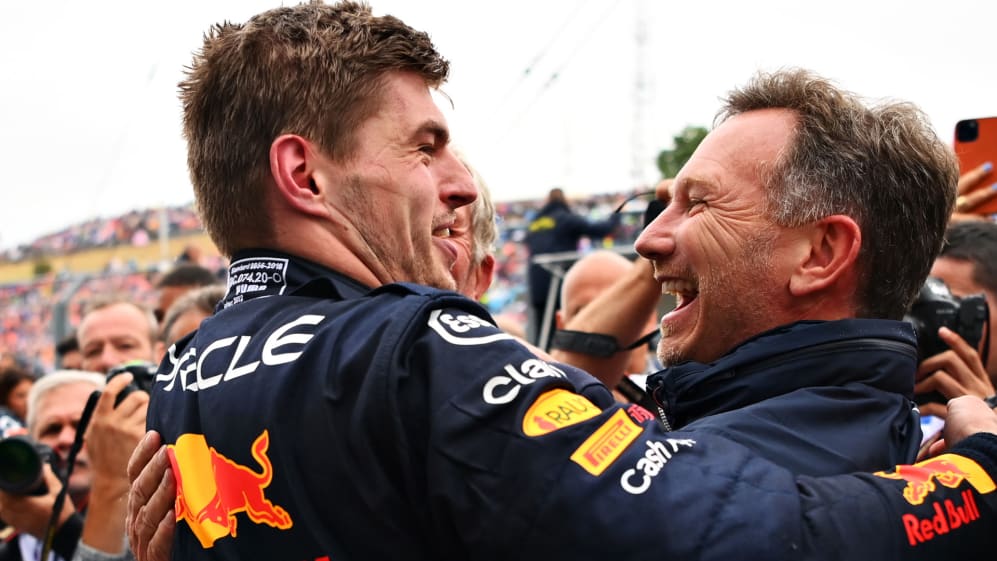 Red Bull ruled at the Hungaroring after Max Verstappen shrugged off a qualifying issue on Saturday and a spin on Sunday to win the 2022 Hungarian Grand Prix – a result which left Team Principal Christian Horner singing the reigning champion's praises.
Verstappen pulled off a two-stop strategy in tough conditions in Budapest as he kept the pressure on the Ferraris of Charles Leclerc and Carlos Sainz, the Dutchman capitalising on poor pit stops for the Spaniard and a misjudged switch to hard tyres for the Monegasque.
READ MORE: Red Bull strategy chief Schmitz reveals how team masterminded Verstappen's comeback victory in Budapest
"I can only focus on our performance and we did a great job today," said Horner when asked whether Ferrari had made a mistake by putting Leclerc on hards rather than mediums for his second stint.
"As soon as we saw Charles go onto the hard tyre, as soon as the white-walled tyres came out, we thought: OK, we've really got a chance now. And Checo [Perez] was fantastic because he was on a different strategy, he let Max immediately get onto the back of Charles to make that pass.
"Max then had a spin, warmed his tyres up a bit more then had to do it all again. A phenomenal performance."
Given Verstappen had to start 10th after a power unit issue in qualifying, Horner was even more gleeful.
"We were out of it on Friday, we had a tough day yesterday despite feeling we got the car into a much better window. Then a really competitive race – a bit of a clutch issue early on with Max, which we had to manage – but once we solved that, we were able to release him. It was one of his best drives."
READ MORE: Verstappen recovers from P10 to take Hungarian GP win as Mercedes secure double podium
Horner was also full of praise for the team's principal strategy engineer, Hannah Schmitz: "We've got a great strategy team here and back in Milton Keynes, Hannah Schmitz running the strategy on the pit wall today. We're all supporters of girl power, especially for later this evening [in the Euro 2022 Final].
"She's fantastic, the whole team is, it's not just about one person. The pit stops today again were dynamite. Just the way the whole team is working is a joy to see…"
The Red Bull boss added that he was impressed by Sergio Perez, who finished fifth – behind Sainz and the two Mercedes – in Hungary, adding that the late Virtual Safety Car curtailed his hopes of passing Russell for P3.
READ MORE: 'We made all the right calls' says Verstappen, as he pulls off spin-and-win in Hungary to extend lead to 80 points
"I made a joke, I said: 'Checo's gone on holiday already', and he went and told everybody! Look, look at Checo's race in the second half today," insisted Horner. I think without that VSC he'd have been challenging for the podium.
"He was a second and a half quicker in the closing stages than both George and Carlos, he was coming very, very quickly. I think a reset over the summer break, just to understand what's not quite gone right for him in the last couple of races, [and] he'll come back stronger from Spa onwards."