Feature
How do F1 engine penalties work?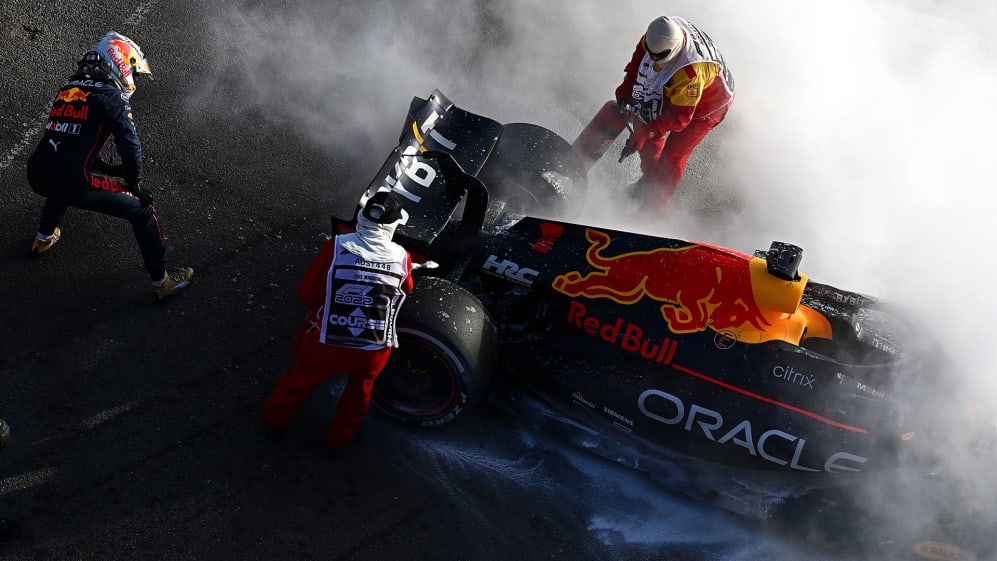 It seems that engine penalty season is upon us – where drivers get bumped down the grid for exceeding their allocation of power unit components. But what does this all mean? We break it down with this handy guide.
Fernando Alonso was the first driver of 2022 to take an engine penalty, starting at the back of the grid for his home race, before Charles Leclerc and Yuki Tsunoda became the most recent demotees in Canada.
Drivers are essentially allowed three engines per season – each needing to last around eight weekends – but it's a bit more complicated than that...
READ MORE: F1 continues push to hit Net Zero Carbon by 2030 target
What are F1 power unit components?
Let's start by looking at the F1 power unit and its various components. This generation of Formula 1 power units consist of seven elements, and drivers are only allowed to use a set number of each power unit element before receiving grid penalties.
When a power unit element is taken, it becomes part of a 'pool' – parts in that pool can be swapped around without penalty.
Those power unit elements and their allocations are as follows:
2022 PU components allocation
| COMPONENT | ALLOCATION |
| --- | --- |
| Internal combustion engine (ICE) | 3 |
| Motor generator units-heat (MGU-H) | 3 |
| Motor generator units-kinetic (MGU-K) | 3 |
| Turbocharger | 3 |
| Energy store (ES) | 2 |
| Control electronics (CE) | 2 |
| Exhaust | 8 |
In the case of an exhaust, there are four elements comprising an exhaust system: primary right-hand side, primary left-hand side, secondary left-hand side and secondary right-hand side. Each driver is allowed eight of each exhaust element. Very often, those parts will be changed after a driver has an accident. Media and teams receive documents from the FIA detailing which parts, if any, have been changed, before F1 sessions.
If a driver appears for more than one competitor, the FIA states that they will be "deemed to be the original driver for the purposes of assessing power unit usage" – the replacement driver inherits the power unit component tally. The same rule applies to gearboxes.
READ MORE: Frustrated Perez implores Red Bull to get on top of reliability issues after DNF in Montreal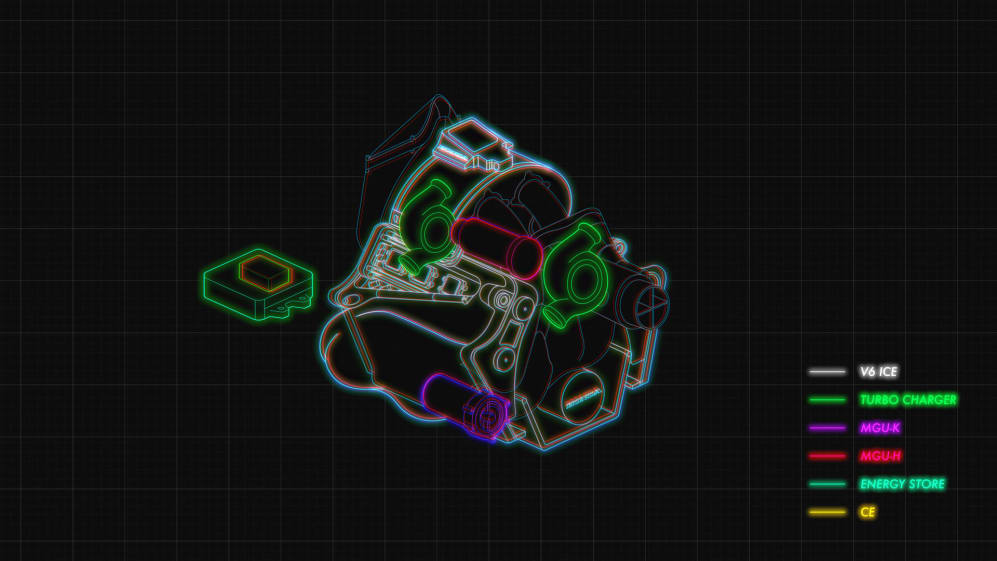 How are F1 engine penalties given?
So, you've exceeded your allocation of an engine part. Now it's time for the FIA to hand out the dreaded grid penalties. It's simple now – though a few years ago drivers could amass huge engine penalties for a Grand Prix. Jenson Button holds the record with a 70-place grid penalty for the 2015 Mexican Grand Prix.
Penalties are given in the following manner:
The first time an additional element is used, the driver gets a 10-place grid penalty
The next time an additional element is used, the driver gets a five-place grid penalty
If a driver incurs a penalty exceeding 15 grid places, they will be required to start the race at the back
Qualifying performance still matters – if numerous drivers are staring down the same grid penalties, then qualifying decides the order in which they start. Hence in Canada this year, Charles Leclerc started 19th – having made it through to Q2 – while the similarly penalty-afflicted Yuki Tsunoda started 20th, having failed to progress out of Q1.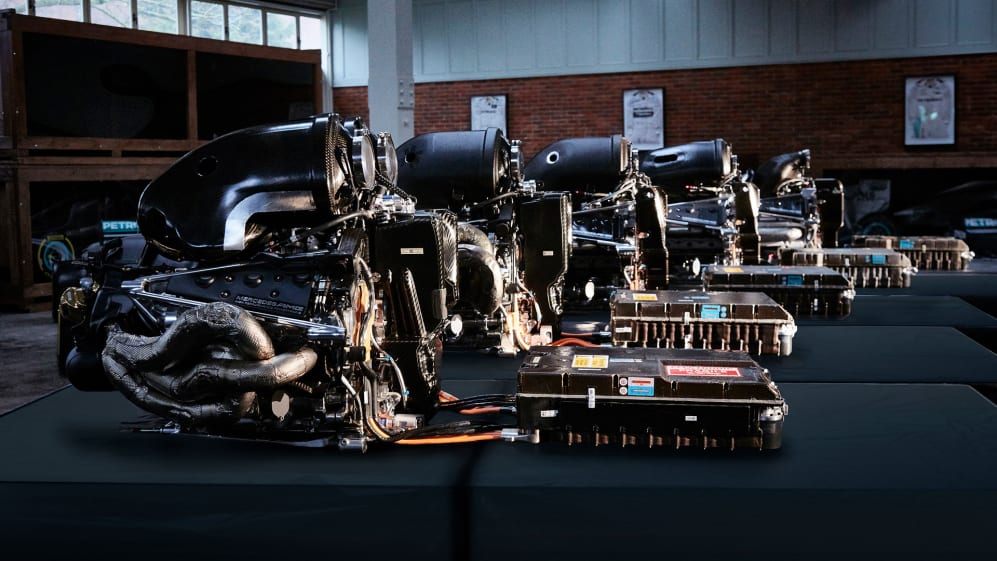 How are F1 gearbox penalties given?
But wait, there's more. Drivers are also limited in how many restricted-number components (RNCs) they can use over a championship. RNCs, which are components that make up the gearbox, and their allocations are listed as below:
2022 RNCs allocation
| COMPONENT | ALLOCATION IN 22-RACE SEASON |
| --- | --- |
| Gearbox case and cassette | 4 |
| Gearbox driveline, gearchange components and auxiliary components | 4 |
Teams have a 'pool' of four gearboxes for the 22-race 2022 season, meaning they can swap them around without penalty. Only when a driver exceeds their allocation of either of the above parts do they receive a grid penalty for the weekend's Grand Prix.
TECH TUESDAY: Why gearbox layout could be key to solving the porpoising puzzle
The penalty for exceeding allocation of either of the two gearbox components listed above is five places, meaning drivers can get a 10-place penalty for going over the gearbox allocation. In that case, it might be worth swapping out the engine, too, and taking a back-of-grid start.
Gearboxes can be maintained or repaired between events if the FIA approves, but "significant" parts changes need express permission from the FIA.
Competitors may use a gearbox assembly outside of the RNC allocation on four occasions throughout the championship, during FP1 and/or FP2.
When is it worth taking a grid penalty?
Grid penalties are sometimes taken out of necessity: if a team is afraid that their driver might not finish the next race – either because of a crash in a prior event or the engine reaching the end of its life – then they may take the hit.
Teams also plan their engine allocations for the season, meaning that they'll aim to take grid penalties for events where they deem overtaking easier to give their driver a fighting chance from the back of the grid. You'd rather take a penalty at Brazil, as Lewis Hamilton did in 2021, than at Monaco.
How does the FIA enforce engine and gearbox allocations?
The FIA deems any of the power unit elements to have been 'used' when the car's timing transponder has shown that it has left the pit lane.
Each component of the power unit is 'sealed' by the FIA to ensure that it cannot be rebuilt or replaced, while exhaust elements are marked clearly, and gearboxes are also given unique identification and part numbers, and placed in special containers to be 'sealed' between events.
Seals can only be removed when the FIA says so, so for repairs or approved modifications – which are extensively recorded by the FIA – or in the pre-agreed windows around free practice, qualifying, Sprint and Grand Prix.