'I had no pace' – Bottas left mystified by lack of performance at Portimao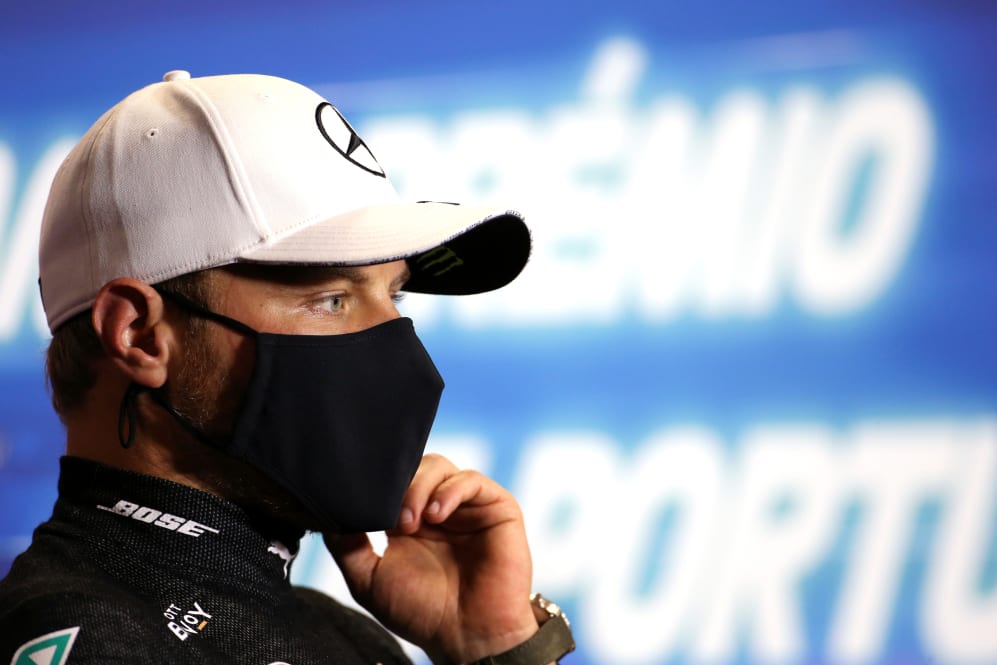 Lewis Hamilton won the Portuguese Grand Prix by a full 25.592s from his Mercedes team mate Valtteri Bottas, the biggest winning margin seen at any race this year. But with Bottas having dominated all three free practice sessions at Portimao, the Finn was left confused at where his pace had disappeared to come race day.
Starting the race P2, Bottas was initially beaten off the line by the third-placed Red Bull of Max Verstappen, but fought back brilliantly to re-pass the Dutchman and then overtake Hamilton for the lead by the end of Lap 1.
After briefly losing out to McLaren's Carlos Sainz – who surged into the lead on Lap 2, helped by the quicker warm-up on his soft tyres compared to Bottas' mediums – the Finn was back past on Lap 6. But Bottas was then easily out-dragged by Hamilton down the main straight on Lap 20, with Hamilton able to grow his lead to over 25s by the time he crossed the line to record his record-braking 92nd victory.
READ MORE: Hamilton takes record-breaking 92nd win with dominant drive in Portuguese GP
"I just had no pace today," said Bottas after the race. "I don't understand why, but no pace.
"The opening lap was pretty good… There was actually quite a bit of rain in the first lap so that's why the warm-up was really poor – especially us being on the medium tyre, the warm-up was quite a bit weaker than the guys on the soft tyre. I think I managed to make the most out of it with the medium tyres in the first few laps, but it was tricky.
"Of course I tried to defend [from Lewis] but the rate he was starting to close, there was nothing really to do. Just like I said, I don't know why I didn't have the pace today; I was pushing hard but I couldn't go faster."
With Hamilton's lead stretching out consistently through the race, at one point Bottas was heard asking to try a move onto soft tyres, to see if that would give him an advantage over his team mate on the hards. But Bottas explained afterwards why Mercedes had eventually opted to put him on the same rubber as Hamilton.
READ MORE: Hamilton reveals how cramp left him in 'excruciating' pain on way to record 92nd victory
"I did ask for the soft tyre," he said, "because I thought it would be the best thing to do, something different as the gap was already pretty big by that point. But then the medium tyre started to wear, we started to have a bit of vibration, which means the tyres are going to be pretty finished and there's always a risk of tyre failure.
"So the safest thing at the end was to go for the hards, just to get the points and that's how it went today… but I don't think it made any difference to the result.
"Ultimately for me, the main issue was lack of pace, which I don't quite understand. I just didn't have the pace today, as I'm sure everyone could see, so it was a tough, long race without Safety Cars or anything."
READ MORE: Verstappen says Hamilton win record 'pushing me to go until I'm 40'
Meanwhile, with Hamilton taking the fastest lap bonus point en route to his 92nd victory, the gap between the pair in the drivers' standings grew to 77 points, with just five races left in 2020. But Bottas was gentlemanly in defeat, as he praised his team mate's "amazing achievement" in becoming's F1's most successful driver in terms of race victories.
"I want to say massive congrats to Lewis for this amazing achievement," he said. "It's a big part of motorsport history made… Many people thought that it was never possible to break the record, but that's exactly the mistake. I'm sure Lewis always believed it is possible and you just keep going so really, hats off."