Verstappen says Hamilton win record 'pushing me to go until I'm 40'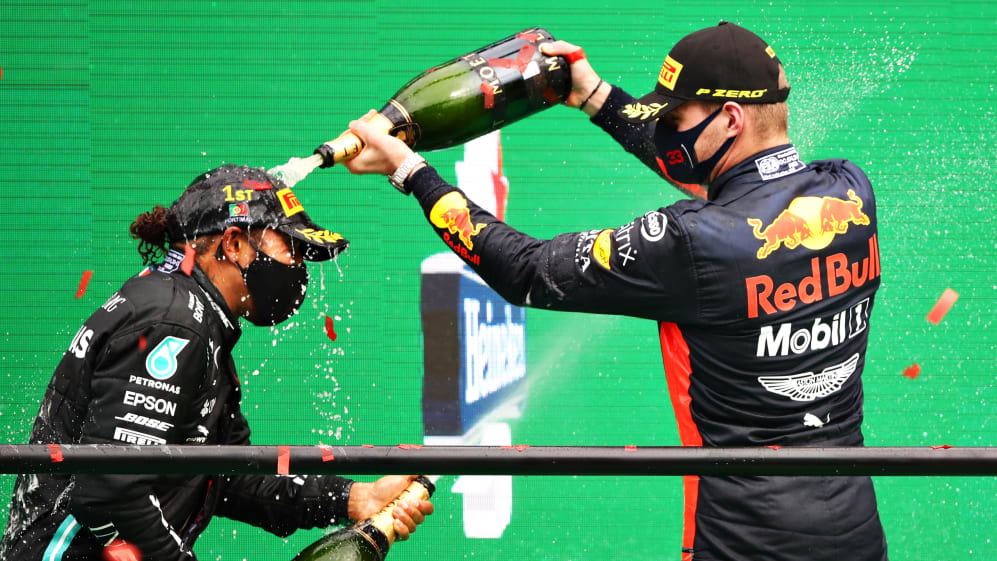 Max Verstappen said he has been spurred on to compete in Formula 1 for decades to come after Lewis Hamilton broke Michael Schumacher's all-time wins record with victory number 92 in Portugal.
The 23-year-old Red Bull driver finished third in Portugal having recovered from a torrid start that saw him fall to fifth after contact with Sergio Perez before recovering to a 40th career podium. Asked for his thoughts on Hamilton's 92nd, record-breaking, victory, Verstappen had high praise for his rival, and said that it provided him with added motivation.
READ MORE: Hamilton takes record-breaking 92nd win with dominant drive in Portuguese GP
"Lewis was just saying he keeps pushing because he wants to set it [the benchmark] very high. I have to work hard to try and get there," said Verstappen with a chuckle. "It's amazing. What can you say? It's an incredible, incredible achievement – 92 victories – and I don't think it stops there. It will go well over 100.
"So, he's pushing me to go until I'm 40 years old or something. But that's good, it's a good motivation as well," Verstappen explained.
The Dutchman had his own theory for Hamilton's success, garnered over a glittering 14-year career, that looks likely to yield a record-equalling seventh championship after the 2020 season now that he has a 77-point lead in the standings.
"Lewis is incredible, [and] it looks like, of course, he's also going for his seventh world title, which is very impressive," continued Verstappen.
READ MORE: Hamilton reveals how cramp left him in 'excruciating' pain on way to record 92nd victory
"Everybody knows he's very quick but I think what has also been a very strong point is that he's consistent and very rarely makes a mistake, and that's why I think he got through these numbers so quickly and yeah, it's just very impressive."
Verstappen himself was unapologetic about the contact with Perez at the start of the race in Portugal, which left the Mexican having to recover from last to sixth for Driver of the Day accolades while the stewards chose not to investigate the incident. He said that Perez was at fault for being spun around at Turn 4 on the opening lap.