'I had nowhere to go' – Leclerc 'surprised' to have strong race after Perez collision at start of Mexico City GP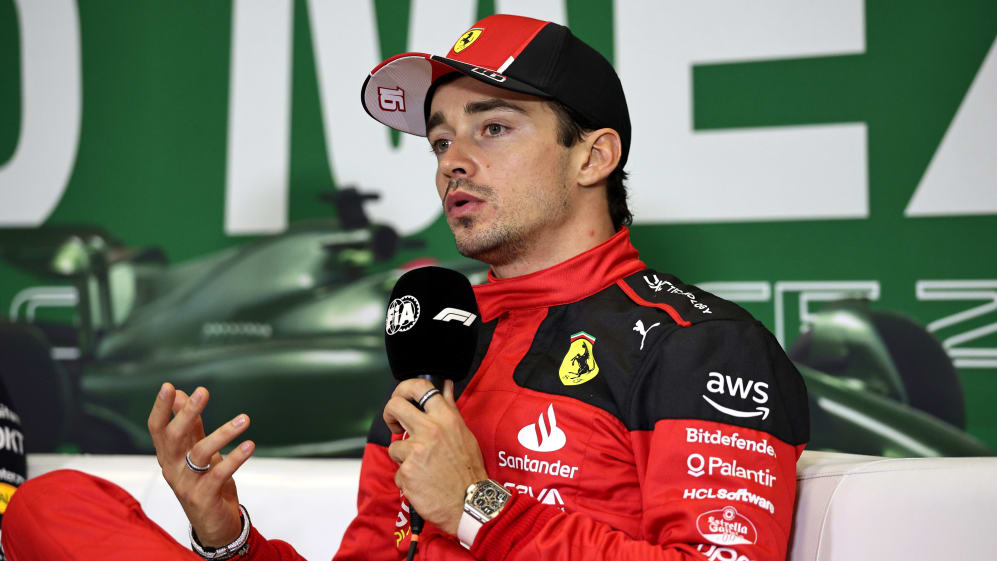 Charles Leclerc has admitted that it was a "surprise" to enjoy a strong race in the Mexico City Grand Prix following his first-lap collision with Sergio Perez, having gone on to end the event in third place.
The Ferrari driver had started from pole position but found himself being challenged by both Red Bull cars into Turn 1, with Max Verstappen getting ahead while Perez looked to go around the outside of Leclerc. This resulted in contact between Perez and Leclerc, sending the RB19 into the air and off the track.
READ MORE: Verstappen charges to record 16th win of the season after Perez's opening lap crash in Mexico
While Perez was forced to retire due to the damage on his car, Leclerc managed to continue, despite his front wing end plate detaching and ending up in Turn 1 of the circuit. The stewards later investigated whether the car had been driven in an unsafe condition, but decided that no further action would be taken.
Leclerc continued in P2 after the incident but, after the event was red-flagged due to a big crash for Kevin Magnussen at the halfway point, he was eventually overtaken by Lewis Hamilton, pushing him down to P3.
When asked about the incident with Perez, Leclerc expressed sympathy for the Mexican having to retire in front of his local crowd but also stated that he could not have avoided the Red Bull.
"First of all, obviously it is a really big shame it happened with Checo at his home race," Leclerc said. "On the other hand, looking back at the images I had nowhere to go. We all brake at the same point, and then I was trying to stay on the right as close as possible to Max, but Checo I think didn't know that Max was there, started to turn in and then we collided.
"Then we had quite a bit of damage on the front left of the car, and we need to check maybe the suspension, it didn't feel all right. On the other hand it was a surprise to keep the pace and have a strong race from that moment onwards. On the hard [tyre] we struggled a bit more as a team, so we need to look into it."
READ MORE: 'I paid a high price' – Perez admits he 'took a risk' in race-ending incident after hoping to win in Mexico
Leclerc was pleased with how he performed in the race, yet remained disappointed at not being able to challenge for victory.
"I think personally I couldn't have done anything better, so of course I'm satisfied with my personal performance," the Monegasque concluded. "But am I happy with the overall performance> Not yet because I want to be winning races and at the moment we don't have the car to do that. Even Mercedes seem to have the upper hand on us today. Again we had a bit of damage so I think this played a role into it, but they were very strong."
On the other side of the Ferrari garage, Carlos Sainz was also not completely happy. The Spaniard had joined Leclerc on the front row of the grid but lost out at the start before eventually finishing the race in P4.
When quizzed on whether he was satisfied with the result, Sainz responded: "Not entirely, obviously I would like to be on the podium but it was two very chaotic starts, had to lift in both of them to avoid any contact. Yeah it was like always in Mexico, quite chaotic but then once the race settled very boring, managing temperatures all the time, lift and coast and everything. Yeah, in the end I think third and fourth was the maximum we could do this weekend."
READ MORE: Hamilton has 'total faith' Mercedes can build a contending car in 2024 after finishing second in Mexico
While Hamilton got the better of both Ferraris, Sainz was not surprised by the pace of the Mercedes as he believes that the Silver Arrows have the edge in terms of tyres.
"I think the medium given our tyre life was too optimistic, we always suffer with tyre life so that is the advantage Mercedes had," he explained. "They can sometimes bet on a softer tyre even if the stints are longer because we know we run out of tyres."