'I really thought first podium was possible – and on merit' says Alonso after P6 in Russia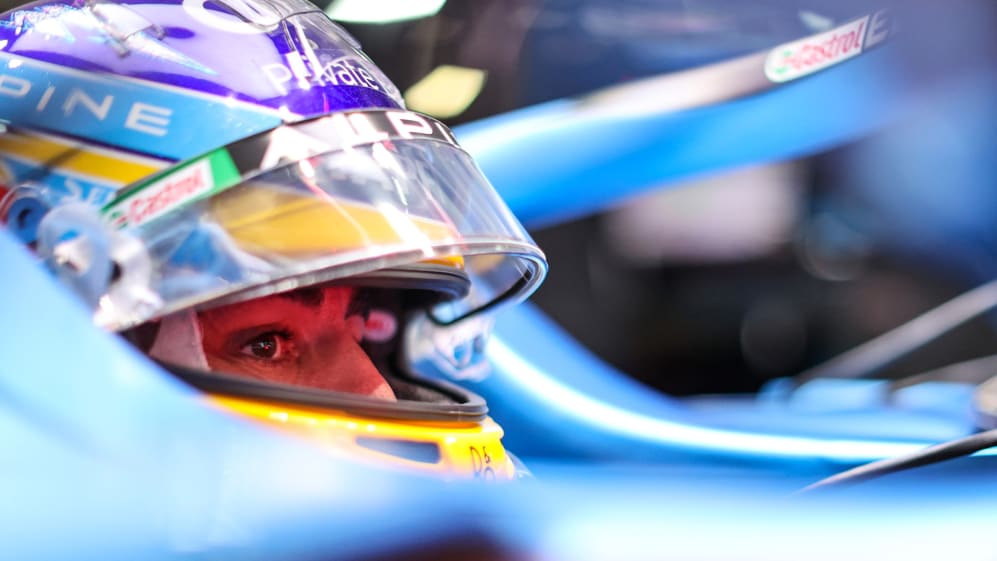 Before the Russian Grand Prix, Fernando Alonso said he wasn't counting on a first podium with Alpine this season – but he very nearly finished in the top three at Sochi. And were it not for the rain, he says he could well have achieved that feat on Sunday...
Alonso qualified a sterling sixth in the wet-dry session on Saturday, later saying that he could well have qualified "even higher than sixth". He lost a couple of places at the start to Lance Stroll and Sergio Perez, but the Alpine driver kept a competitive pace and was even in P3 by Lap 49 of the race.
READ MORE: Unpicking the six laps that turned the Russian GP upside down – and how Bottas played a key role in Hamilton's win
"I have to be happy with the points and I think, yes, it's a good place with the team and for the constructors' points but I think today we did a very good race," he said. "We had an amazing pace, we could keep up with Perez in the first stint, and after the pit stop [on Lap 36] we did overtake even Verstappen at one point.
"So, the car was flying today, and I think we deserved more. When it started raining, we overtook Ricciardo, Perez and Sainz and we were P3 – so I really thought the first podium was possible today, and on merit, not luck. Just by pure pace," he said.
Alonso found himself in the podium places because those around him were responding to the changing conditions; Max Verstappen, Carlos Sainz, Daniel Ricciardo and Valtteri Bottas had pitted on Laps 47-48 for intermediate tyres amid heavier rain while Alonso stayed out until Lap Lap 50.
"Then it started raining earlier," continued Alonso. "Some people stopped earlier, some people stopped late. I think Lando [Norris] and myself, we lost a lot for places – Charles [Leclerc] as well, Perez as well – and some people got very lucky and they were up there on the podium," he said.
READ MORE: Verstappen says 'perfect call' to switch tyres was key to P2 finish after recovery drive from last
This tweet has been removed from Twitter
Those four drivers that had pitted early did indeed finish ahead of Alonso, while Norris went off the track, lost his lead to Lewis Hamilton and ended the race in P7 behind the Alpine. Alonso continued by saying his team "deserved more" – but hoped that this pace will continue in the next round, in Turkey.
READ MORE: Russell says converting P3 grid slot to Russian GP podium was 'not realistic' after claiming P10 in Sochi
"I think you cannot predict that intensity of the rain, but they were struggling with the right tyres and they gambled; it was a lucky day for sure," he said of his rivals.
"I think we deserved more, but plenty of positives for the team, and, as I said, the level of competitiveness that we showed today in the race, it was not seen so far in any other race. So we need to understand why and try to keep it forward for Turkey," concluded Alonso – who remains the highest-placed driver in the championship without a podium this season.