'I thought that was it' – Perez shocked to recover to P5 after car failure on formation lap
Driver of the Day Sergio Perez thought his Bahrain Grand Prix had ended on the formation lap when his Red Bull RB16B appeared to lose power, and crawled to a halt – yet the Mexican managed to get going again and finished a brilliant fifth, despite having to start from the pit lane.
Perez, who came from last place on Lap 1 to win last year's Sakhir Grand Prix at this venue, carved through the field from the pits to finish ahead of Ferrari's Charles Leclerc and take points on his debut for Red Bull. The Mexican – who received new control electronics and energy store ahead of the race – admitted that he didn't expect to start the season-opener at all, however, after his car stopped on track just moments before lights out.
READ MORE: Hamilton wins epic season opener by just 0.7s after thrilling battle with Verstappen in Bahrain
"I don't know what happened, really," he said. "I was in the middle of the corner and everything went off. I lost engine, I lost ignition, I thought that that was it, and all of a sudden I started to hear Jonathan [Wheatley, Sporting Director] on the radio and I was like 'whoa'.
"This thing woke up and I turned on the engine and I had to start from the pitlane. A lot of work ahead of us to be back in contention in the place that we want to be. The positive is that the pace was good today, so we're getting there," he said.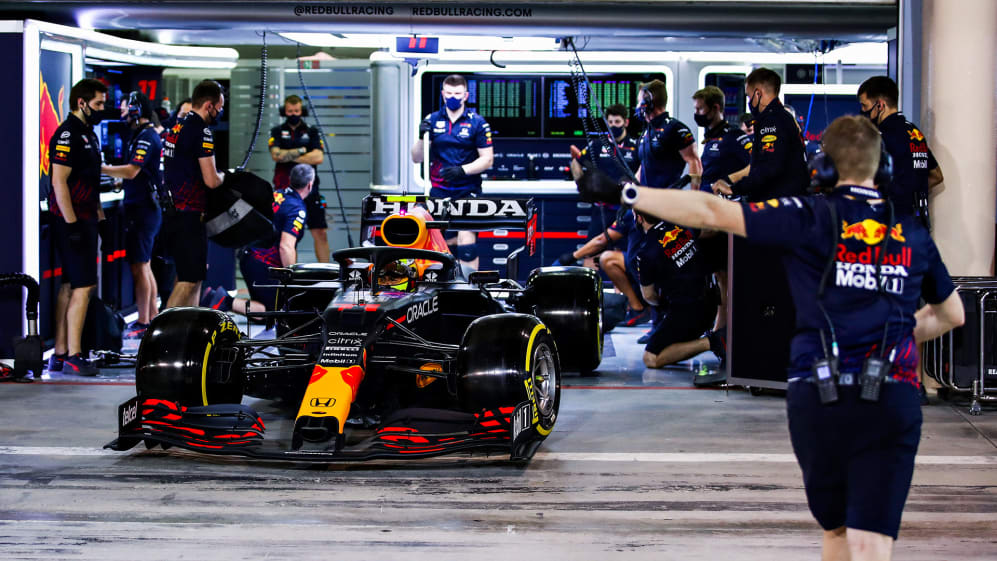 Having been knocked out in Q2 on Saturday, Perez was due to start the race from 11th on the grid before his mechanical issue. He said that the fact he finished the race was the biggest positive from Sunday, after missing out on valuable running that he would have had in Q3.
MUST-SEE: The moment Verstappen passed Hamilton for the lead – but then ran too wide
"Considering how my race started, I think we can be pleased," he said. "The most important of today that I was able to do the race, you know? And yesterday I missed out in Q3. I missed a lot of mileage, so that wasn't ideal.
"Today I did the race and I think I had a lot of understanding and a lot of data to go through with the engineers and a lot of work ahead of us but we can see that things are… clicking better. Everything was feeling better in the race, so I'm pleased with that."
With Perez relegated to the back at the start, team mate Max Verstappen therefore had to hold his own against the two Mercedes in Bahrain, eventually losing out to victor Lewis Hamilton. Perez admitted that he needs to get up to speed with the RB16B swiftly, if the team are to mount a formidable championship challenge.
"I just wanted to make it as quick as possible because the team needs me there, and I need to be there," he said. "It's not like I'm here, relaxing [and thinking that] it will come.
"I'm working hard, the engineers are working hard together with me and it will eventually click. And the time that that happens, then we're going to be very strong," he concluded.
READ MORE: Bahrain Grand Prix Facts & Stats – Hamilton takes another Schumacher record