'I'm kicking myself to be honest' – Russell left frustrated after 'small mistake' costs him Monaco podium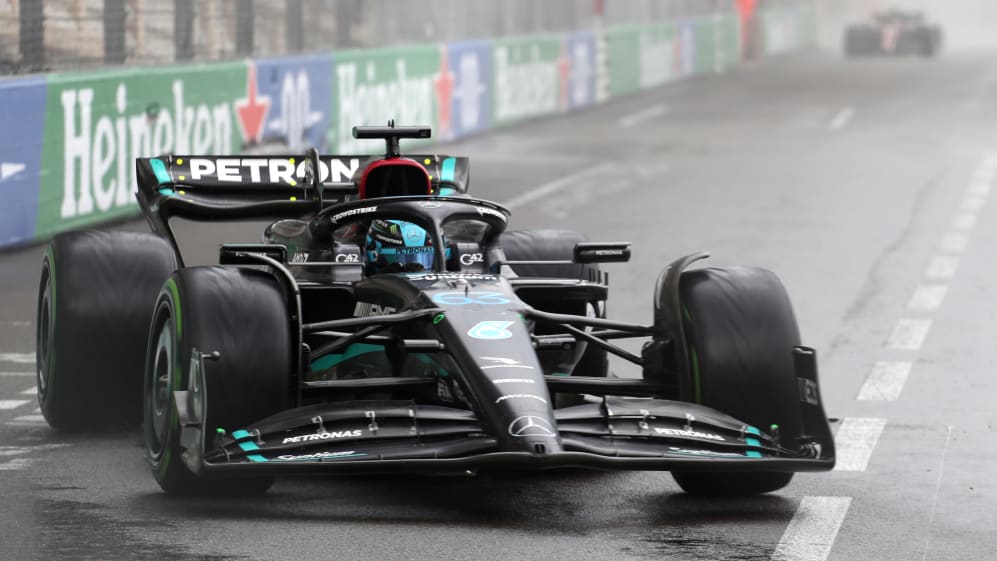 George Russell was left 'kicking' himself after finishing fifth in Monaco, as he was left ruing a mistake that cost him a podium. Meanwhile, his team mate Lewis Hamilton, who finished fourth, was happy with the performance of the upgraded W14.
Russell started in eighth and made it all the way up to third, as he opted against pitting, while the drivers ahead chose to swap the tyres. As a result, Russell gained track position when the rain commenced, and all the drivers were forced to pit for the intermediates.
READ MORE: Delighted Ocon 'on a cloud' as Alpine claim first podium since 2021 in Monaco
However, a mistake on his first lap out of the pit lane saw him lose position to Esteban Ocon and Hamilton, and to make matters worse for Russell, he also collided with the back marking Red Bull of Sergio Perez, much to his frustration.
"I'm kicking myself to be honest, one small mistake cost us a podium," said Russell. "I came out of the pits comfortably ahead of Esteban and Lewis, there was a yellow flag at Turn 5, I backed off and as soon as I pressed the brakes I locked up and followed the yellow flag.
"I think that's almost a lesson that when you're not focussed sometimes – or not on it – that's when mistakes happen. I probably wouldn't have made that mistake if there hadn't been a yellow flag there.
"Yeah, really disappointed because after that pit stop it would basically have guaranteed a podium… P3 was definitely achievable today. I have only learned afterwards that my mistake wasn't shown on TV – not sure if that's a positive thing or not."
When reminded that it was tough conditions for all the drivers, Russell responded: "Yeah, it definitely was, it wasn't the easiest conditions. But they were conditions where I feel like we can maximise the opportunities.
READ MORE: Alonso says he 'didn't have a chance' to take Monaco GP win as he praises Verstappen for driving 'super well'
"Where you know as a driver, if you do a better job than the rest you can pick up the pieces, and we were on course for that until we weren't, or until I wasn't with my mistake. Yeah, I really don't know what more to say."
Hamilton on the other hand, started the race up in fifth and, after capitalising on Russell's mistake, pushed Ocon all the way for the final podium spot to no avail, but he was still happy to take the "significant points" home for the team.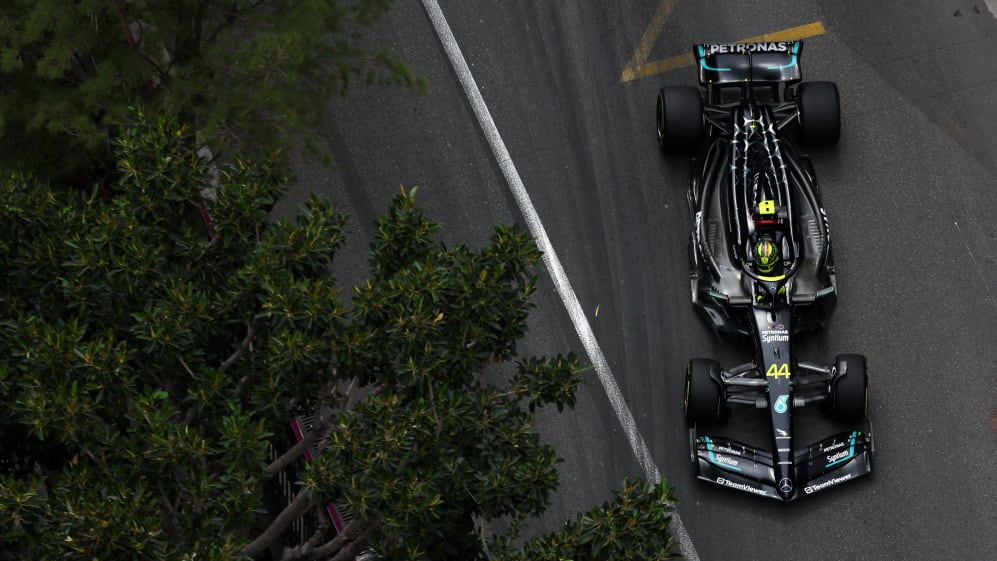 "I'm pretty happy, we've moved forwards," said Hamilton. "Coming into the weekend, I didn't know where we would stand so to have come out fourth and fifth, it's really great points for the team.
"So, a huge thank you to everyone back at the factory in bringing those upgrades. It's been so much work to bring those here and we kept them in one piece and brought it home, you know we beat the Ferraris and got some significant points as a team."
READ MORE: Verstappen beats Alonso to Monaco GP victory despite rain causing late drama
When asked how much of a read he got on the upgrades during the race, Hamilton said: "Next week, Barcelona is the best test circuit for us, so I think it was really difficult here to know.
"The car feels really stiff, there were lots of bumps, yeah, tricky but definitely noticed one particular part of the car that was better but I'm sure next week the whole thing will be a much, much better package."