Feature
IN NUMBERS: The stats behind the all-new Miami Grand Prix
Formula 1 is heading to the Sunshine State this week for the inaugural Miami Grand Prix on a stunning temporary street circuit. Here are the key numbers to get you up to speed.
11
Formula 1 and the United States have a long history together. In fact, no country has had as many F1 host venues as America. Miami Gardens will be the 11th different venue in the USA. Indianapolis was the first to host a World Championship round in 1950, albeit under Indy 500 regulations, not F1. Then came Sebring (also in Florida), Riverside in California, Watkins Glen in upstate New York, Long Beach in California, Las Vegas in Nevada, Detroit in Michigan, Dallas in Texas, Phoenix in Arizona, Indianapolis again (on a road circuit) and Austin in Texas. Between them, they have hosted 71 Grands Prix.
77
The Miami International Autodrome will be the 77th venue to hold a Grand Prix and the only new track on the 2022 F1 calendar. It's one of two US races on this year's schedule, along with Austin's Circuit of The Americas. Next year, there'll be a trio, with Las Vegas joining the party.
READ MORE: A brand new circuit, Ferrari's fightback and more – 5 storylines we're excited for ahead of the 2022 Miami Grand Prix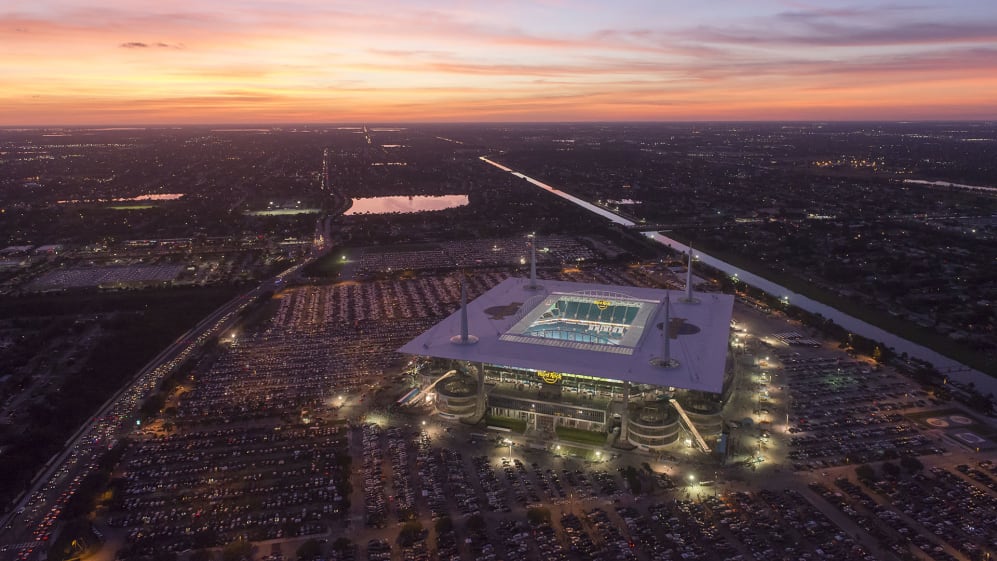 19
There are 19 corners on the 5.41km track that sweeps around the Hard Rock Stadium – home to the Miami Dolphins. Of those, two provide good opportunities to overtake. The first is left-hander Turn 11. The second is Turn 17, a tighter left-hander at the end of the circuit's longer straight.
READ MORE: Miami is coming – but where else has F1 raced in the USA?
3
Speaking of straights, there are three of them on this circuit, with the longest 1.28km long. There's also three planned DRS zones, with the aim of producing overtaking opportunities at the heart of the track's design.
320
Our simulations suggest the cars will hit a top speed of 320km/h, or 198mph, which is only just short of what is possible at Saudi Arabia's Jeddah Corniche Circuit. The venue will have an average speed of around 223km/h or 138mph, with cars expected to be at full throttle for 58% of the lap.
24,000
A staggering 24,000 tonnes of asphalt has been laid. A high proportion of the track surface in Miami is locally-sourced limestone, which has a high silica content. That makes it more hard-wearing and abrasive so it's been fused together with a granite mix composition.
37,000
As ever, safety is paramount. There are 37,000 feet of concrete barriers that line the 19-turn circuit, with 2,870 Geobrugg blocks also installed.
BUXTON: Why the F1 community is getting so hyped for the first ever Miami Grand Prix
14
For the first time in F1's long history, the championship will be hosted in a predominantly African-American community. Miami Gardens, located 14 miles from Downtown Miami, is renowned for its small businesses and impressive food scene, particularly its soul food and Caribbean restaurants.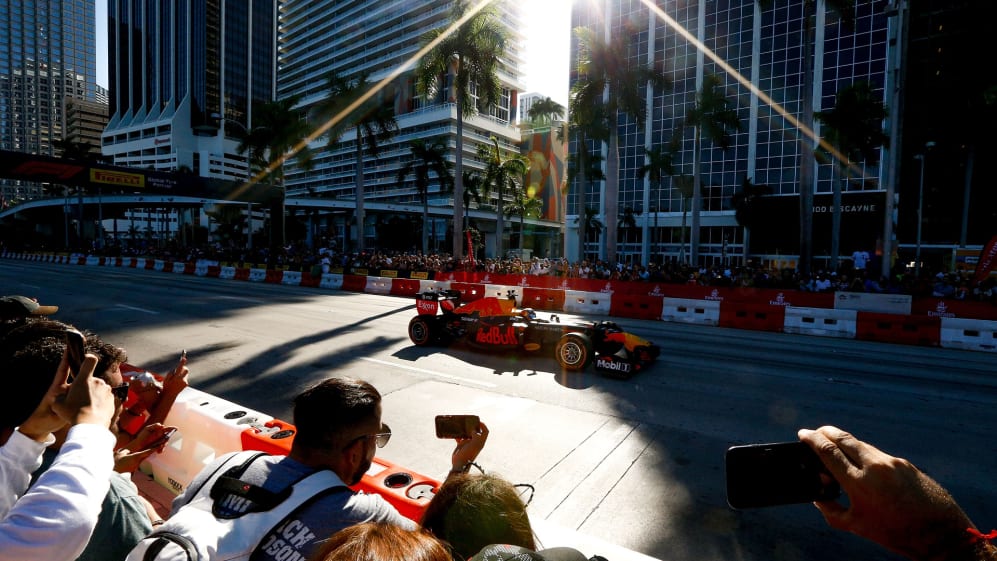 1
This may be the first F1 Grand Prix in Miami, but the city is no stranger to high level sport. At the heart of the track is the Hard Rock Stadium, home to National Football League outfit the Miami Dolphins.
WATCH: AlphaTauri's Pierre Gasly gets first look at all-new Miami International Autodrome
You've also got the National Basketball Association's Miami Heat in town, along with Major League Baseball's Miami Marlins and Major League Soccer's Inter Miami, part-owned of course by football legend David Beckham. And to complete the quintet of major sports teams, there's the National Hockey League's Florida Panthers, who play in nearby Sunrise.
There's international sport, too. The Miami Open, one of the biggest tournaments on the tennis calendar and lower only in prestige than a Grand Slam, takes place in the Hard Rock tennis centre next door to the Dolphins' stadium.