Feature
Is this the ultimate Grand Prix track? Will Buxton builds his perfect 2020 F1 circuit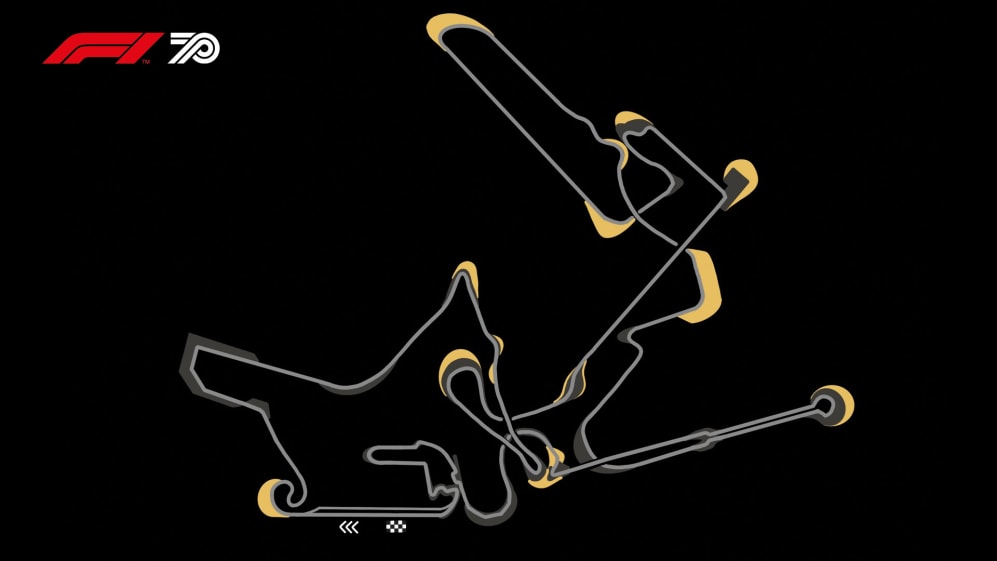 We may not be racing at the moment, but like most fans out there, I haven't stopped thinking about it. This week, I was set the challenge by this site's editor of designing a circuit that comprised at least one element from every track on the original 2020 Formula 1 World Championship calendar, to create one megatrack.
The notion came from a project I undertook with renowned track designer Hermann Tilke almost two decades ago in which we created the Ultimate F1 Track based on the best corners in F1 history. It took him and his team months and came to heavily influence some of his future circuits as he started to take greater influence from the corners of the past.
WATCH: Hermann Tilke on the challenges of designing the Hanoi circuit
I took the challenge seriously. It took me a week (we are on lockdown after all). It can never hope to be anywhere near as detailed or accurate as anything Tilke might have created, nor as refined and accomplished.
But I have tried, as far as possible, to keep this as realistic as possible. For a corner to remain the same challenge, everything has to stay the same. And we aren't just talking dimensions, radius and topography. Speed has to be a consideration or the corner suddenly becomes a completely different beast.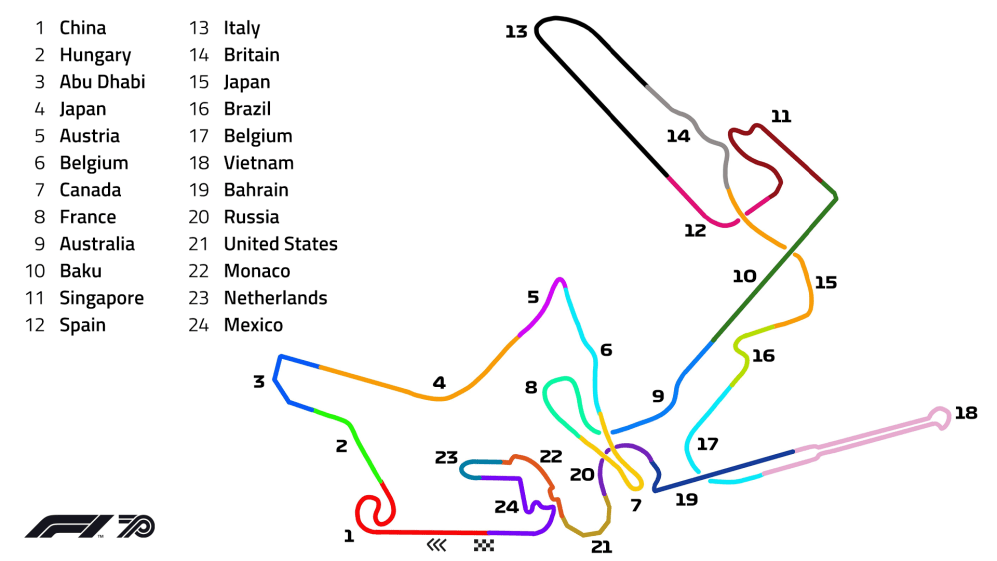 It has been a jigsaw puzzle of sorts. Just one without a guide image. And with a lot of additional parameters to consider aside from what simply looks nice.
As always, just a little bit of fun for these strange times!
Let's go for a lap of my track
We start in Shanghai and the long, looping switchback designed around a Yin-Yang to wish drivers luck on each tour.
It's a super-fast entry and a real challenge for an opening corner, providing some great opportunities to make up and lose positions on the opening tour, and a lovely space to hustle a rival throughout a race.
READ MORE 5 shock moments from Chinese Grand Prix history
Having dipped downhill on the switchback we shift through the gears and rise uphill again into Hungaroring's Turn 4. It's not a key overtaking spot but it is possible every now and then around the outside. It's a lovely little corner and an unsuspecting challenge.
Pulling the car immediately over to the left we enter one of the trickiest sequences of the entire calendar: the triple right from the marina in Abu Dhabi. It's so easy to get it wrong and run deep. And if you catch a slower moving car through this fast and blind section, it's going to be a biggie.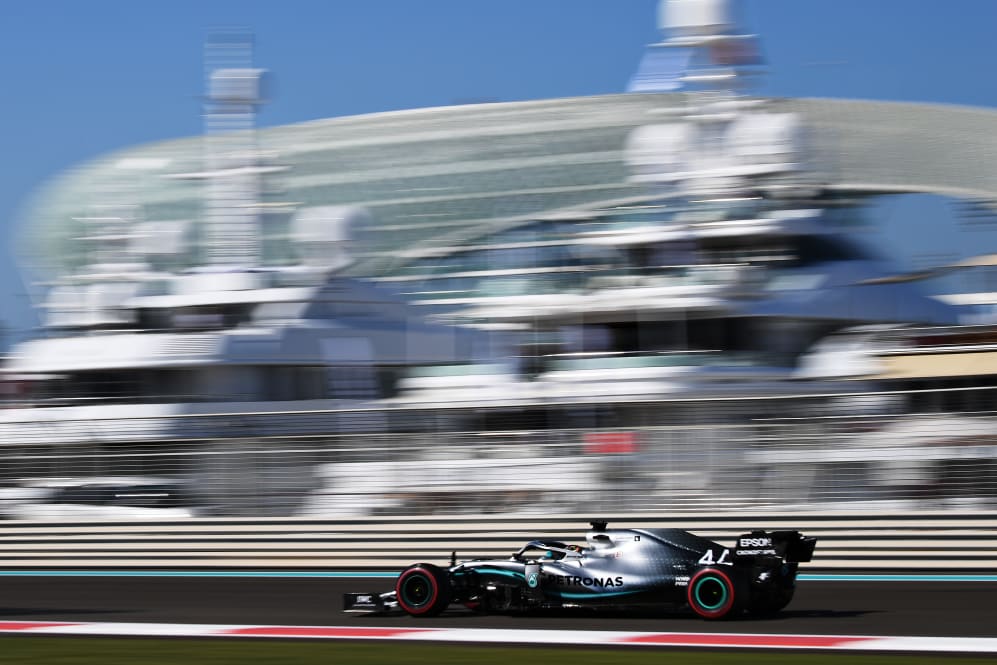 Back on the power, it's a long run now up through the gears for a wide-open back stretch taking in the mighty 130R in eighth gear at 300 km/h, gaining altitude all the while on exit as we run-up to the Red Bull Ring's brilliant overtaking spot at Remus.
Our exit, though, is that at La Source and from the top of our hill we swiftly pull down into Eau Rouge, the car compressing at the base of the rise back up to Raidillon. Under the trees, the track sweeps left and to the roar of the crowd that surrounds us as we go hard on the brakes and down to second gear for L'Epingle – the hairpin at Circuit Gilles Villeneuve.
READ MORE: The Top 20 drivers never to race in F1, part 1
Another blast of straight and we're at the Double Droite De Beausset at Paul Ricard. This really isn't an easy corner, slightly off-camber with an ever-changing radius, get the power down too early and you're gone. Emerging from the long right, it's a quick kick left at Virage de Bendor and we emerge on Lakeside Drive at Melbourne.
Gently pulling left, we are setting up at 300 km/h for the quick flick left and right at Albert Park's Turns 11 and 12 at 250 km/h. Tension and nerves high, don't overrun on the exit or it'll affect the rest of the lap.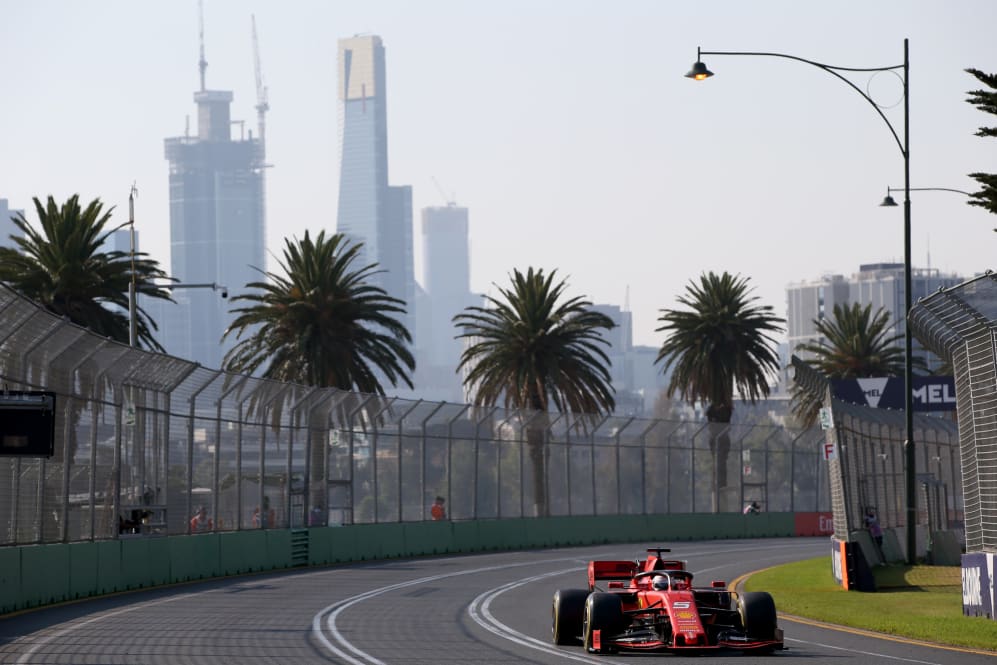 That's because we're now onto the circuit's longest straight which we've taken from Baku's monstrous start/finish drag. Hitting 350 km/h plus, it's another great overtaking spot as we go hard on the brakes for the third gear 115 km/h left-hander at Baku's Turn 1. We've seen triple overtakes and heartbreak here.
Our exit, though, brings us onto Singapore's start/finish straight. What follows for Marina Bay's opening sequence of corners would find a happy home amidst any great circuit as it loops left, lazily right before slamming around hard left at just 85kph.
WATCH: The best onboard action from Singapore 2019
Back up the gears, we hit Singapore's Turn 4 and emerge back in Europe, running uphill to Barcelona's blisteringly quick right-hander at Turn 9, Campsa. Be careful not to put a wheel over the track on the left as you attempt to open up the radius.
We emerge on another long blast down past the rabid tifosi, air horns blasting as Monza's trees loom in from the right and indicate the braking point for the Parabolica.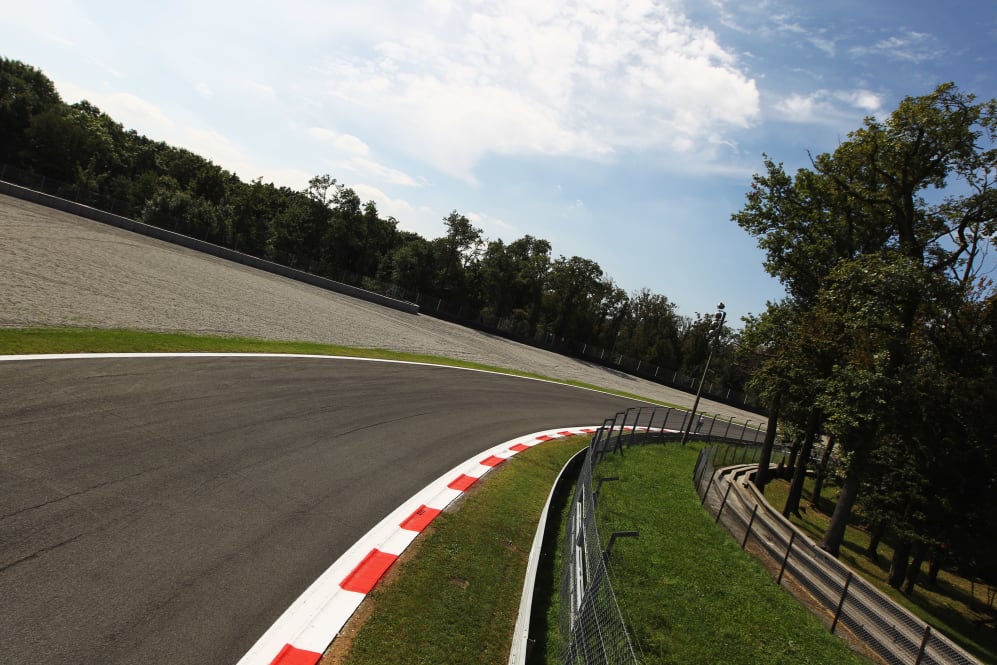 There'll be no running two wheels over the line here as the gravel trap makes a welcome return and as we exit our Monza section we emerge to the smell of doughnut vans and chips on entry to Silverstone's epic Maggotts, Becketts and Chapel complex.
The legendary challenges are coming thick and fast now as no sooner have you negotiated Britain's most epic sequence than you continue the left hand pull only to dip downhill and be faced with Suzuka's mighty double right at Degner.
F1 REWIND: Watch our full race stream of Hill vs Schumacher in the 1994 Japanese GP
Get either even a jot wrong and you're in the gravel. Get it right though, and a short squirt on the gas brings you to another track opener and another glorious barrage of noise as the Paulista cheer your arrival at Interlagos' Senna S.
Normally we'd be shaping up to exit into the Curva do Sol, but instead we're still running downhill for our second trip to Spa and Pouhon.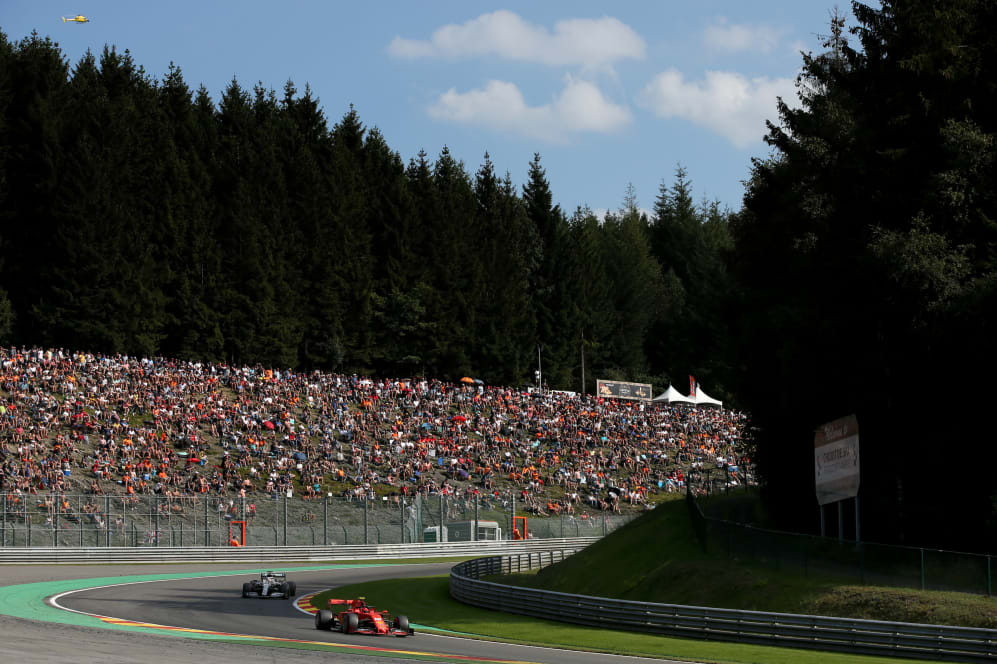 The speedo never drops below 260 as you hang on, neck straining, through this downhill behemoth and as we exit, the track suddenly narrows as we arrive at a new sequence from Hanoi.
Careful to keep the rear from snapping around and we're kicking back through the right and onto another straight and the dusty climbs of Bahrain.
As overtaking spots go, it doesn't get much better than the flick back and kink left that starts the tour at Bahrain, but even with your nose ahead on exit, watch your mirrors as the braver racer will be having a go at an audacious outside move around the long, left-hand Turn 3 at Sochi.
That audacity can be returned immediately as their outside line suddenly becomes the inside for Austin's three-part right-hander, Turns 16, 17 and 18 having themselves been based heavily on Istanbul Park's magnificent Turn 8.
Neck muscles screaming, the track suddenly drops down and you jump hard on the brakes, avoiding the bump that catches so many out, as the track once again narrows into Nouvelle Chicane and the Monaco section of the circuit.
Then on to Tabac, pulling as close as you dare to the barrier on the left, grandstands cheering on the right, eyes out on stalks as focus pull zooms on entry to Piscine. Millimetre perfect flicking left and right, kissing the barrier on the left on exit at over 240km/h.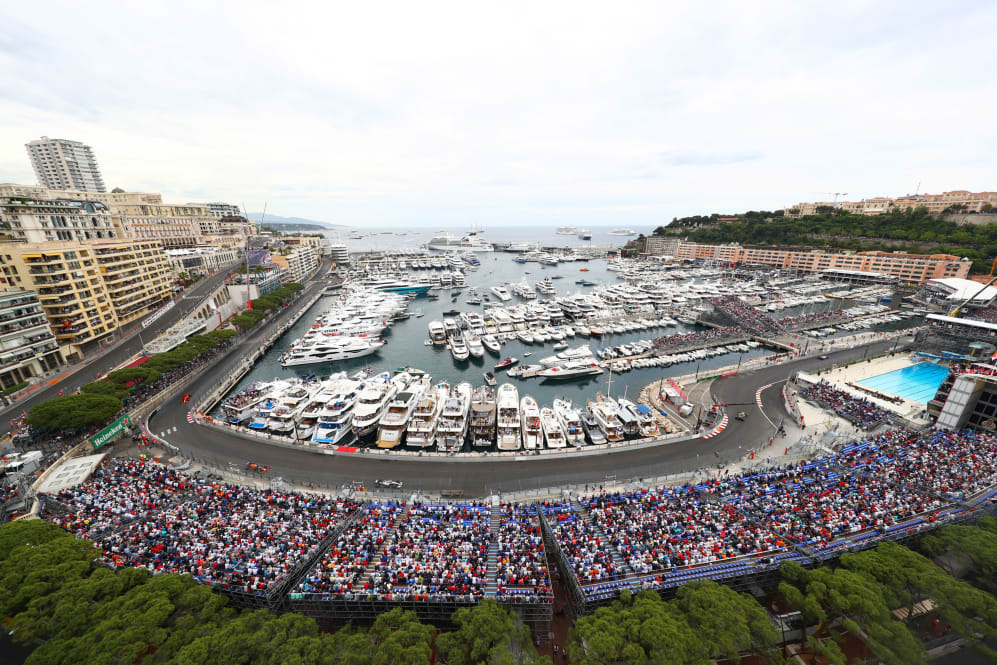 With no time to pause you're immediately into another new corner as Formula 1 returns to Zandvoort and the high banking at Hugenholtz.
Pick your line, as it's expected there will be various, and hold on as the centripetal force pushes you down into your seat.
Another burst of power and you can hear the final sequence before you even see it. Foro Sol, and the wall of passion and noise created by the Mexican fans brings us into the final section of track and an absolute cauldron of fever.
READ MORE: The best onboard action from Mexico, 2019
Open her up again as you round what remains of the Peraltada and you're back onto the start/finish straight of this monster of a circuit. The crowd cheers, the flag waves, and you're over the line to start another lap.
That's 24 sequences from 22 circuits – 50 corners if you take them as units. Achievable? Perhaps only ever in our dreams. But in times like these, we can't help but let our imaginations run free, can we?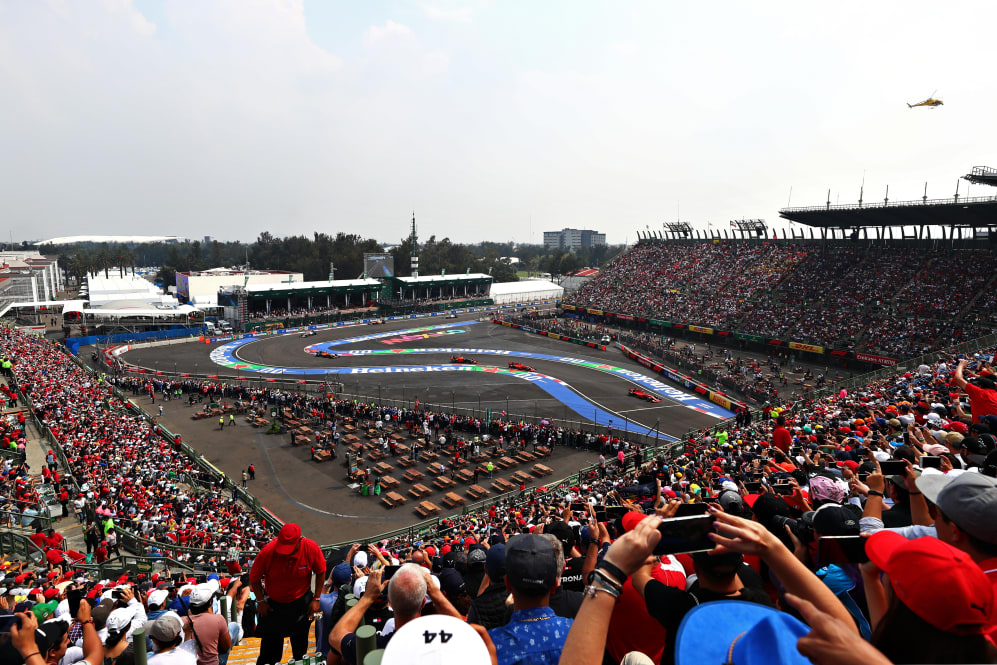 WHAT THE DRIVERS SAY
Ok, so they'll never get to drive it in real life, but what do the drivers make of the potential challenge?
Pierre Gasly:
"I really like the flow between the first corners of Singapore, then T9 Barcelona and Parabolica, Maggotts and Becketts, plus the Degner corners in Suzuka, that would be awesome! It has a super intense rhythm, a mix of the best high-speed corners, it's challenging and technical and exactly the kind of corners I really enjoy.
READ MORE: Gasly reveals super strict diet as he spends lockdown 'training hard' in Dubai
"Plus, a five-minute lap, on a track mixed with some of the most amazing corners on the calendar, clearly sounds exciting! I always enjoy longer tracks more than short ones, so I think this would clearly be one of my favourites.
"On a side note, I can see Will's not a big fan of medium-speed corners. It's either mega high-speed corners, or big braking zones! I'm the same! Haha!"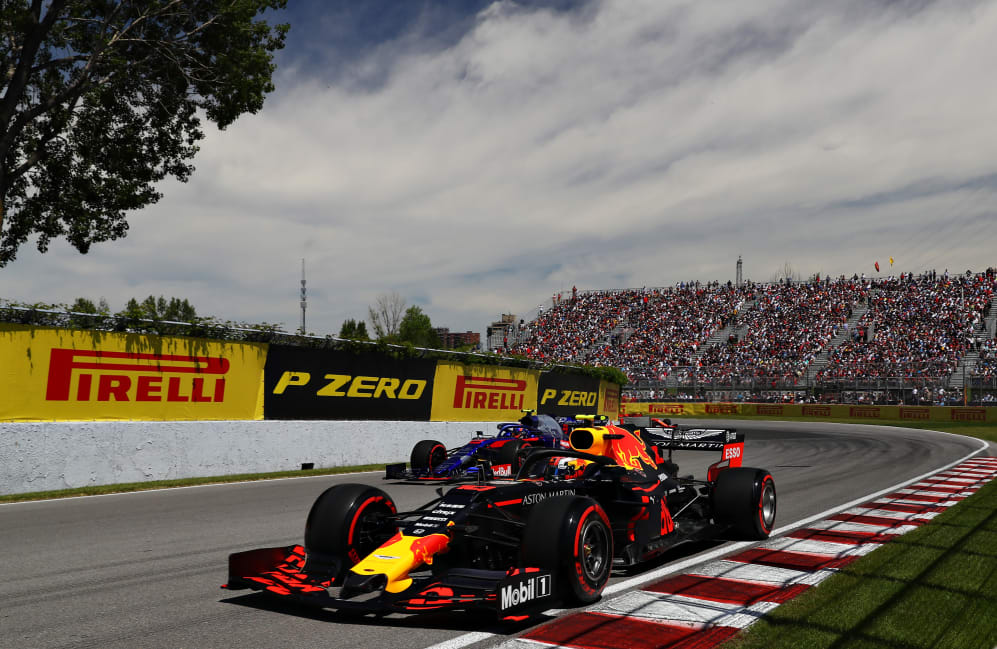 Daniel Ricciardo:
"I definitely dig the Parabolica into Maggotts and Becketts. That's my favourite part. I'd love to drive that section in real life.
"I feel Parabolica builds up to it, increasing speed out of the corner and then carrying that momentum into Maggotts. Sick!"
READ MORE: Ricciardo admits he wouldn't rule out Red Bull return as he looks at 2021 options
Carlos Sainz:
"I think it's a great track. A lot of imagination and clearly a lot of time has been invested in it so that is quite something.
"I think the track has a very good selection of corners, probably the most charismatic corners of every single track on the calendar and the way that it has been set up makes it a medium to high-speed track with a fast and flowing series of corners that I think drivers would love to try.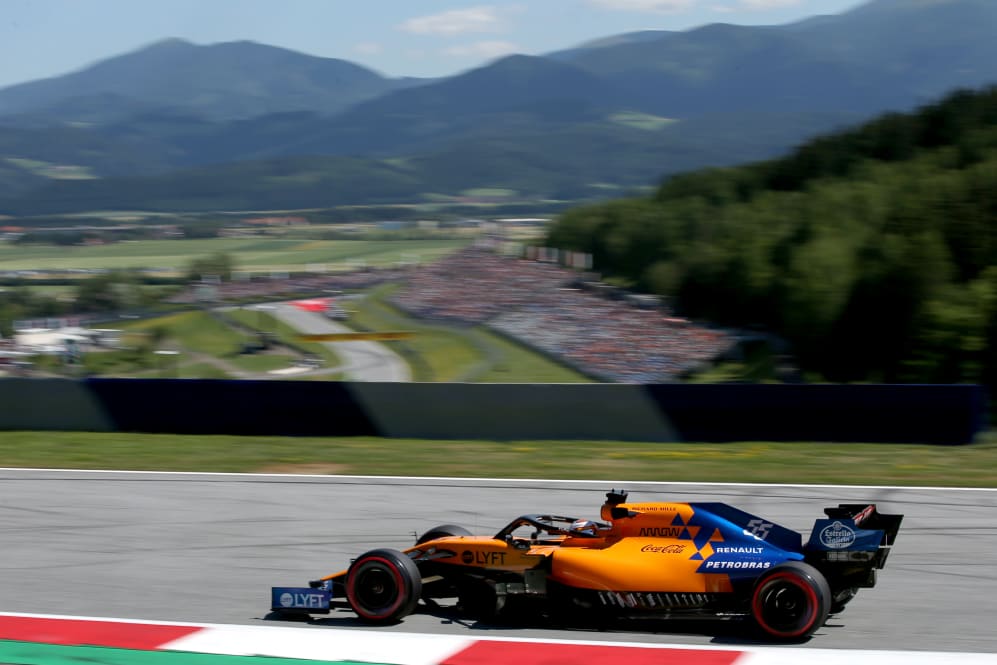 "There's a great overtaking point in the first sector at Turn 3 from Austria. We have seen so many dramatic moments there that I think it would be a great overtaking spot and a key part of the circuit. From how it looks, I expect a lot of elevation change and that's a real key of every great Formula 1 track. And the final part with the stadium in Mexico would make for a great finish.
"There's so many things I like from it and it really would be the most iconic track in the world because there's no track like it. It's something I'd love to drive. Perhaps it's impossible, but who knows. Maybe one day it can exist!"
Inspired by Will? Post your perfect track on social media using the hashtag #MyPerfectF1Track