'It wasn't fair racing' blasts Perez as he says Norris incident rendered his race 'a disaster'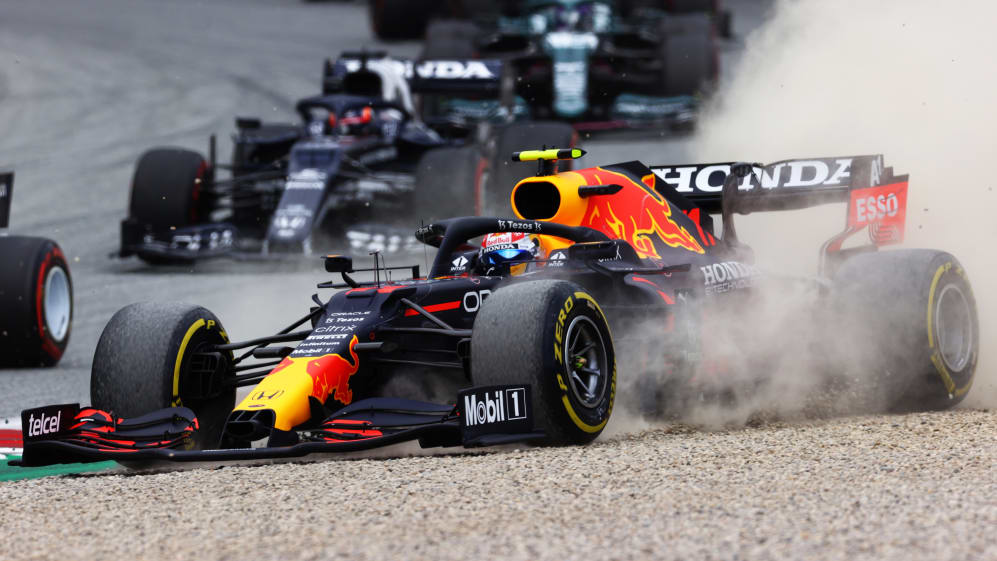 The stewards had their hands full looking at three incidents involving Sergio Perez in Sunday's Austrian Grand Prix, with the Red Bull driver pointing the finger at Lando Norris for turning his race into "a disaster" after he was run off the road by the McLaren driver early on.
After consolidating his third position at the start, Perez was a man on a mission when the race re-started after an early Safety Car on lap 4, attacking Norris for P2 at Turn 1 and then again at Turn 4.
On both occasions he opted to try make a move around the outside, but on the latter attempt ended up in the gravel, falling down the order to P10 and complaining vocally about being pushed off the road.
READ MORE: 'He put himself in the gravel' – Norris hits out at Perez penalty after having to settle for P3
The stewards agreed with Perez's assessment, handing Norris – much to his annoyance - a five-second penalty that would ultimately cost the Briton second place. But by then the damage had been done to the Mexican's race, and ironically he'd end up getting the same penalty himself for a near carbon copy incident with Ferrari's Charles Leclerc.
Perez then got a further five-second penalty for the same offence at Turn 7 – a penalty that would drop him from P5 on the road to P6 when all was said and done.
With team mate Max Verstappen demonstrating Red Bull's pace by easing to a comfortable victory, it was little wonder Perez was so upset when he spoke after the race.
"It was a disaster, my race," he said. "First with Lando, I think it wasn't fair racing there. He was lucky not to have any damage but next time it can be different. Anyway, my race was ruined after that.
"With Charles I'm extremely sorry because that's not the way I like to be racing, in both occasions I just tried to brake as late as possible, ended up without road.
"Actually I did some damage to my front wing. We had very old tyres, you know, at that stage with dirty air and so on, so it was just over the limit and I haven't seen the incidents with Charles but by the end just frustrated with that because as I say that's not the way I like to race."
READ MORE: 'The car was on rails' says Verstappen as he extends title lead with third win in a row
Norris is now just three points away from Perez for P3 in the drivers' championship, so the two could well be disputing the same piece of race track at Silverstone in two weeks.
So can we expect clear-the-air talks before then? Not according to Perez: "Well no, I think I just know next time that things can be tricky, so it was Lap 1, I think as I say he was pretty lucky not to get any damage on his car but as I say, the next time can be different..."