'It would have been nice to be involved' – Bottas on Brazilian GP DNF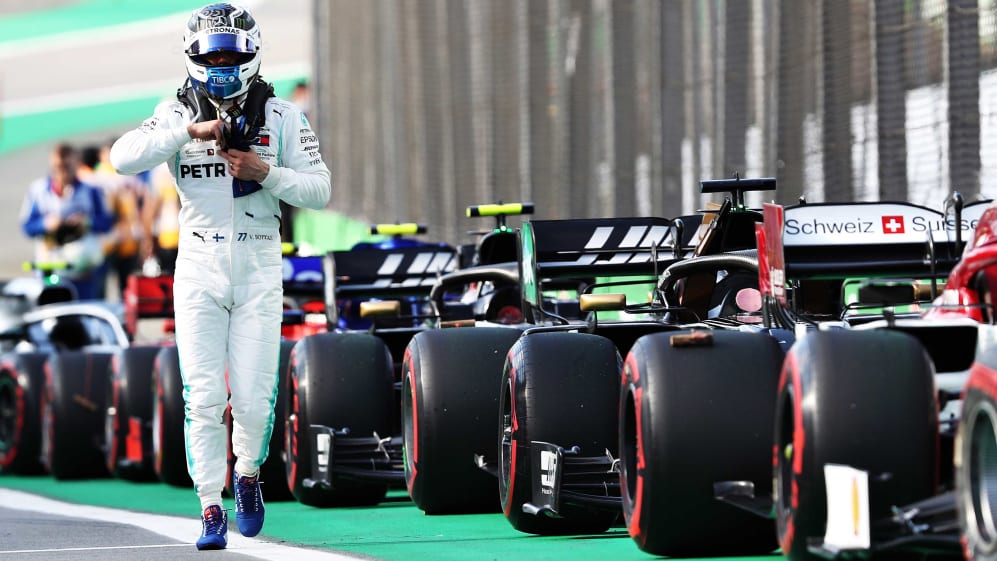 It's not often we see Mercedes suffer a technical failure, but Valtteri Bottas was the unlucky recipient in Brazil, the Finn pulling over to the side of the track having suffered an engine problem and robbing him of a chance to be involved in a chaotic end to the race…
Bottas arrived in Brazil on the back of a strong victory in Mexico, but he lacked the pace of his six-time world champion team mate across the Interlagos weekend. In the race, he aborted a one-stop strategy and then ultimately retired when his engine switched itself off.
His retirement – only his second of the season and first because of a mechanical failure - on lap 53 caused a Safety Car, bunching the pack up, and setting up an exciting finish which got even more thrilling when a second Safety Car was required following the two Ferraris colliding.
READ MORE: TECH TUESDAY - The wing designs winning out as focus shifts to 2020
"It's disappointing that we had that kind of issue," said Bottas. "There was plenty happening after that, it would have been nice to have been involved.
"As I didn't gain any positions at the start and overtaking looked to be quite difficult, the aim was to try and go long in the first stint, trying to save the tyres a bit.
"But still I think I was still lacking a bit of pace in the first stint, due to a bit of oversteer, especially in the middle sector, so I was dropping further back, behind what would have been ideal.
"Then I wanted to go for the hard tyre because I thought that would be the one chance to go all the way with one-stop and I still felt that would be possible. But we stopped [for the second time to take the medium], I think to cover Albon, and at that moment I was confused and questioned the call.
"So, it's still a question mark if I could have made it to the end with one-stop or not. In theory not, but I thought that would be my only chance. In the end, I had the engine failure, but any details about it are still to be confirmed."
Should Bottas require a new engine, it would exceed his allocation and trigger a grid penalty for Abu Dhabi's season finale, but it remains unclear whether that is required. The power unit has been sent back to base for analysis.
"There was a bit of smoke, but I didn't actually see it myself, but they reported it to me," said Bottas. "I couldn't feel any loss of power, it's just the engine switched off after Turn 3."
READ MORE: Ross's review - The thrill of Brazil
When asked if he has enough mileage on used engines already in his pool to go through the Abu Dhabi weekend without a grid penalty, Bottas said: "That's still to be confirmed. I doubt there's any miles left, but we'll see."
Technical chief James Allison added: "We don't know anything more about it. We know we had elevated oil consumption during the race that ran away very sharply, very sharply, about half a lap before we saw it expire. The engine stopped itself rather than expired in a heap."