Feature
Ross's review: The thrill of Brazil
Intense, unpredictable and utterly compelling – the Brazilian Grand Prix was a true edge-of-the-seat experience. It was also a race that provided plenty of talking points for Formula 1 Managing Director, Motorsport, Ross Brawn.
Ross not only highlights the brilliance of F1's podium debutants while lamenting another moment of red-mist mayhem at Ferrari, he also picks out a spectacular re-start that offers food for thought for the future of Grand Prix racing...
Max attack is perfectly timed
The Brazilian Grand Prix was an incredibly exciting and dramatic race, packed with incidents and accidents, but while there was a huge amount going on behind him, for Max Verstappen his eighth career win was actually more straightforward than it looked on the results sheet. Certainly, there were moments of concern for the Dutchman – the pit-lane incident involving Robert Kubica and the need to pass Lewis Hamilton on track twice, which is no mean feat – but after making a good start from pole, the Red Bull star always had victory in his grasp.
READ MORE: Brazil win 'redemption' for Verstappen says Horner
His Red Bull was definitely the best package on the day but Max, too, was in superb form. He didn't waver, he trusted the judgement of his engineers and strategists, and he delivered a winning drive of pace, power and precision.
He was particularly strong at the second re-start, when he slowed the field right down with the aim of ensuring no one would be able to slipstream past him and snatch victory. It was an exciting and fascinating re-start which will be analysed very carefully, as the closeness of the pack in the seconds leading up to the green flags resulted in a thrilling spectacle as drivers jockeyed for position and where the slightest advantage proved decisive. Examining the possibility of procedurally recreating those conditions in future is an interesting concept and one that will undoubtedly be explored in the coming period.
READ MORE: Brazil Facts and Stats: A race of highs for Honda
Of Max's three wins this year, this was the one where the Red Bull-Honda package was at its best, as it seems to have closed on if not actually matched the level of its rivals. There's only one race to go, but the Milton Keynes team and the Japanese manufacturer have laid down a strong marker for 2020.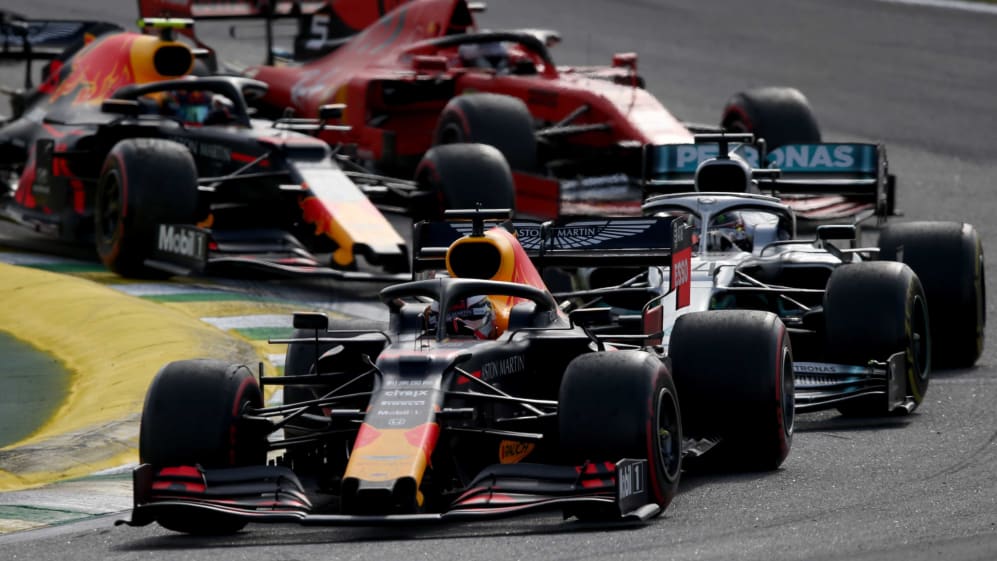 Pierre's strong showing
The Interlagos podium set a Formula 1 record for having the youngest ever average age, at 23 years, 8 months and 23 days, beating the previous record from the 2008 Italian Grand Prix. Of course we are used to seeing Verstappen, the youngest of the three, on the podium, but I'm sure that no one would have bet on Pierre Gasly or Carlos Sainz scoring a maiden podium finish.
Gasly made the most of the fact that most the top three teams' drivers were out of the running, but in the race and indeed in qualifying, he has always been in the right place at the right time.
READ MORE: 'This is the best day of my life' says Gasly after stunning Brazil podium
It's a great shot in the arm for Pierre, at the end of what's been a rollercoaster year. His return to Toro Rosso was viewed as a step backwards for the 2016 GP2 champion, but he wasn't fazed by the switch, and since his return to the Faenza squad he has put in some impressive performances to pick up enough points to possibly take sixth place in the drivers' championship. Sunday's result was a rewarding vindication of his resilience and talent.
Toro Rosso also now have a chance of doing something special and finishing fifth in the constructors' as they are now just eight points behind Renault. The team has already scored more points than in any other year and to improve on its sixth place from 2008 would be a great send-off for the Toro Rosso name, as it morphs into Alpha Tauri next year.
A late but great podium
Carlos Sainz missed out on his first champagne moment in F1, but later on he and the entire McLaren team stood on the podium to celebrate his third place in style.
It was a hugely impressive race from Carlos and the fact that he had some help from safety cars, retirements and accidents, can take nothing away from what was a bravura performance.
He started from last on the grid and then went on to be the only driver to go the distance making just one pit stop, and without resorting to the hardest Pirelli compound. He attacked in the early stages and then defended to the last and delivered a faultless performance from start to finish.
He had a particularly exciting tussle with Kimi Raikkönen over the last few laps, with the Finn on quicker tyres that were also 20 laps newer than the Spaniard's.
READ MORE: Sainz celebrates his first F1 podium - and McLaren's first in 2,072 days
Third place is a deserved reward for the driver and team that has been best of the rest all year. In fact, the 19 points it picked up on Sunday assures it of fourth place in the constructors' championship, the target McLaren set itself at the start of the season. Yes, there's a big gap to third place and there's still plenty of work to do, but it's a real morale booster to take into the winter.
They'll be buoyed by the knowledge that they can count on a couple of young and very talented drivers, as Lando Norris also drove a strong race yesterday, and the rookie is still on course to finish in the top 10 in the championship.
Heartbreak
The saddest man in the post-race interviews was undoubtedly Alex Albon, who must have thought his first podium finish was within his grasp until there were just 10 kilometres to go to the chequered flag.
After switching places with Pierre Gasly in the summer break Alex was last week confirmed for a full season at Red Bull for 2020 and claiming a first F1 podium would have been a great way to celebrate that news and to cap what has been a remarkable turnaround for a driver whose F1 dream looked all but over last winter.
A top-three finish looked on the cards after a great race in which he overtook Vettel with an impressive move before grittily fending off the Ferrari man's attempts to reclaim the position. But his hopes of a trophy were shattered as a result of the coming-together with Hamilton.
READ MORE: Hamilton admits Albon crash 'completely my fault'
I can understand his disappointment but he shouldn't dwell on it because he's had a really good year. He was definitely the least fancied rookie this season, but he has secured his place in the sun and deserves to stay with Red Bull, having performed very consistently, even outscoring his team mate up to this weekend. He missed out on the podium here, but given Red Bull's current form, the opportunity might present itself again in Abu Dhabi.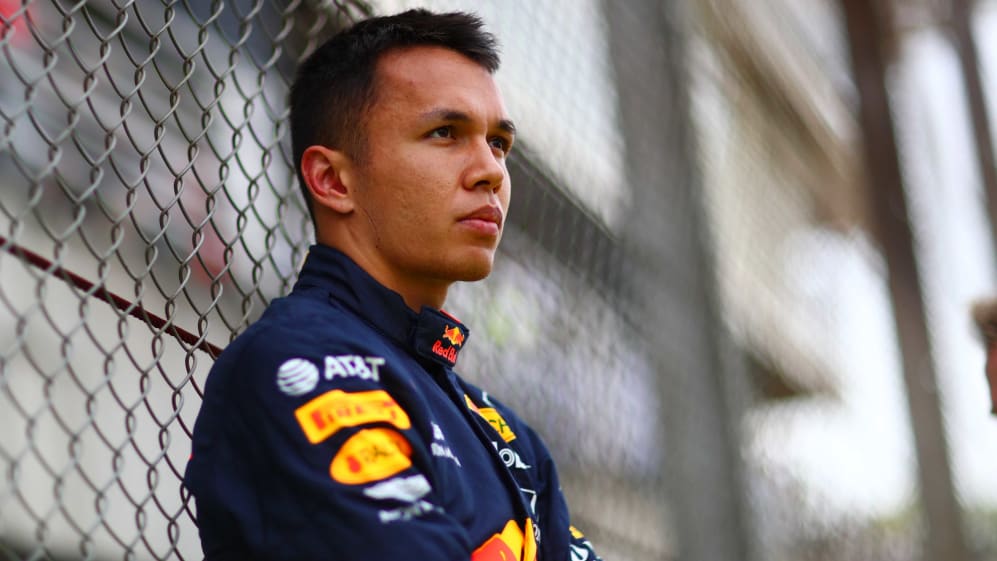 Seeing through the red mist
If Albon was the epitome of disappointment, the two Ferrari drivers were just plain angry. It's never nice when team mates knock one another out of a race, even more so when it's not even a particularly important result that goes begging, as in this case, third place in Brazil was the most they could aspire to.
After tensions flared in the races following the summer break, everything seemed to have calmed down in the Ferrari dressing room. But now, Mattia Binotto faces the tough task of getting things back on track and indeed he said just that in his interviews after the race.
He had to get stuck in and tell the drivers to face up to their responsibilities, which in Maranello always means putting the interests of the team ahead of those of the individual, which was not the case in yesterday's race.
READ MORE: Leclerc and Vettel apologise for race-ending clash as Ferrari boss reserves judgement
I wouldn't want to venture an opinion on who was most at fault for the collision, but in the cold light of day, maybe it would be good if one of them will follow Hamilton's example and immediately admit culpability, as the champion did regarding his clash with Albon.
If Ferrari really wants to put an end to Mercedes' dominance, not only does it need to provide its drivers with a more competitive car next year, it must also ensure that incidents like this one are not repeated. Formula 1 is a team sport, especially so in Maranello.