Interview
'It's a dream come true' – Miami GP Managing Partner Tom Garfinkel on the 'honour' of bringing F1 to the city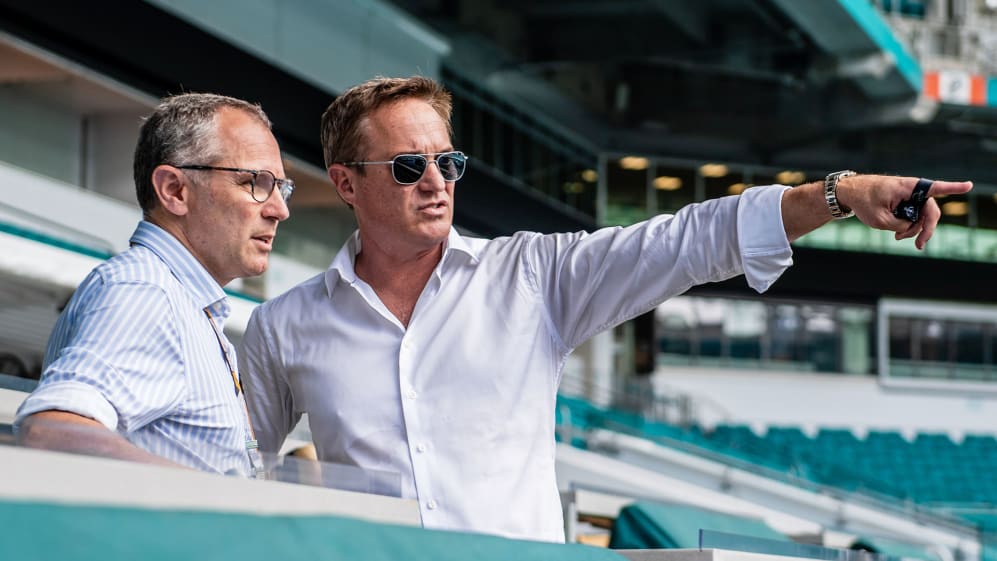 None of the really best things come easy in life, especially in the competitive world of Formula 1. And as Miami stands poised to stage its first Grand Prix this week, the man behind the race, Tom Garfinkel, is already very well aware of that hard fact of a racing existence.
In fact, Garfinkel earned his spurs and took his knocks as he became extremely well-versed in the vagaries of several very different high-powered sports on his way to this crucial point.
Clearly a man who relishes challenges, he mixes his role as Managing Partner of the Miami Grand Prix with others as Vice Chairman, President and Chief Executive Officer of the Miami Dolphins in the NFL and the Hard Rock Stadium.
READ MORE: A brand new circuit, Ferrari's fightback and more – 5 storylines we're excited for ahead of the 2022 Miami Grand Prix
And his operating experience also includes serving in baseball as President and Chief Executive Officer of the San Diego Padres; Chief Operating Officer of the Arizona Diamondbacks; and Executive Vice President of Chip Ganassi Racing's NASCAR, IndyCar and Grand-Am racing teams.
Prior to working in sports, he distinguished himself in different leadership roles in sales, marketing and branding with the Miller Brewing Company and Texaco, Inc, having graduated with a bachelor's degree from the University of Colorado, Boulder, and earned his MBA at the University of Michigan.
Since joining the Dolphins, he's led the turnaround of the business, highlighted by the creation of a plan to privately fund a $550 million renovation of the 27-year-old stadium, while other developments he's spearheaded within the business include a partnership with Endeavor to bring the Miami Open tennis tournament to Hard Rock Stadium, with the 2019 debut event setting record attendance numbers and increasing total revenue by nearly 25%, and pulling off the winning bid for both the 2020 Super Bowl and 2021 College Football Playoff National Championship game at Hard Rock Stadium. Currently, as if everything else isn't enough, he's involved in talks to bring the 2026 World Cup to Miami…
The Grand Prix deal is for 10 years currently, but it took five to overcome numerous hurdles strewn in the project's path. The political infighting and obfuscation demanded patience and an open-minded approach before the deal could be finessed to everyone's satisfaction.
BUXTON: Why the F1 community is getting hyped for the first ever Miami Grand Prix
"The process really started back in 2017," he explains. "I was talking to Chase Carey and Sean Bratches [F1's former Chairman and CEO, and Managing Director of Commercial Operations, respectively], and at that time we were investigating the possibility of putting the race on in downtown Miami. But the reality was, first and foremost, there were too many constraints to have a good racetrack there with excellent racing. You have constraints around the roads downtown that don't allow you to construct a track that has a lot of opportunities for overtaking.
"I think, secondly, getting people in and out of that area downtown is difficult, particularly this many people.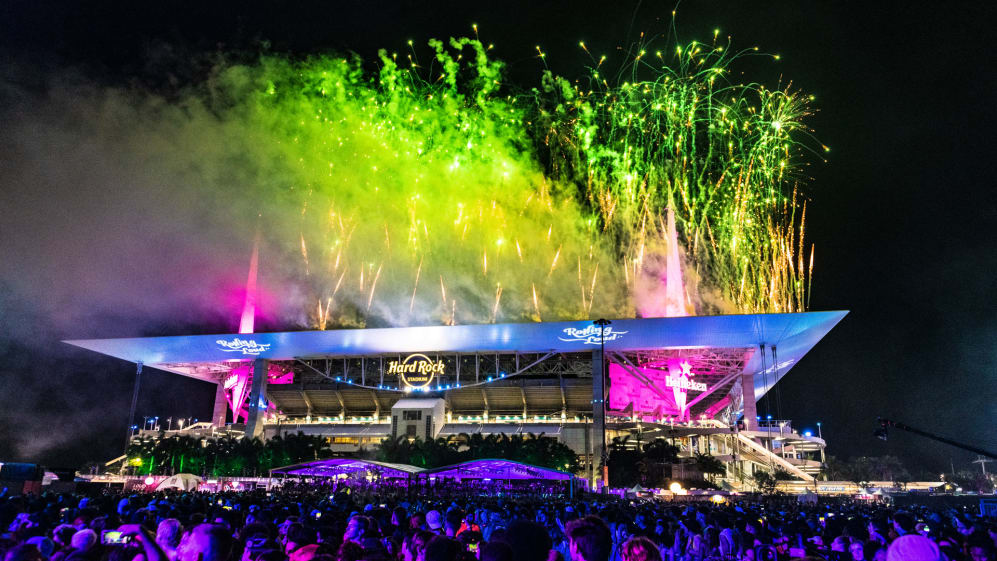 "And thirdly, there were some business interruption issues with the ports and other businesses there that presented challenges. I think after investigating through that for a period of time, the conclusion was we can do this around the stadium here in Miami Gardens. I brought Chase out. I took him around the path of the stadium, walked him around. I'd put cones around the racetrack to show where the racetrack would go. Then he could see from the top of the stadium where the racetrack would be.
"I took him on a golf cart around a potential racetrack and just gave him a vision for what we could accomplish. We had already had the Miami Open tennis tournament in early 2019. By that time, he could see that we could create a campus environment that felt unique and different, and almost like a permanent road course.
"Then it took some time to manage, see that through, do the due diligence on what it would take to pull it off. Then right when we were close to finalising that, the pandemic hit, so that took another year. Then when Stefano [Domenicali] was hired, he picked up the ball, and he and I were able to really very quickly put a deal together that made sense for both of us. I really give Chase and Stefano both a lot of credit for having the vision and bringing the race here to Miami."
IN NUMBERS: The stats behind the all-new Miami Grand Prix
His own duties as Managing Partner embrace an overall perspective. "Overseeing the big picture of the event, if you will," he says. "The vision of the race, getting the deal done with Formula 1 in the first place. I hired the staff, and just oversee the management and operations of the event."
And Garfinkel is convinced that, together with the existing race in Austin, and the forthcoming event in Las Vegas from 2023, F1 can regain the strong foundation it enjoyed at venues such as Watkins Glen and Long Beach from the 1960s to the early 1980s. But exactly what benefits does he envisage the race bringing to the city of Miami in the first instance, and to the US on a wider scale?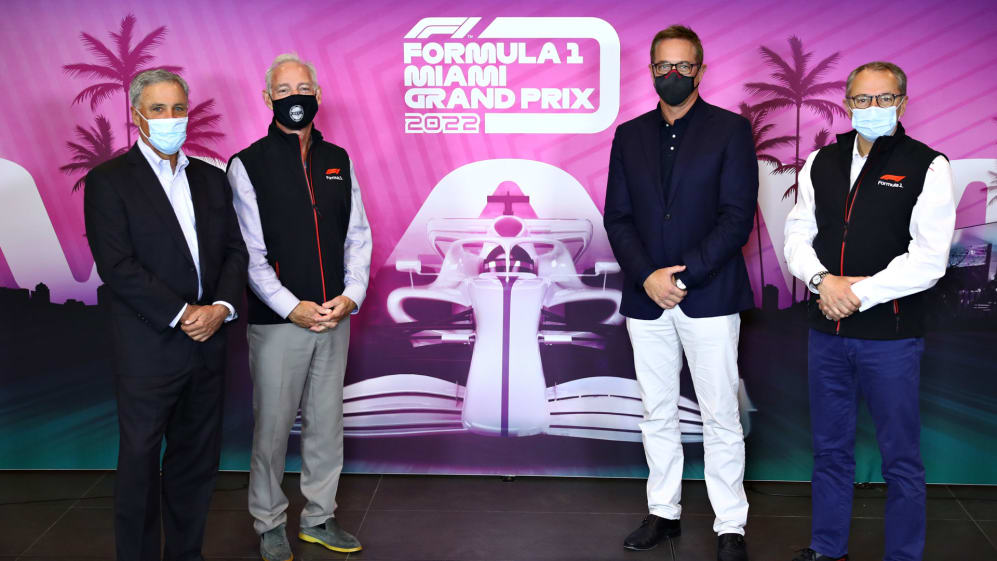 "Having worked in auto racing for a big chunk of my career, I appreciate and recognise how special Formula 1 racing is. These drivers, the teams, the technology, the competition, and being able to introduce that to new fans here in the United States, is a special thing for me.
"I think we've got a great presentation and relationship with Formula 1, and they want to grow this sport here in the United States and we want to be a big part of that with them and work together to do that. Obviously, Liberty Media have done a fantastic job during their tenure of ownership in growing the sport globally and trading competitive parity and telling the great stories that exist in Formula 1.
"We're just honoured to have a race here, to be able to be a small part of helping to grow the sport and tell those stories, and give people their experiences – and what we think is going to be really, really great racing here, most importantly."
READ MORE: Miami is coming – but where else has F1 raced in the USA?
With the announcement of the Las Vegas Grand Prix for 2023, Garfinkel is excited about the prospect of three races in North America (and not forgetting Canada's hugely popular race in Montreal) and sees the sport having an excellent chance of generating a solid long-term established base there in the near future.
"I think what's happening with Formula 1 in the United States in the last year or so is really quite a phenomenon," he says. "It is on the minds of people that not only weren't Formula 1 fans, they maybe weren't even race fans. They're engaged. They're excited. The bottom line is that Formula 1 is cool.
"It's cool for young people. The technology, the impressive nature of these cars, how they're sustainable now, what these engines do on a small amount of fuel, these drivers, the g-forces that they take, the skills that they employ, the competitiveness that's required… The fact is that the more you educate people about Formula 1 racing, the more they become fans, and they understand that it really is a team sport, with the driver as a hugely important part. And the more they understand it, the more they fall in love with it."
Even a brief conversation with Garfinkel is sufficient to convince you that he's a card-carrying race fan. "It's in my history. It's in my blood. I love it!" he laughs. "It's really a dream come true to be able to have the race here and have Formula 1 come here to Miami."
Now his job is to attract others to share that love, others from America's much-revered stick and ball sports, or race fans who believe more perhaps in NASCAR and IndyCar. Is there something specific he and his team have been doing to try to attract those two disparate kinds of spectators?
"I've never watched a race with someone on television and turned them into a huge race fan," he admits, disarmingly. "I've almost always been able to take people to a race and educate them about racing on site, and then they become fans and watch it on TV afterwards. I think what we're trying to do here is attract people to a great event.
WATCH: The Miami International Autodrome gets the F1 22 game treatment
"It's almost a Disneyland-like campus, with so many opportunities for great experiences with friends, whether that's through music, drinks, all kinds of different things, that when people come out and enjoy those experiences, there's going to be the world's best auto racing going on around them. I think educating them about that auto racing and giving them that experience is going to turn them into Formula 1 fans pretty quickly. F1 sells itself."
He's certainly right on that, as even the most jaded critics of F1 tend to change their tune when they start getting up close and personal with the sound and the aura of an endeavour that simply can't be ignored.
Garfinkel and his team are finally on the brink of placing the product before the consumers. And the signs are that the success of the project will last a great deal longer than the fight to bring it to fruition. There's no doubt, for F1's future, this is one of the most important new races in years.