It's a Red Bull seat or a year on the bench for Albon in 2021, says Horner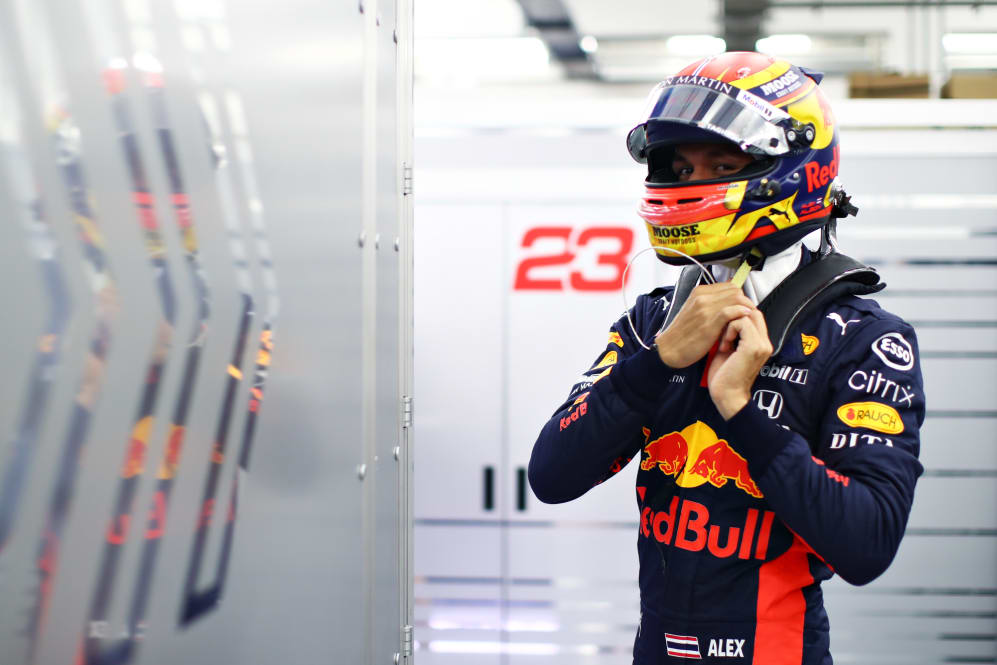 Alex Albon has two options for 2021 – retain his seat at Red Bull or face a year on the bench, according to Christian Horner, with the Thai driver's team boss ruling out a route back to AlphaTauri.
Red Bull have put their arm around Albon this year, as he's struggled to get on par with team mate Max Verstappen, and are giving him until the end of the season to prove he deserves to stay at the team.
Albon's form has picked up in the last couple of races, the Red Bull driver scoring his second podium last time out in Bahrain – and he looked quick in first practice for the Sakhir Grand Prix, too.
FP1 REPORT: Russell impresses with quickest time on first Mercedes outing as drivers get to grips with Bahrain's Outer Loop
When Pierre Gasly lost his seat at Red Bull, with Albon replacing him, the Frenchman was sent back to AlphaTauri and has since excelled, but Horner ruled out that option.
"I don't believe he forms part of [AlphaTauri team boss] Franz's [Tost] plans for next year, so it's very much a Red Bull seat or a year on the bench," said Horner in Bahrain on Friday.
"The focus is on giving him the opportunity. He's got two races. He did a good job last weekend, being on the podium, his second podium in Formula 1. He's had a good first practice, a good start to the weekend here.
"[He now has] two more weekends to demonstrate he's absolutely the right guy to be in that car alongside Max next year. And we're giving him all the support we possibly can to achieve that goal."
READ MORE: Horner says Perez 'remains under consideration' for 2021 Red Bull drive, but team want Albon to succeed
When asked why they would bench him rather than sending him back to AlphaTauri, Horner said: It's not something we're contemplating at the moment, I guess once we get to the end of the year and then we will evaluate all of those options.
"He's on a long-term agreement, as all Red Bull drivers are when they join the team. Our focus at the moment is on the race seat and giving him the opportunity to demonstrate he is making significant progress, building on that podium from last weekend and this early practice form."
It is believed the main reason why Albon will not return to AlphaTauri is because Honda-backed F2 racer Yuki Tsunoda is understood to be set to make his F1 debut with the outfit, driving alongside Gasly in 2021.