'It's all or nothing on Sunday' – Renault drivers set to go on the attack after missing out on Q3 at Yas Marina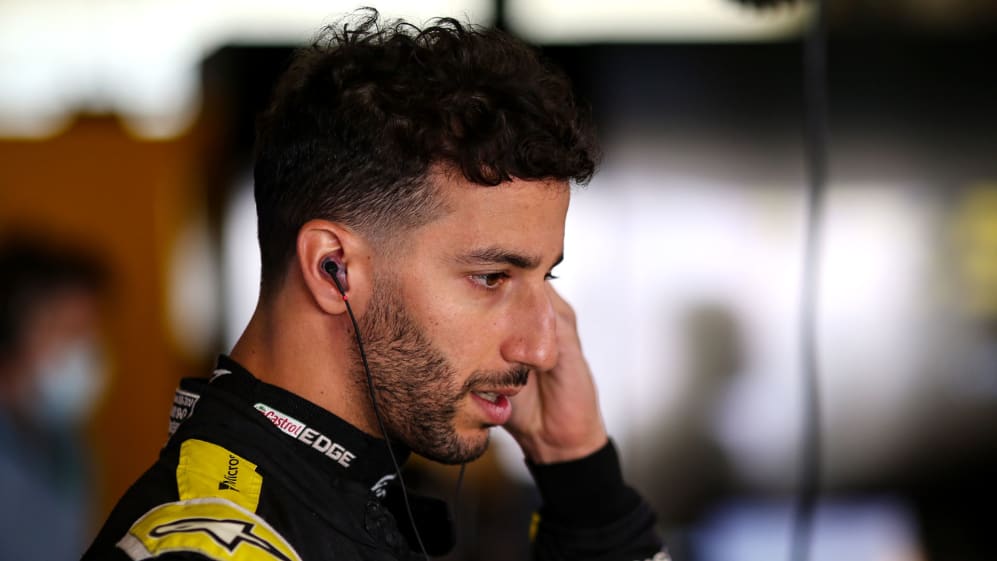 Daniel Ricciardo and Esteban Ocon ended Free Practice 3 at Yas Marina in an eyebrow-raising P3 and P4, as Red Bull's Max Verstappen set the pace. But although Verstappen would go on to take his maiden pole of the season, the Renault pair were unable to convert that speed into qualifying, with Ocon and Ricciardo set to start the Abu Dhabi Grand Prix in 11th and 12th, having both failed to reach Q3.
Ocon in particular has looked strong for Renault so far at Abu Dhabi, with qualifying marking the first session in which the Frenchman had failed to finish in the top six all weekend. But after missing out on a spot in Q3 to AlphaTauri's Pierre Gasly by just 0.077s, Ocon had no answer when asked where Renault's pace had disappeared to in qualifying.
READ MORE: Verstappen thrilled to net pole with 'final send of the season', as Horner says 'he can always surprise you'
"It's a good question," replied Ocon, who arrived at Yas Marina off the back of his maiden podium at the Sakhir Grand Prix. "We were looking shiny in practice, we were very strong, we were in top five most of the time, so it is a bit disappointing to see us out of Q2, not coming into Q3.
"We need to review, dig into that, see what happened exactly, but we lost rear grip, lost confidence and obviously here, when you don't have that, you can't attack all the combinations of corners."
The result in Abu Dhabi marked just the second time this year that Ocon has outqualified team mate Ricciardo – a fact which probably added to the Australian's disgruntled mood when he faced the media after his final qualifying session as a Renault driver, having finished 0.047s behind Ocon after having one of his Q2 efforts deleted for a track limit infringement.
"It was a strange one; we didn't really have the pace, but we had it a few hours ago in practice," said Ricciardo. "For sure the track changes a bit but still you kind of expect to be a little closer in qualifying to our competitors. But we just fell way off.
READ MORE: Verstappen stuns Mercedes by taking first pole of the season in Abu Dhabi
"Things are normally easier at night, everything kind of comes to you," he added. "Right now, I don't like being 12th for sure, but we'll try and make something happen tomorrow."
The Renault drivers at least go into Sunday's Abu Dhabi Grand Prix with a free choice of starting tyres. And Ocon was hoping that that would give the team the advantage they needed against their rivals, as they look to close down a 22-point gap to Racing Point for P3 in the constructors' – while McLaren sit 12 points ahead of Renault currently, having been the only one of the three teams to get both drivers into Q3 on Saturday.
"The good thing is that we choose the tyres tomorrow," said Ocon. "It's not going to be easy to race on the softs for the other guys. So it's going to be all or nothing tomorrow, because we need to come back, we need to score big points for the constructors' championship. That's going to be mega important, so let's see what we can do."
HIGHLIGHTS: All the action as Verstappen grabs his first pole of the season in Abu Dhabi
Ricciardo, meanwhile, had loftier ambitions for his final outing with Renault before joining McLaren for 2021, saying: "I don't like to be Grumpypants. Obviously it is my last [qualifying with Renault] and I wanted to do better for the team as well, so tomorrow, I'll try and just do what the others did last week [in Sakhir], come from the back and be on the podium."