'It's been a slog' – Hamilton delighted with first pole since Germany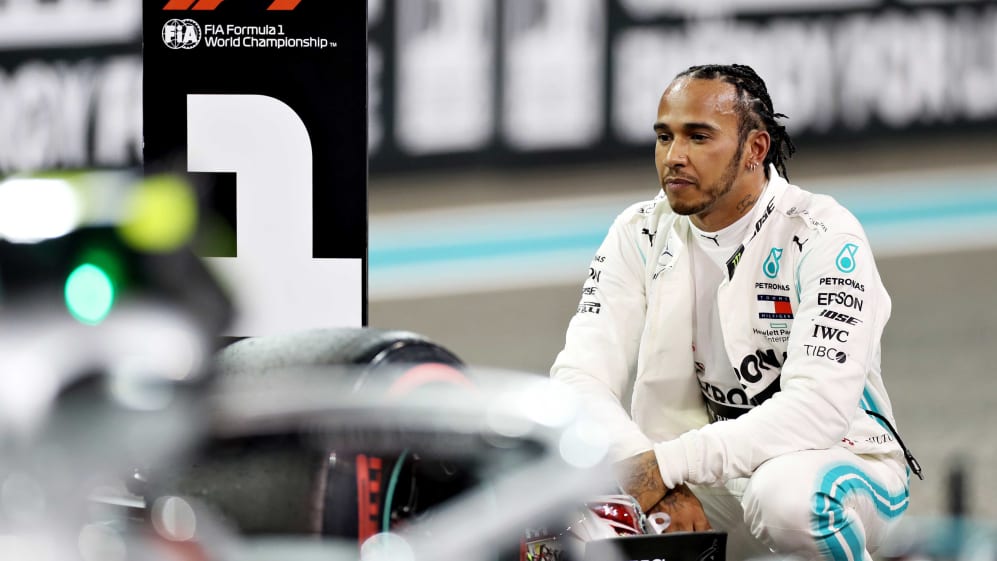 Lewis Hamilton's 88th career pole position had been a long time coming, with the Briton's last pole having come at the German Grand Prix, 10 races ago. And after capturing P1 in Abu Dhabi, this year's world champion admitted he was pleased to have given his "special" 2019 car a good send-off on its final qualifying outing.
Hamilton took his fifth pole position of the season by 0.194s from team mate Valtteri Bottas, while Max Verstappen – who'll actually start P2, following a host of grid penalties for Bottas that means he'll start at the back of the grid – was 0.360s adrift. And Hamilton admitted that it had been an arduous process for him to get back to his pole-snatching best.
READ MORE: World champion Hamilton captures pole for 2019 finale in Abu Dhabi
I'm glad we're in this position, to end the qualifying season with a pole. It's been a while
"It's been such a long slog trying to get this pole position," said Hamilton. "Yesterday was quite wobbly, so I had to really recompose myself last night and come back focused. I managed to dial in the car with great work from my engineers. Mechanics continuing to do a great job.
"I'm glad we're in this position, to end the qualifying season with a pole, which has been a while because we've only had four, I think, earlier on this year."
In spite of his relative lack of pole positions in 2019 – he took 11 in 2018 – Hamilton still managed to claim his fifth world championship in six years (and his sixth overall) this season, securing the title at the United States Grand Prix with two rounds still to go. And Hamilton said that he was glad to have rewarded his title-winning Mercedes W10 machine with a final pole position of the season before its retired.
"It's been a special car," said Hamilton, "and it's the last time I'll get to qualify it, so I'm glad I did it proud today."
Having maintained Mercedes' 100% pole record in Abu Dhabi since 2014, Hamilton will now attempt maintain their 100% win record since 2014 too, with the Briton having won here for the team in 2014, 2016 and 2018 – adding to his 2011 Abu Dhabi victory with McLaren.