Feature
Jolyon Palmer's Analysis: The champion's mentality of Lewis Hamilton
The 2019 United States Grand Prix wasn't won by Lewis Hamilton on Sunday but his fighting spirit – evident in his relentless pursuit for victory – underlined the mentality a Formula 1 champion needs to possess…
It was a Grand Prix that showed exactly why he has had such success.
The fact that he was only a few laps away from the victory underlined his impressive race performances of 2019, which have been key to his title win.
READ MORE: Hamilton – Verstappen 'beef' was squashed ahead of US GP
With eight of his 10 wins this year not coming from pole position, Hamilton has often had to rely on his race craft for victories.
But what has been interesting, and prevalent again in Austin, has been his mentality – that of a champion – which has been apparent over the radio this year.
During the race Hamilton was told he was going to be in a fight with Red Bull's Max Verstappen at the end of the race, for second place. As it turned out, Mercedes were spot on with their estimations, but Hamilton wasn't interested in fighting for second.
WATCH: Hamilton and Bottas visit Mercedes factory for title celebrations
Starting from fifth and fighting for second to many drivers might seem like a pretty good race day, but Hamilton's 'win at all costs' mentality shows how hungry he is, especially as a win in Austin was irrelevant in the grand scheme of his title.
He asked his team how he can win, and what the gap was to Valtteri Bottas, and also defied the team's call to pit, opting to stay out for another lap in his bid to take the fight to his team mate.
READ MORE: Why Hamilton's sporting greatness transcends Formula 1
It's not the first time this season this has been the case. In Japan he was also constantly on the radio to his Mercedes team asking them about the gap to Valtteri and how he could win the race, and then wasn't happy at points when he thought the strategy was going against him.
Other drivers are told during the race about who the team think they are in a direct fight with at the end, but we don't hear them questioning it nearly so much.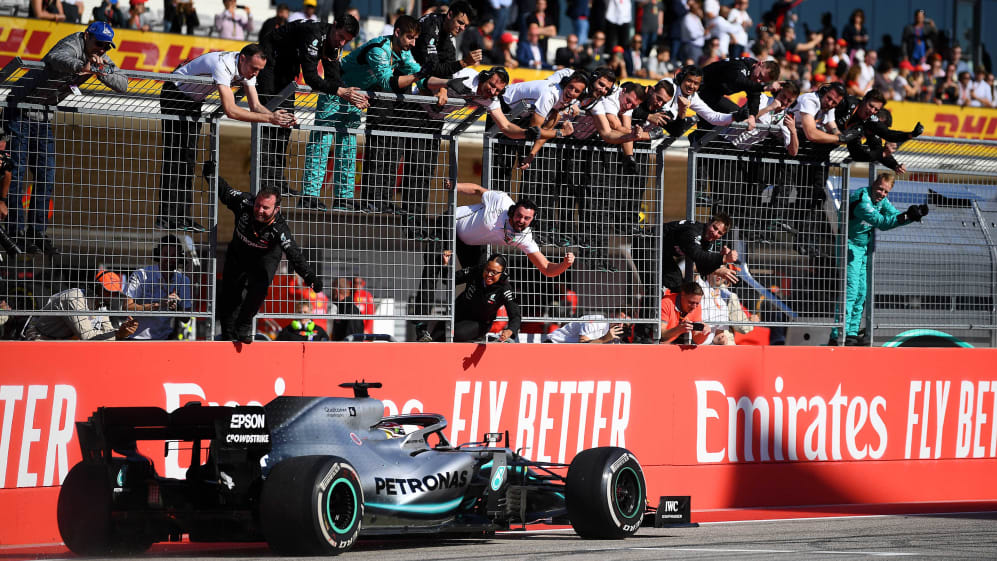 During the race, the driver actually has very limited information. He can see the car ahead, so long as he's within 10 seconds or so, and he can see the car behind if he's within a few seconds but, beyond that, he is at the mercy of his team for information.
That is why we hear a fair amount of back and forth, because whilst we might be spoiled for the information with the television pictures, and the teams likewise, the drivers actually have little idea what's going on.
READ MORE: Can Hamilton equal Schumacher's 7? Wolff and Hamilton have their say
Many times in my career I didn't know what position I was in, let alone what strategy everyone else was on or where I might be expected to pan out.
It's easy to follow at the start of the race, but once the pit windows open and cars start diving in, on various strategies, it's very difficult to gauge what's going on.
For those at the front it's somewhat simpler. Hamilton would have known he was in a fight with Bottas and Verstappen, because they were running as a three at the start, and he would have known both Ferraris were out of contention by the time he could no longer see Leclerc in his mirrors.
But once Bottas and Verstappen both pitted, he no longer has a clue how he's looking or how the race may unfold.
READ MORE: POWER RANKINGS – Who's making their first top-10 appearance of the year post-COTA?
He wouldn't know the likely strategies of others and certainly wouldn't have a clue about their pace whilst they are the best part of 20 seconds behind him on track.
So this is why we get the update radio messages from team to driver from time to time.
"OK Lewis, we're going to the end, 32 laps remaining, this will be close with Verstappen at the end of the race."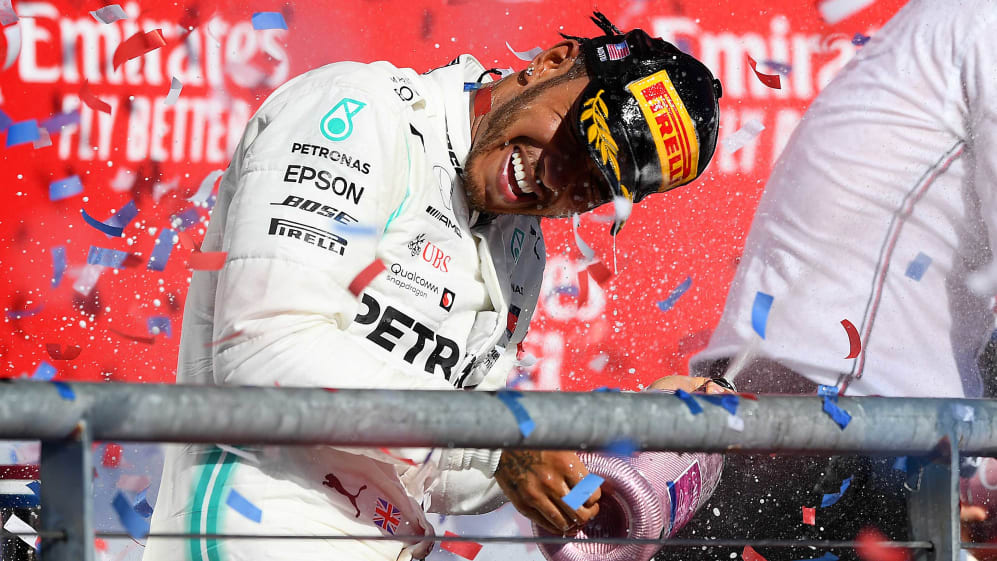 That's the radio message Hamilton got in Austin, and is typical as an update message for a driver as they emerge from their pit stop. It's useful information to keep them in the loop, and then they'll get the odd update and confidence lifter from the pit wall in the remaining laps as well, to keep the driver motivated, knowing he's doing a good job.
But for Hamilton as soon as he hears he's in a fight for second, you can hear his frustrations - he's always questioning how that can be better. In Austin his response was: "so I haven't got a chance to win?"
READ MORE: Austin winner Bottas 'can't wait for next year' after conceding 2019 title
After all he would have known early on he had the pace to match both Bottas and Verstappen, so why not take the win?
In the car, with the strategy, you are ultimately at the mercy of your team, because they have all the information available to them and can see how the race is unfolding into the bigger picture. It's very difficult to go against their judgement, because they simply should be able to do a better job than you based on this information the driver doesn't have.
But that is why we sometimes get radio messages where the drivers seem to be giving their team a hard time, because they are always wanting more. No more so than Lewis Hamilton, and it's that mentality that has seen him romp to his sixth title this season.