Feature
Jolyon Palmer's Analysis: Dissecting the strategic battle between Mercedes and Red Bull in Hungary
The 2019 Hungarian Grand Prix provided another fascinating spectacle, with Red Bull going toe-to-toe against Mercedes in a game of wits. Here, former Renault F1 racer Jolyon Palmer explains the method and execution behind Mercedes' plan of attack.
The Hungary race saw a fantastic scrap between the two star drivers of 2019 so far, Lewis Hamilton and Max Verstappen, and in the end this one came down to a Mercedes race pace advantage, and some smart strategy as well.
Firstly, both teams were perfect on their pit-stop strategy on the weekend.
Red Bull pitted Verstappen on exactly the right lap, to ensure he wasn't undercut at the end of his first stint by Hamilton. As he was ailing on his tyres, Hamilton pitting a lap earlier would guarantee the Briton the lead of the Grand Prix.
READ MORE: Mercedes explain how they engineered Hamilton's Hungary win
So Mercedes did the only sensible thing, which was to go a fair way longer in to the race, and in the end Hamilton pitted six laps later than Verstappen.
In this period Verstappen wasn't on the limit in terms of pace, because he knew he had a really long way to go to the chequered flag – some 44 laps on a set of tyres.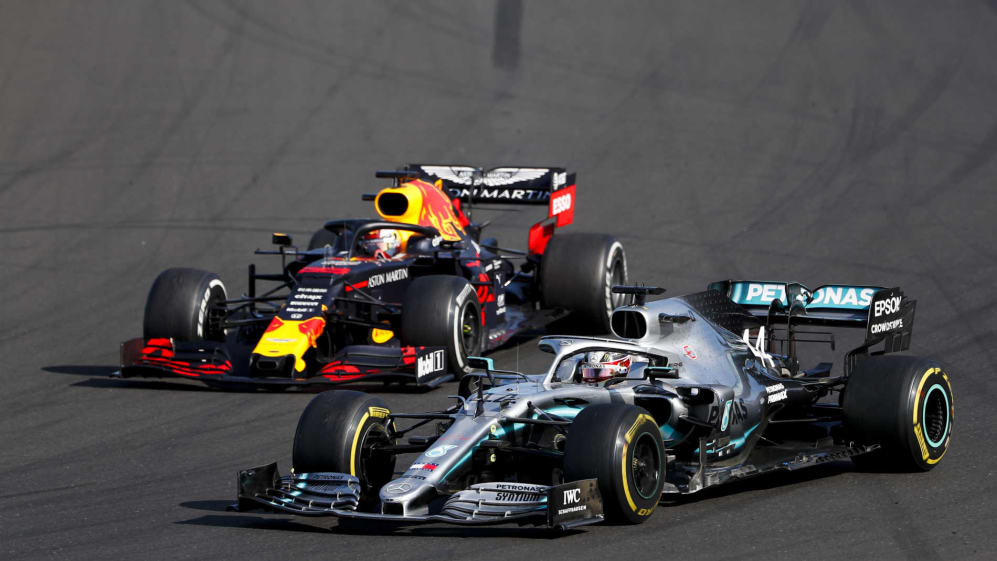 Hamilton reeled Verstappen in and attempted to make a move on his rival a couple of times, but ultimately couldn't and fell back.
When you follow a car ahead too closely for too long, you overheat your own tyres, start to slide more and further damage the tyres. So Hamilton backed away a bit after the early attempt.
After a few laps cool down, he attacked Verstappen once more, and this is where Mercedes pulled a tactical masterstroke.
Pitting Hamilton when he was a second away from Verstappen meant Red Bull couldn't react. They had to now go to the end of the race on this set of tyres, because as before, Hamilton would have undercut them had they responded a lap later.
REPORT AND HIGHLIGHTS: 2019 Hungarian Grand Prix
They also couldn't pit earlier because Hamilton would have simply one-stopped in the faster Mercedes and gone on to win.
So with Red Bull snookered, Verstappen was left in a tricky situation, and the race became more of a 20-lap time trial.
Hamilton had a 20-second gap to make up in that time, and then had to pass Verstappen as well once he got to his rival, not an easy thing to do on a tricky circuit to overtake on.
For Verstappen the challenge was difficult, because he had to push hard, but crucially he was on the absolute limit in terms of tyre life.
Early into Hamilton's last stint, Verstappen upped his pace to try and keep out of arms reach of his rival at the end of the race. Ultimately this would have taken its toll on Verstappen's tyres, particularly the rears in the long run. But it was such a difficult race for him to manage.
The faster he went, the more he would damage his tyres, and then if Hamilton caught him he would be a sitting duck. Or he could have gone slower, been caught earlier, but potentially had more tyre life to defend for the race win.
For Hamilton it was a similar situation, but complicated more by the fact that he came out into a load of backmarkers, just as he was wanting to pick up the pace.
READ MORE: The Winners and Losers of the Hungarian Grand Prix
That, combined with Verstappen picking up the pace, meant that the lap time difference needed to be even more than Mercedes thought originally when they called their driver in. Hamilton was questioning the strategy and it looked like the race was getting away from him.
But critically as soon as he got into clear air he was able to up his pace, at the same time as Verstappen had started to drop. The pace advantage Hamilton had over the race-leading Red Bull was up to 2.5 seconds at times.