Feature
Jolyon Palmer's Analysis: How Leclerc evolved his approach at Silverstone
There's a new rivalry fast developing in Formula 1. Charles Leclerc and Max Verstappen, fresh out of the Austrian GP race-defining drama, had an almost race-long battle at Silverstone.
Leclerc came off worse than Verstappen in Austria, with the Dutchman forcing a bewildered Leclerc off the road with what I considered a somewhat dubious manoeuvre.
At Silverstone, though, it was clear Leclerc had learnt and adapted his driving to fit the precedent that was set by the Stewards' decision to not penalise Verstappen two weeks previous.
Before the race Leclerc was saying that he was glad the Verstappen move was allowed, because it meant he could now drive with more aggression as well.
And that's what he did.
Coincidentally the two lined up alongside each other on the grid, behind the two Mercedes, and like in Austria, Leclerc was ahead, but clearly slower, particularly in the opening stint.
READ MORE: Leclerc declares battling Silverstone drive 'the most fun I've had in F1'
In Austria Leclerc left the door open to gift the inside line to Verstappen at Turn 3, a decision which ultimately became his downfall as he was forced off on the exit.
Immediately in this latest battle it became abundantly clear that he wasn't going to do the same again.
Every time Verstappen was close enough to attack, Leclerc covered the inside and Verstappen was left to look around the outside or attempt to get the switchback.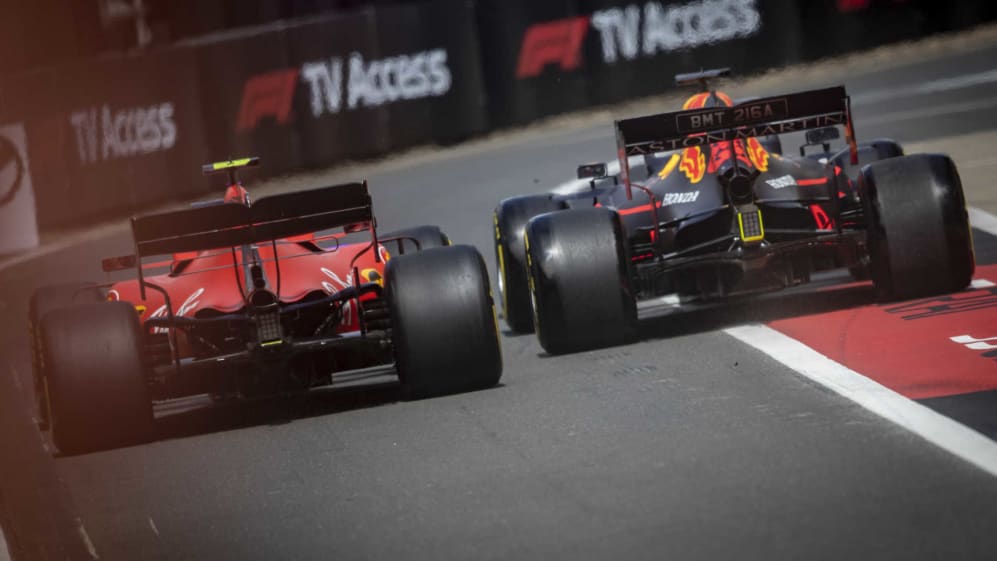 But Leclerc appears to be a very quick learner. Not only was he wise to Verstappen's desire to dive to the inside, but in any corners where a switchback could give Verstappen the inside on the exit, he just backed Verstappen up at the apex and ensured he didn't leave the door open on the exit either. That was particularly evident at Luffield, the Loop and even sometimes at Club, where Verstappen nearly ran into the back of the Ferrari man.
And whilst Leclerc was positioning his car perfectly on the inside whenever under pressure, Verstappen had no choice but to look to the outside - a move which was never going to come off for him - particularly at this time, against this rival.
DT's 10 Hot Takes – On Hamilton's 'luck', Leclerc's toughness & more
With Leclerc now perfectly clear on the rules, he knew that as soon as Verstappen looked around the outside, he could just get on the throttle and force him wide on the exit, in exactly the same way as he had been on the receiving end of in Austria.
This was clear on lap 11 at Turn 4.
Verstappen, frustrated at a lack of opportunities arising on the preferred inside line, tried his luck all the way around the outside of Leclerc. Leclerc moved across, and Verstappen was promptly ushered towards the grass and had to back off on the exit, which almost meant he was passed by Sebastian Vettel behind.
This was absolutely a case of what goes around comes around, and it came around quicker than Verstappen ever thought it would, as he marched on to his Austrian victory.
It wasn't just wily race craft that was different for Leclerc in Austria though. His outright level of aggression was clearly much higher than I've seen it from him before.
Even when Verstappen managed to finally get a nose in on the inside at Stowe, Leclerc didn't give it up and swept back around the outside, when it looked like Verstappen had got the move done.
WATCH: Verstappen wins pit lane duel with Leclerc, but loses out on track
Leclerc was more committed to keeping the Red Bull behind than I've seen from a driver for a long time. This was personal.
Once the strategy got away from him, following the Safety Car, his anguish was obvious to hear; 'How did that happen?', he asked his team, clearly not amused at seeing Verstappen ahead despite his hard, elbows out work.
F1 POWER RANKINGS: Has anyone dethroned Verstappen after Silverstone?
The aggression was still there though and now on the attack he showed no mercy to Verstappen. Going around the outside and then diving up the inside into the smallest of gaps at Club corner, with a bit of side to side contact for good measure.
They both went wide, Verstappen stayed ahead off the track, and it looked like a race that was bound to end in tears between the two at some point.
Credit to both for negotiating the full race distance without more major contact though. This was tit-for-tat good, hard racing at its finest.
Leclerc no doubt deserved his eventual 'lucky' podium after the Verstappen/Vettel incident. When you are racing in Formula 1, you know who you are up against and you can sometimes change your style accordingly.
Was this Leclerc simply trying to get his own back on Verstappen, or will he now adopt this much more aggressive approach against all of his rivals? It remains to be seen. But one thing's for sure, it gave us a cracking British Grand Prix.