Feature
Why Hamilton's Spanish GP victory was one of his finest lights-to-flag wins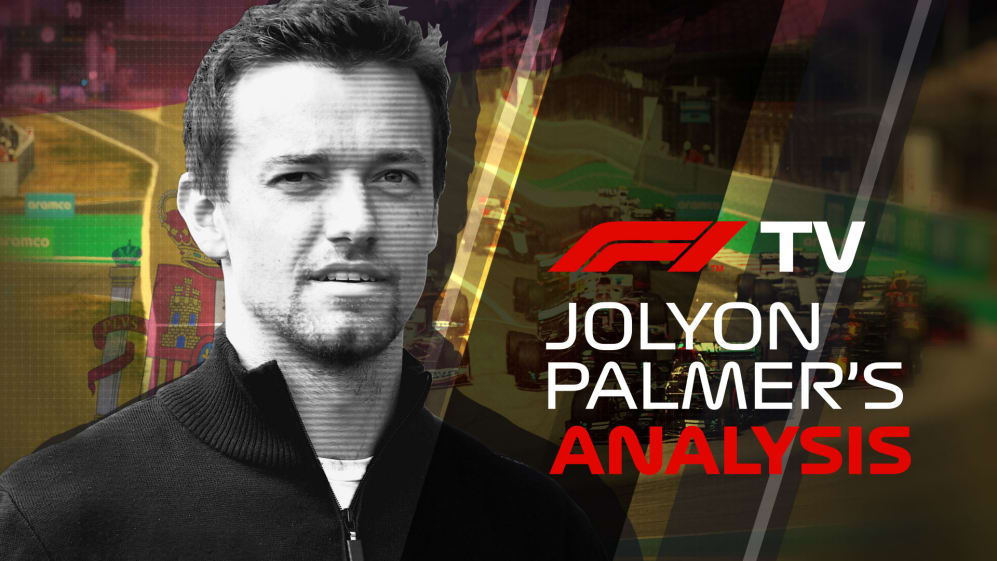 It might have looked routine from the outside, but Lewis Hamilton's win in the Spanish Grand Prix was actually one of his most impressive victories, says Jolyon Palmer...
Qualifying at Catalunya is very important. It's a difficult circuit to pass on as we've seen over the years, really there is only one conventional overtaking place - into Turn 1.
On Saturday Hamilton did just enough to edge out Valtteri Bottas to pole, and actually it was all thanks to a great final sector. Through two thirds of the lap Bottas was up on Hamilton, but the final sector in Barcelona is critical for lap time and that's where Hamilton made it up.
WATCH: Onboard with Lewis Hamilton for his pole lap at the Spanish GP
Crucially for Hamilton, Bottas was unable to improve on his final qualifying lap - agonisingly clocking a second lap within a tenth of Hamilton - because Hamilton himself had a scrappy last lap too. Fortunately that final sector on his first Q3 attempt was sufficient for pole.
The next critical moment in Spain is the race start. Not only because it's tough to pass at this particular circuit, but more because it's actually relatively easy to pass at the start, because Barcelona combines a long run to the first corner which helps cars behind to slipstream and a reasonable braking zone when the drivers get there.
Once again Hamilton excelled here though. A start like he made at Silverstone for the British Grand Prix might have seen him swamped by fast starting drivers behind, who can tuck immediately into the slipstream and have a great run down to Turn 1.
When the start mattered more in Spain, Hamilton was able to deliver with a great getaway, unlike his Mercedes teammate.
READ MORE: The Winners and Losers of the 2020 Spanish Grand Prix
Bottas' start wasn't poor by any means, but because Verstappen's was better, it was the Red Bull man that could tuck into Hamilton's slipstream down to the first corner and pinch second, meanwhile Lance Stroll had a flying start (which you can see below) and a double slipstream from both the Dutchman and Hamilton, which he used to leap ahead of Bottas at the start as well.
Bottas was slightly earlier than both Verstappen and Stroll on the brakes at Turn 1, but it's a difficult place to be sandwiched between two cars. We've seen incidents in the past where three cars try to get through the corner together, notably in 2017 where Bottas himself tangled with Raikkonen and Verstappen.
In this instance Bottas' caution was probably sensible, but it also briefly cost him a place to Sergio Perez, who he managed to sweep back past around the outside of Turn 3.
It took a few laps for the Finn to get back past Stroll though and that enabled Verstappen to bridge a gap to Bottas early on, and from there the Mercedes man never really looked like he'd pass Verstappen for second.
With track position being so important at Barcelona, it was surprising that Mercedes pitted Bottas again at the end of the race, rather than attempting a one stopper.
When Bottas pitted for a second time, his medium tyres seemed to be hanging on ok and the gap to Verstappen was a full 17 seconds with only 18 laps remaining.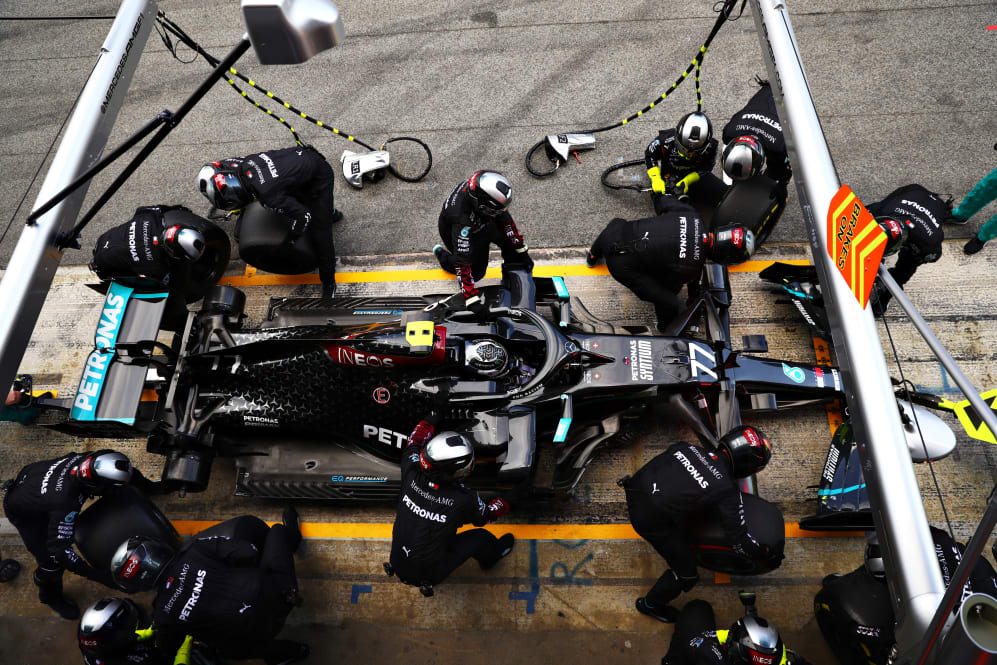 Sergio Perez has always been a driver who is kind on his tyres, but he pitted just six laps later than Bottas did earlier on and comfortably made the finish on a one stop. For Mercedes' second driver this seemed a better approach to try and beat Red Bull, rather than relying on an on track pass for second place.
READ MORE: Could Verstappen have won in Spain had Red Bull repeated their Silverstone tyre gamble?
Out front though Hamilton's race was stunning. It's become difficult at times to rate Hamilton in these races, because he makes them look so routine, but Bottas' performance shows that it wasn't purely down to the car.
Of course the Mercedes was the car to beat in Barcelona, but the manner in which Hamilton controlled and then won the race emphasised his superiority on Sunday.
He said after the race that he was in such a zone that he didn't even realise it was the final lap, and it showed in his performance, finishing 24 seconds ahead of Verstappen. The fact that Verstappen was under no pressure from Bottas in the other Mercedes once again backs up thoughts that was one of Hamilton's finest lights-to-flag wins.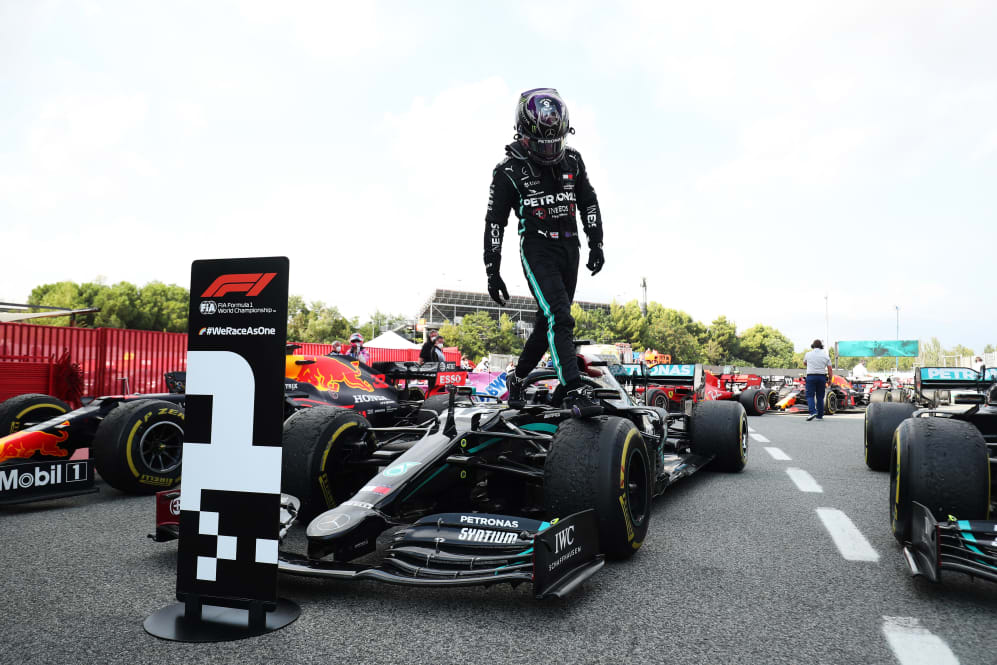 From the moment Hamilton started pushing on lap 10, there were only 14 laps of the remaining 62 (not including his in or out laps) that he wasn't the fastest man on track, including other drivers pitting for new tyres, or Hamilton having to lap traffic.
That also shows the unbelievable rhythm that he found himself in, churning out fast laps at ease and walking away with the race.
While doing this, he also had the spare mental capacity to call a late strategy to avoid the soft tyre, which Mercedes had perhaps erroneously pitted Bottas onto, and that seemed to work for Hamilton as well, as he completed an extra lap before switching to mediums to coax it home.
Hamilton has the ability to make these sort of wins seem routine, but this one was most definitely a standout.
READ MORE: Spanish GP Facts & Stats - Hamilton sets new, all-time podium record