Leclerc admits spectacular Monza crash was 'my mistake'
Charles Leclerc has put his hands up and taken responsibility for a high-speed crash into the barriers at the exit of Parabolica that ended his Italian Grand Prix on Lap 23 at Monza.
With Sebastian Vettel having already retired with brake issues, it was Ferrari's first double-retirement at their home race since 1995, when Gerhard Berger retired from P2 and Jean Alesi from the lead. Leclerc said he did not have a technical issue but simply lost control of the car.
READ MORE: 'It's a blessing there's nobody in the stands,' says Vettel after nightmare Italian GP for Ferrari
"I tried to push, but I lost it in Parabolica and crashed," he explained.
"Yeah, a bit of pain here and there but overall [I'm] OK, thank you very much," he said Leclerc after the race. "I lost the rear, as simple as that, it's my mistake.
"I just lost the car, it's my fault. It was a very difficult race to be honest, I struggled throughout on the first set [of soft tyres]. Then I thought we were unlucky with the safety car but with pit lane closed we were actually pretty lucky, then with the hard tyres I struggled massively."
Leclerc pitted on Lap 17, before the Lap 20 Safety Car brought out by Kevin Magnussen's retirement – and was up as high as sixth when the rest of the field pitted – but crashed when the race restarted. However, his car was a handful even before that point, he said.
READ MORE: Italian GP Facts & Stats: First podium since 2012 with no Mercedes, Ferrari or Red Bull
"Before that it was definitely not an easy race, very difficult if anything; [we were] struggling quite a lot with the balance. It's very, very hard to drive but it's life at the moment, but we'll try to push hard at Mugello, to come back stronger, but I just lost the rear and that's it."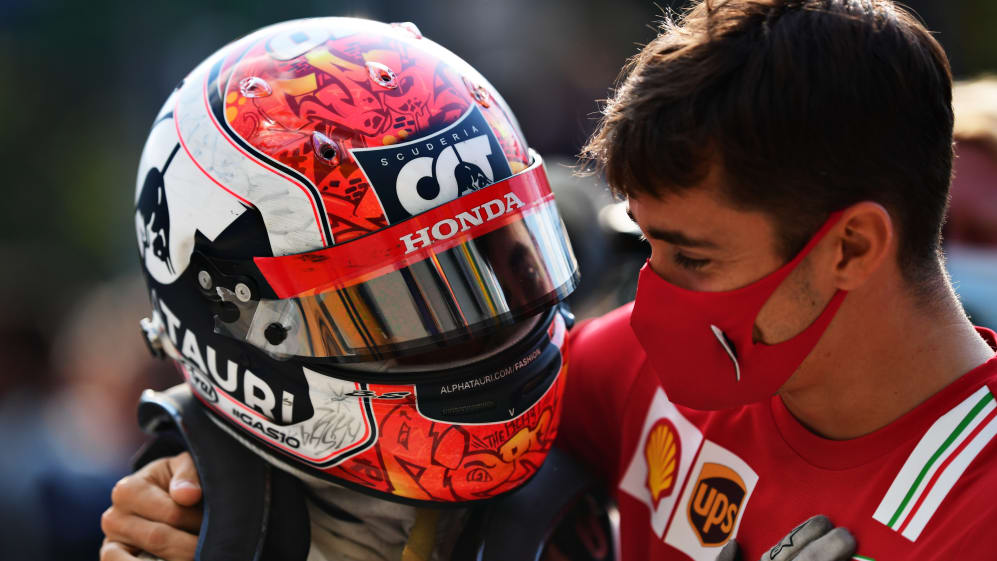 Next is Ferrari's 1,000th Grand Prix, at Mugello – a race at which some fans will be in attendance, unlike this weekend's event. Perhaps the presence of some Tifosi will spur the Scuderia on, but from Monza, Leclerc could take only one positive conclusion.
"It is difficult, but today I'm more thankful to get out of the car without major issues. So surely it's a difficult moment but I'm looking forward to Mugello to get back and hopefully have a good result."
WATCH HIGHLIGHTS: Watch all the action from Pierre Gasly's incredible shock Italian GP victory