Leclerc explains frustrated radio message in Spa qualifying, as Sainz says Q2 exit 'particularly hurts'
After a shock Q2 exit left him irate in Belgium, Ferrari's Charles Leclerc explained why he was so frustrated over team radio on Saturday at Spa, while his team mate Carlos Sainz was at a loss as to his own lack of pace in qualifying.
Leclerc qualified 11th for the Belgian Grand Prix, but will start a provisional 10th thanks to Valtteri Bottas's five-place grid penalty. But after only his second Q2 elimination of the season, his disappointment was clear to hear on the radio, as you can hear in the video above.
QUALIFYING: Verstappen denies Russell shock pole in dramatic wet qualifying session at Spa
After the session, Leclerc explained why he was upset with his team - and added that he had calmed down once he'd spoken to them after getting out of the car.
"I think in qualifying we weren't that bad; I think we maybe went a little bit early in the last run of Q2 with the tyres but in the car I was frustrated," he said.
"But I have to say now I completely understand the choice once the team explained [to] me the reason. There was some rain on the radar and it's always so difficult to know if it's going to be five minutes early or five minutes late and today it was five minutes late. It's life, it's part of racing, and tomorrow we'll try and maximise the race result," he said.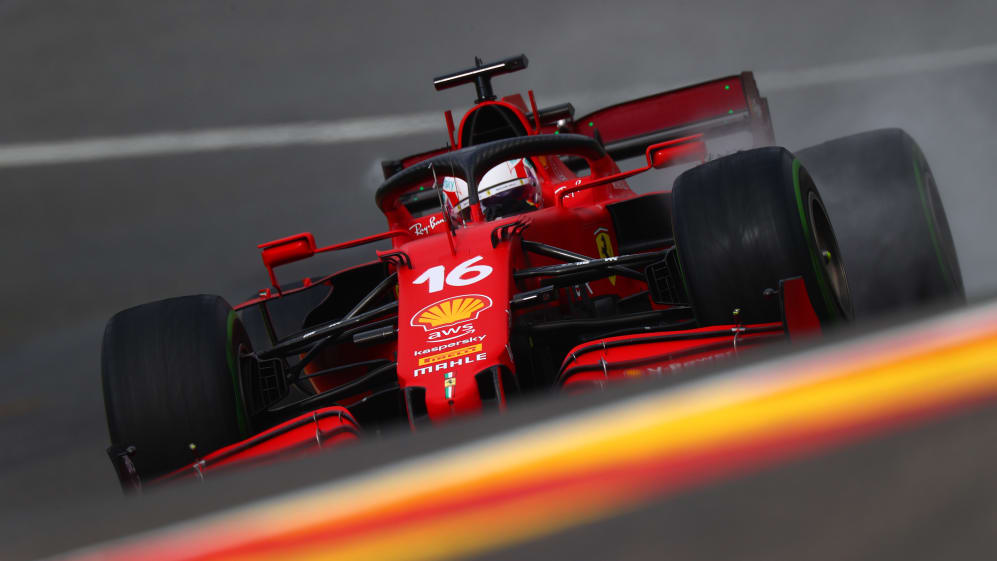 The Monegasque driver cited similarly wet conditions at Imola, where he finished fourth, and said he was disappointed not to replicate that here in Belgium.
"Honestly, in Imola we were pretty strong in the wet, here we were quite a bit less strong. I think in FP3 we struggled massively with performance. We recovered quite a bit of performance from FP3 to quali."
READ MORE: Hamilton hails 'fantastic' Russell after Williams driver beats him to front row at Spa
Starting at least 10th on Sunday, Leclerc said he was expecting a similarly tough Grand Prix. "It will be very tough, all this weekend because obviously the weather is changing every 15 minutes so let's see. No mistakes will be key and we'll see where we end up," he added.
Team mate Carlos Sainz, who qualified 13th ahead of Bottas but will start at least 12th, gave a frank rundown of a day from which he could find "nothing really positive".
"The last time I drove this car in the wet was Imola, well first and last time, and I really enjoyed it, I felt like we had really good performance there in the wet conditions," said Sainz, who finished fifth at Imola.
"And for some reason this weekend it's nowhere and don't fully understand why. I'm quite lost to be honest with why the feeling is not there and unless it changes, something big tomorrow it's not going to be easy.
READ MORE: 'We could have done a better job' says Verstappen despite clinching pole at Spa
"So there's nothing really positive about today and the pace we had, we had no pace at any time and it's strange you know because I love these conditions and I'm normally very quick in them so it particularly hurts to be slow," he added.
Ferrari and McLaren arrived at the Belgian Grand Prix level on 163 points apiece. With neither Scuderia driver having made Q3, they have a tough task to pull the team ahead on Sunday.