Leclerc says new Ferrari power unit 'felt great' as he hatches overtaking plan for Sunday's race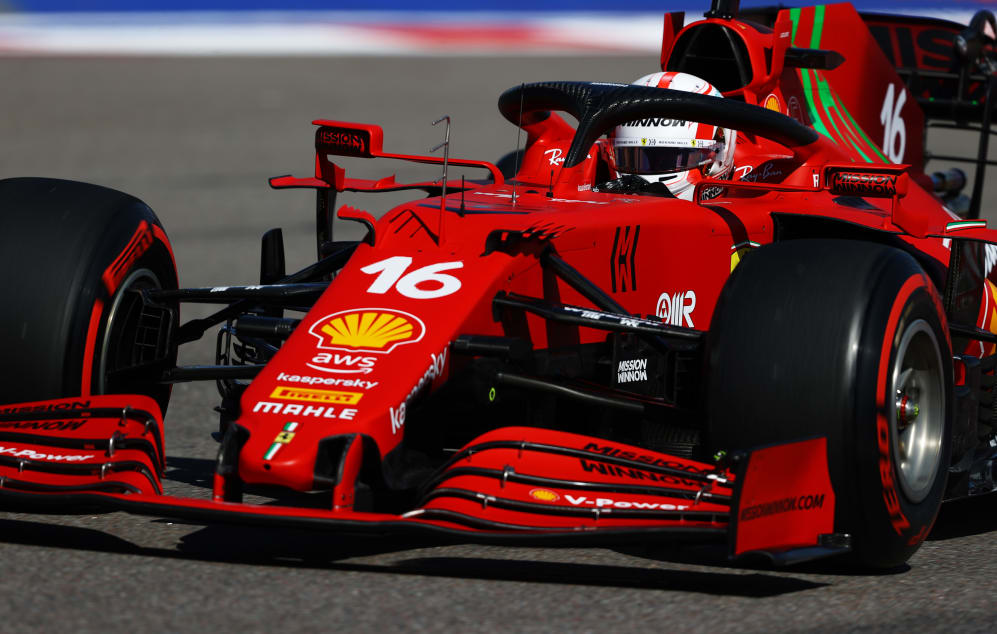 Charles Leclerc may be starting the Russian Grand Prix from the back of the grid, but he finished Friday's running happy with the upgraded power unit in his Ferrari – and revealed he has a cunning plan to pass his rivals from the back in Sunday's race…
That new power unit is the reason Leclerc will start the race at Sochi from the rear, numerous grid penalties for the change putting him on the back row alongside Red Bull's Max Verstappen – who is also taking a new engine for the race. The Ferrari driver explained why he was so happy with the opening day of practice in Russia, having finished third in FP1 and 10th in FP2.
READ MORE: Grid penalty-hit Verstappen explains why Red Bull chose to take new engine at Sochi
"It went very good. I mean, it was a positive day," he said. "Obviously whenever you put such… a big change for everyone, for the mechanics, for us; it's a new car. So, it's good to see that everything was working as expected, and now we've been focusing mostly on the race because from qualifying anyway we start last, so we've done a good job today by taking as much information as we could and [I'm] happy with our Friday."
Asked whether he could feel a difference with this new-spec Ferrari engine, Leclerc replied: "I feel that it is a little bit better, which is great. And obviously the data confirms it, so yes, it's great to feel it and to see it."
And while the Monegasque driver said it would be tough to pass from the back on Sunday, he said he was hoping to use Verstappen's car to clear a path through the traffic at Sochi.
"It is a very difficult track to overtake. I tried during FP2 and it was very difficult, so let's see. We never know," he said. "I'll try to give my best, but I expect maybe a difficult race on Sunday… but it might be a bit easier for [Verstappen]; he's quite a bit quicker than us. But I'll try to use him to just stay behind him and overtake the cars with him."
READ MORE: Third-quickest Gasly says car 'harder than usual' to drive after losing front wing in FP2
As for team mate Carlos Sainz, who finished seventh in both Friday sessions, he said: "It was a good day for the team. I think we managed to test the PU on Charles's side without any problems, which looks encouraging.
"And from my side I had a good day on track, just taking it easy little by little, getting used to this car on this track which is a very confidence-biased track where you need a lot of commitment in these 90-degree corners."
After McLaren's Monza one-two, Ferrari are 13.5 points behind their midfield rivals in the chase for third in the constructors' championship.