Podcast
LISTEN: From Bottas' radio fury to Verstappen's scintillating charge, the F1 Nation crew break down a French GP thriller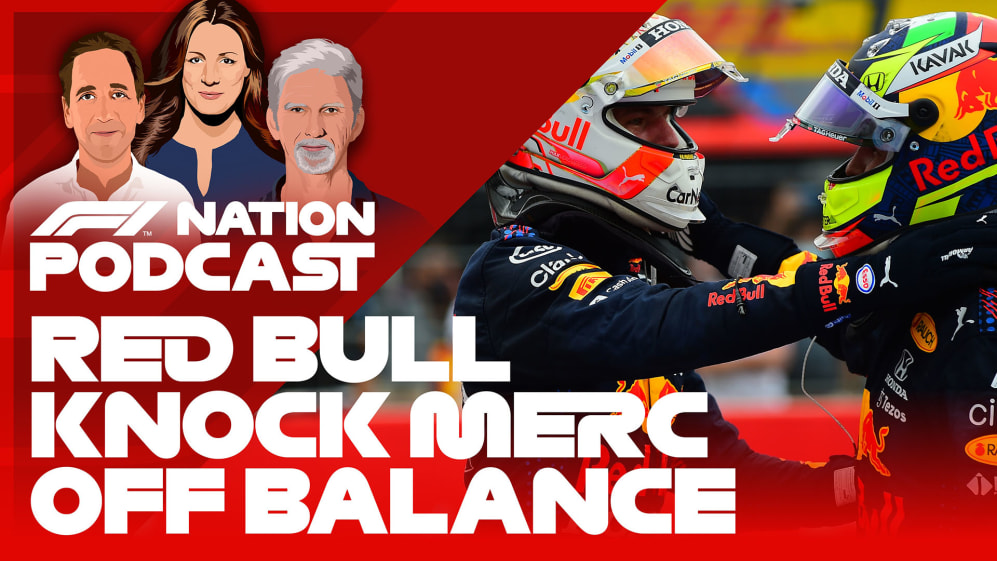 Ooh la la – what a French Grand Prix that was! A thrilling late-race pass from a driver who looked to have lost it all on Lap 1, plenty of angry radio outbursts and some intriguing stories seeping out of the paddock...
Lots, then, for F1 Nation presenters Tom Clarkson, Natalie Pinkham and Damon Hill to get their teeth into – with Damon in particular feeling that the French Grand Prix, and Max Verstappen's beating of Lewis Hamilton, marked a sea change in the competitive order for the 2021 season.
READ MORE: 'We gambled, we lost' – Wolff explains why Mercedes stuck with one-stop strategy in France
"I think there's no way you can look at that without saying Red Bull completely have the upper hand and Max is a brilliant driver," reckons the 1996 champion.
"He had loads of times where he had to dig really deep in order to find the competitive edge and pass Lewis. And Lewis, likewise, even with his brilliant ability to extract time out of the car in his last stint and stay ahead of Max, it just wasn't enough."
The F1 Nation crew also tackle the thorny issue of Valtteri Bottas' furious radio messages to Mercedes asking why he hadn't been listened to when he'd suggested switching to a two-stop strategy – with Damon, for one, admitting that he was keeping his sympathy for Bottas' plight very much under control…
"Why didn't he just come in anyway?!" asks Damon. "The point is, it's about responsibility. If Valtteri wanted to just say, 'I'm coming in, get the tyres', he has to take the responsibility for it not working. And the thing about decisions like that is it's who's going to take the can when it goes wrong."
READ MORE: Ross Brawn on 'aggressive' Red Bull, Mercedes under pressure – and what went wrong at Ferrari
TC, Pinks and Damon also pick their favourites for the upcoming pair of races at the Red Bull Ring, Damon compares himself to a Hollywood A-lister, while Natalie expands on exactly why she'd like to swap lives with Yuki Tsunoda…
Check out this week's post-French Grand Prix edition of F1 Nation, either in the audio player above or via your preferred podcasting platform. And if you'd like to have your question answered by a bona fide F1 champion in our Ask Damon segment of the show, record a voice note and email it to askdamonhill@gmail.com.