Feature
LONG READ: Music, fashion and family – getting to know the real Charles Leclerc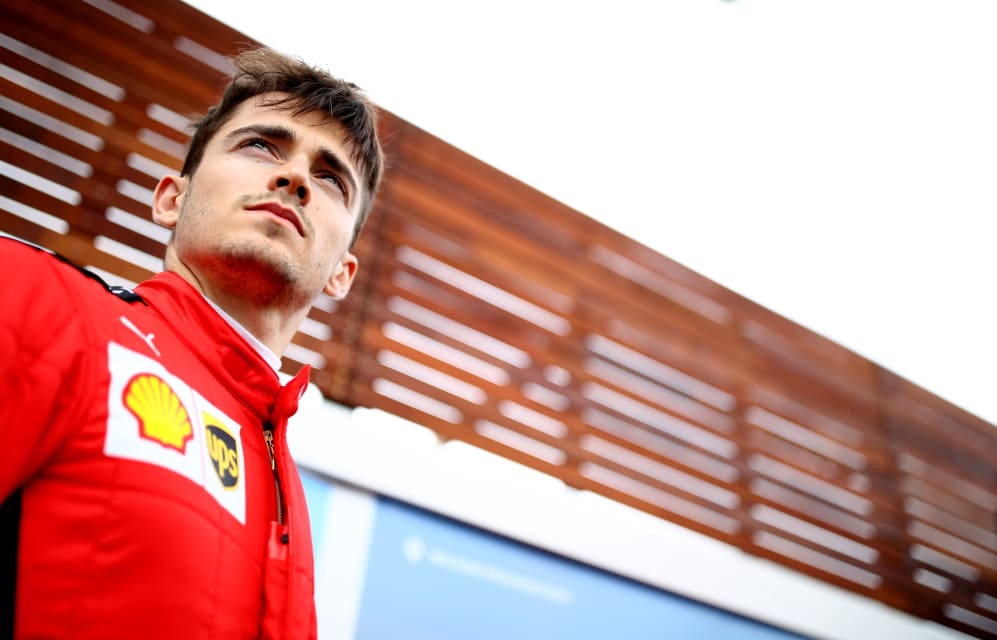 Much was expected of Charles Leclerc when he landed in F1 with Sauber in 2018, and he promptly delivered – to the extent Ferrari snapped him up for 2019 and then locked him into a long-term contract. Lockdown gave us a glimpse into Leclerc's life, through his antics on Twitch, but that only scratched the surface. As Ferrari prepare for their 1000th Grand Prix, let's get to know the driver who'll be leading them for years to come a little better…
ON HIS MENTALITY
Ten minutes. That's how long Charles Leclerc's first driving lesson lasted. It was his only lesson, the Monegasque using it as a warm-up for his test later that day, which he passed first time. "I was more stressed before that test than I am before a Grand Prix, says Leclerc, as we chat in the Ferrari hospitality unit at pre-season testing in Barcelona.
READ MORE: Already a hero – How Charles Leclerc won the hearts of the tifosi in a single season
"I was scared I would fail and then have to explain to all my friends that I had failed." It was an impressive feat, though given he was driving things with four wheels from the age of three, it's no surprise. But the pressure he put on himself to deliver in that driving test has not only helped him get to where he is – and achieve his dream of driving for Ferrari in F1 – but it continues to help him better himself as a person and as a driver.
Leclerc is incredibly self-critical and self-aware given he is only 22 years old. If he could give his younger self some advice, knowing what he knows now, he offers an incredibly mature response. "Be more patient," said Leclerc. "This is key and that is the biggest step I have done in my career, being more patient.
GALLERY: Leclerc and Vettel pay tribute to Ferrari heroes with special 1,000th GP helmets
"In the beginning, I wanted everything straight away. I was only seeing the negatives. Be more patient and cheering myself up a bit more - these two things I would say to my younger self."
Fortunately, he's got plenty of time to apply that mantra. If he drove for as long as Kimi Raikkonen has so far managed, he could still be racing in 18 years' time...
I was starting the season, 2010, knowing it would be my last season in karting if I didn't have something sorted financially
ON SURROUNDING HIMSELF WITH THE RIGHT PEOPLE
Leclerc's rise has been rapid. He won the GP3 Series in 2016 at the first time of asking and he repeated the feat in F2 the following year. In his first year in F1 with Sauber he scored points on 10 occasions, leading Ferrari to waste no time in promoting their junior driver to the works team.
WATCH: Charles Leclerc is your guide for a flying lap around the high-speed Mugello circuit
He's got to where he is now with the help of many people, including a hugely supportive family, while he credits manager Nicholas Todt for taking the off-track distractions away.
"It's extremely important [to have Todt on his team]," says Leclerc. "I know how it was before Nicholas arrived – I was starting the season, 2010, knowing it would be my last season in karting if I didn't have something sorted financially. My father didn't have funding for me to keep going. This is a difficult situation mentally because you do what you love doing and you know it can come to an end.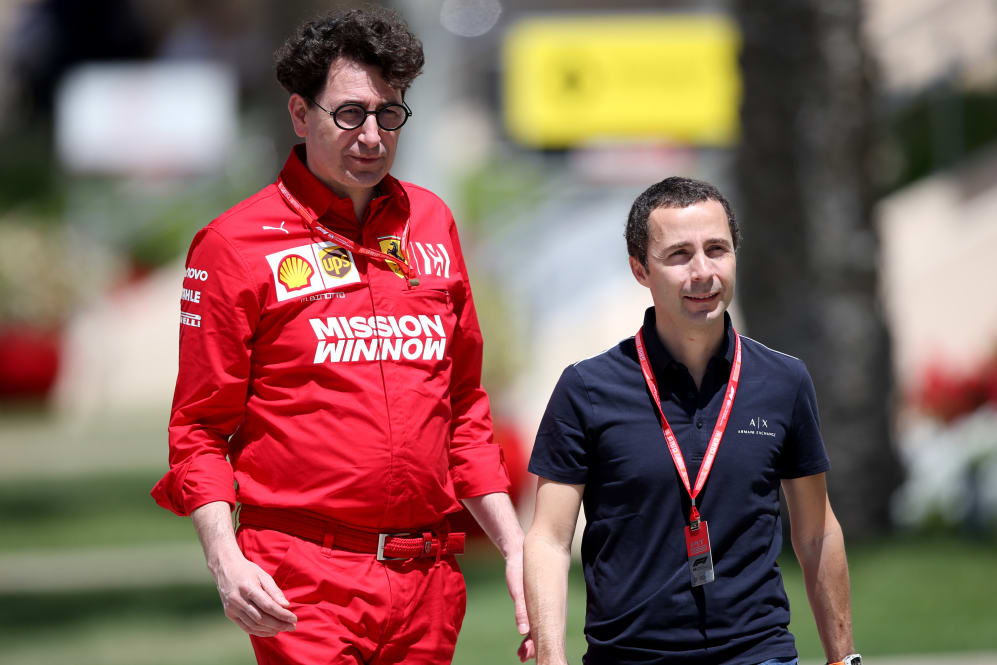 "Since 2011, Nicholas has helped me. We signed a contract, and I had then the security that my career will go on if I was making the results. That is a big change. Then he was taking care of everything, finding sponsors, logistics and I only had to focus on driving."
His ability to completely tune out of anything other than racing – when it's required - is impressive. And he has absolutely no interest in getting involved in the politics of Formula 1 – he's just not that kind of person. "I'm very bad at this, I don't like politics, I don't like being false," he said. "I'm just myself, whether people like it or not. I don't like to force relationships. It is very rare I don't get on with people, but I don't force things, and I don't like being political."
I was also intimidated with Seb at first...
ON HIS RELATIONSHIP WITH VETTEL
Such a strategy has helped him weather the potential storm that could bubble up when competing against a more decorated team mate in Sebastian Vettel. There were numerous clashes on track last year, but Leclerc and Vettel found a way to stop things getting toxic between them.
"At the beginning of my time at Ferrari, it was different to what I had with my other teams mates because Seb was such a champion," he said.
READ MORE: OPINION – Leclerc looking like the finished product after Gilles Villeneuve-like Silverstone drive
"Like with Ferrari I was also intimidated with Seb at first, which is normal, but actually he's a very normal guy and a very nice guy. We have got on very well from the beginning. There is a competitiveness that plays a role in the relationship but that never changes the way we speak to each other. That was a good thing.
"There were moments that were a bit more difficult, like Brazil, which always happens, but I think we managed the situation quite well and we managed to turn the page quite quickly after that."
ON HIS LOVE OF FASHION
Leclerc loves cars and loves racing. But those are not his only passions. Like his rival Lewis Hamilton, the 22-year-old has a keen interest in fashion and aspires at some point later in life to launch his own streetwear label. "I really like clothes design," he said. "It's definitely the creative element that inspires me. I can draw but whether I would sketch my own collection, I don't think I have that level. I have got very clear ideas of what I like but not at the point I can design my own.
WATCH: Charles Leclerc turns movie star in 'Le Grand Rendez-Vous' remake
"I have spoken to Lewis very briefly [about fashion], congratulated him for his new collection. He's doing a great job with the brand, and I quite like what he's doing. It's definitely something I'd like to do further down the road."
On long haul flights, Leclerc uses the time to sketch designs on his iPad. "It frees my mind," he says. "At least I think of something else than only racing, which I think is very good. This was also my problem in the past, not being able to disconnect from racing. Fashion and music helps. I'm very creative, all of these things help me think of something else."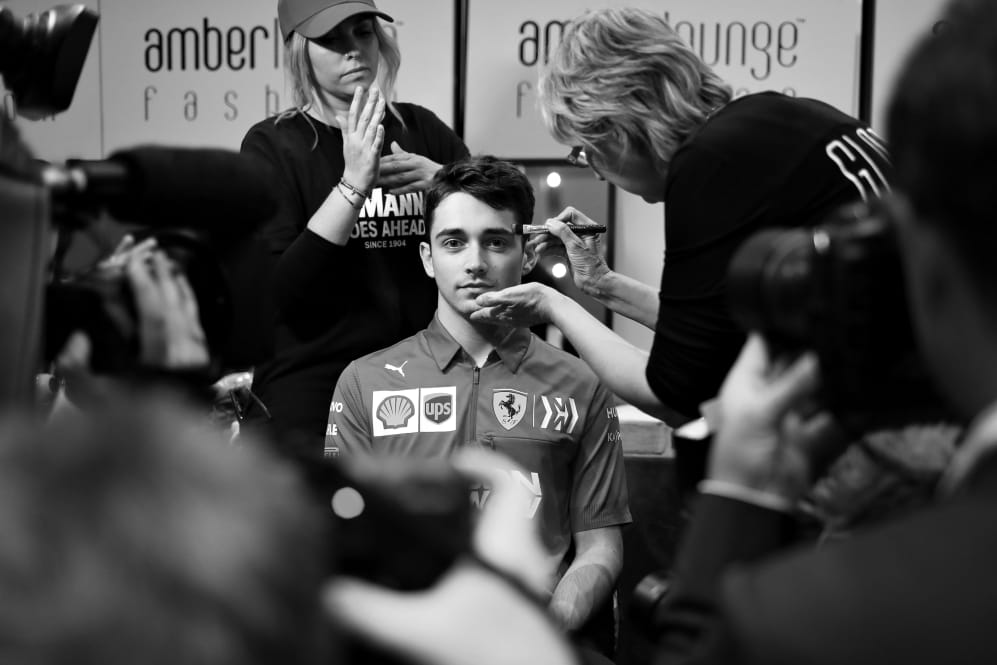 ON HIS MUSICAL TALENT AND OTHER PASSIONS
Leclerc gave us an insight into his musical talents during lockdown via social media. He says he enjoys making music, on the piano and guitar mostly, but he wants "to learn many more instruments". Fortunately, he picks music up "pretty quickly". He adds: "I love it and it relaxes me. I have been playing the piano since I was six, and started to learn the guitar when I was 15 or 16". Did he start playing the guitar because it was cool? "Yeah, exactly".
F1 Tracks: Listen to Charles Leclerc's takeover playlist
Saxophone and the drums are next on his list of instruments to learn, which might be unfortunate for his neighbours. He admits he's made quite a bit of music over the last few years, but it's not for public consumption. "Only I can listen to it," he says. "Probably my girlfriend listened to it once, she of course told me it was good, but I don't believe her! It's what I like doing privately, I just don't feel like sharing it. I don't think I have the level anyway, it would look quite ridiculous."
When he's back home in Monaco, and the weather allows, you may see him falling off the back of a boat for a spot of deep sea diving with his mates. "I love diving," he says. "I have my qualifications until 40m, but that's enough, as any deeper and you won't see anything. Some of my mates are quite scared about doing it, as you go quite deep. But with one of my best friends, we passed all the licences together. So we go out when we can during the summer break."
He knows I'm here whenever he needs me, this he knows for sure, but I don't want to be too much behind him, as I think autonomy in this spirit is very important
ON MENTORING HIS BROTHER
Earlier this year, it became a family affair at Ferrari when Leclerc's younger brother Arthur signed up to the Italian team's Driver Academy. And while he's only 22, Leclerc wants to be there as support for Arthur when it comes to racing - but is conscious of not becoming overbearing. "I'm trying to help him as much as I possibly can, but on other hand, I like to leave him alone," he says.
READ MORE: From the Stewarts to the Schumachers – The brothers who raced in F1
"The thing I want for him is that he knows I'm here whenever he needs me, this he knows for sure, but I don't want to be too much behind him, as I think autonomy in this spirit is very important, my father taught me this way during my career and it helped me a lot. That's what I want to try and achieve with him. I think we find the right balance, he calls me any time he needs."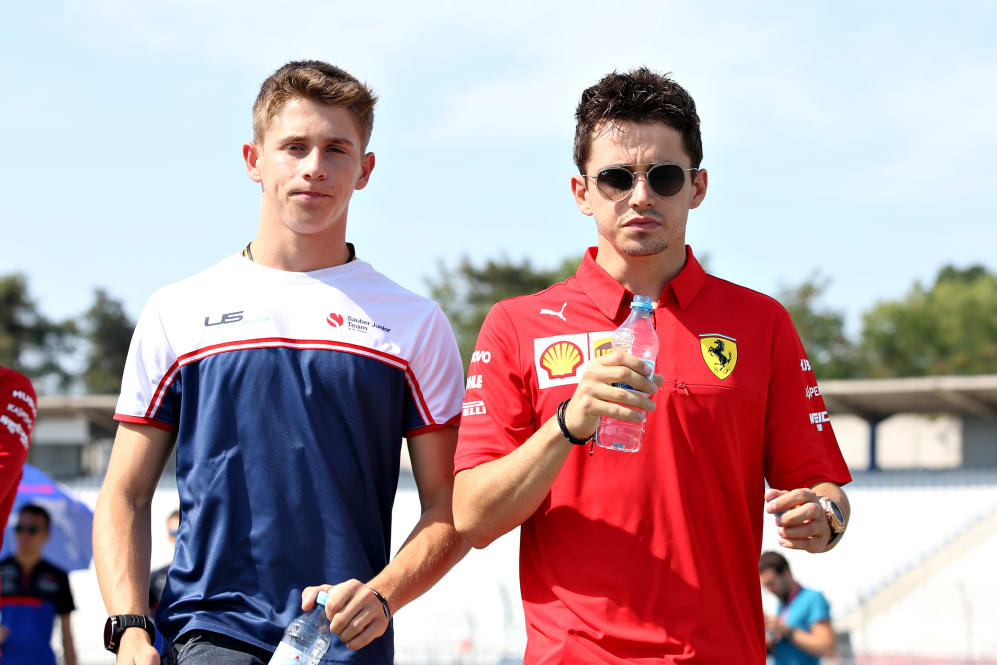 ON BECOMING PART OF THE FAMILY AT FERRARI
In his day job, things are going pretty well. His first year at Ferrari was stunning. It didn't take him long to get his feet under the table, the Monegasque securing his first two F1 victories and clocking up seven pole positions – more than anyone else in 2019. But he applied his newfound patience in the way he went about the job in the early stages.
HIGHLIGHTS – Re-live Charles Leclerc's first F1 victory - the 2019 Belgian Grand Prix
"When I arrived in Ferrari, I was quite intimidated by how big the team was, how historical the team was," he says. "It was a dream for me, so I didn't want to arrive and say OK, I prefer to do it like this. I know they have a lot of experience so there are reasons why they are working that way.
"So I try first to adapt myself to the car, and the way of work and after give or six races, I started to then ask more from my preferences, to feel better in a few situations, and help them to change a few things."
He adds: "I definitely felt a lot better in the team, and more as part of the family, [by the end of the year]. Whenever you arrive at the track, you know everyone. This feels different, you know how they are working. At the beginning of year, I had new engineers, a lot of things then we changed throughout the year and at the end of the year I happy with the balance we had and how we worked together."
READ MORE: Ferrari at 1000 – The enduring appeal of F1's most iconic brand
That balance has been useful for what has been a very challenging campaign for Ferrari in 2020, the Scuderia lacking performance on both the engine and aero side. Leclerc has taken it all in his stride, taking his opportunities where he can. That he has scored two podiums and 45 points (his team mate Vettel has 16) with the car that he has is arguably more impressive than anything he achieved last year.
He knows Ferrari won't get back to challenging for the title overnight. But he's in this for the long haul – and that's where his new-found patience will prove so vital.