Magnussen calls for clarity on formation lap radio rules after Haas's double penalty in Hungary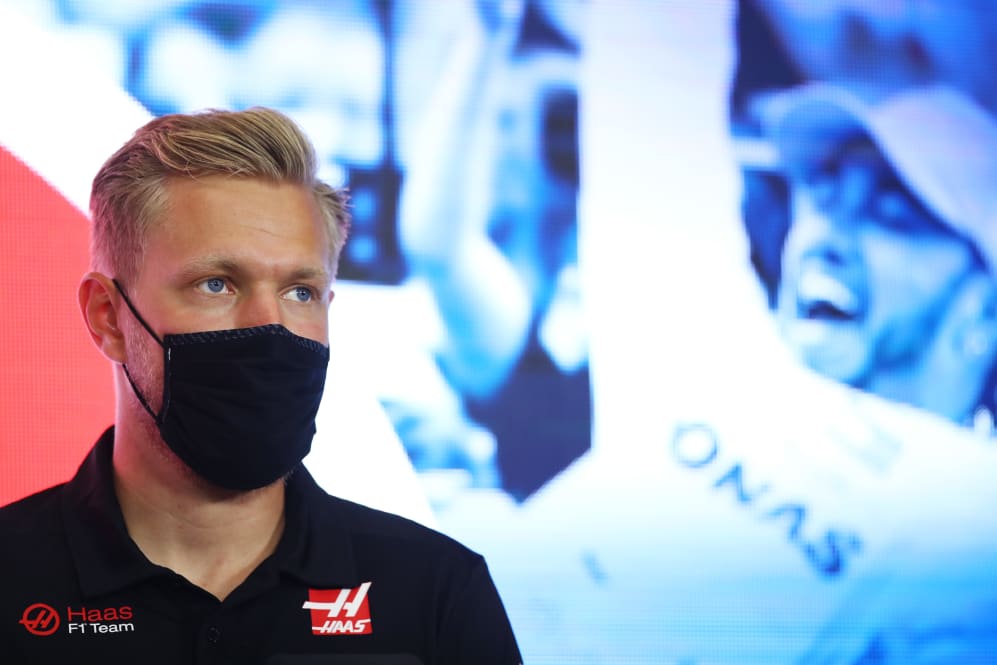 Haas's first two points of 2020 at the Hungarian Grand Prix became one point following a post-race penalty for Kevin Magnussen, after the team were deemed to have broken rules on driver aids on the formation lap. But Magnussen has pushed for a clarification on those rules, after insisting that he and his team had honoured the spirit of the regulations at the Hungaroring.
With the Hungary track damp at the start of the Grand Prix, Haas made the call to bring Magnussen and team mate Romain Grosjean in for slick tyres at the end of the formation lap, while the rest of the pack started on intermediates.
It was a decision that paid dividends, as Magnussen and Grosjean ran as high as third and fourth early on before falling back down to ninth and 15th at the flag – which then became 10th and 16th when stewards ruled after the race that the radio instruction to tell the drivers to pit had constituted a 'driver aid'.
READ MORE: Haas unrepentant over Hungary penalties – 'We would do the same thing again' says Steiner
"Certainly it feels like these rules weren't really made to stop what we did in the race," said Magnussen ahead of the British Grand Prix, where he also revealed that he'd found out about the penalty after landing back home in Denmark.
"I think they were meant to stop us fiddling around with clutch settings and race start procedures to try and make the race starts more random. I don't think they were meant to stop strategic calls before the race start.
"Maybe they need to look at it for that, for strategic calls because I think that if we aren't allowed to do that, that is going to take away from the show. I think it's exciting when you have these conditions where it's like right on the crossover that you can see these strategic calls. It would be good if they could allow that clearly in the rules. I don't think it was 100% clear."
READ MORE: Magnussen praises 'amazing call' from Haas that helped him to first point of 2020
He added: "In my mind, we're not allowed to talk about any procedures and the guys aren't allowed to give us any instructions on burn-outs and any driving aids on the formation laps, so I didn't feel like we did that. It was a communication about whether to pit or not. And not even really whether to pit or not, it was basically just, 'Pit for dry tyres' and that's what we did. I wouldn't say it was completely clear, not completely straightforward."
FORM GUIDE: Can anyone stop Mercedes at this weekend's British Grand Prix?
After the race, Haas Team Principal Guenther Steiner was adamant that, penalty or no, his team had done the right thing. And that was a view that Grosjean shared, saying that even with the penalty, the pros for the team had outweighed the cons.
"1,000% [we would do the] same thing," said Grosjean. "It was the right call and I was actually surprised that not more people did it.
"Next time we'll maybe just come in and surprise the guys and say, 'Hey, I'm here, just give me the tyres and we'll go again.' At the end of it, I think for us, it was absolutely the right call. With a normal race, we wouldn't have had a car in the points and we managed to score a point with Kevin so I think that was the right call, even with the penalty. We gained much more than we lost."
The Haas drivers will now turn their attention to this weekend's British Grand Prix, where they'll be under strict instructions to avoid a repeat of their clash at last year's race, which caused an infamous double DNF that prevented the team from collecting valuable data on their car's upgrades at the time.