Podcast
Mercedes reveal the simple oversight that caused Hamilton's race-ruining penalty at Monza
A rare and costly mistake by Mercedes at the Italian Grand Prix saw race leader Lewis Hamilton enter the pit lane when it was closed, earning himself a stop/go penalty that dropped him to last place, and leaving him to recover to seventh. And Mercedes' Trackside Engineering Director Andrew Shovlin has revealed how a simple oversight by the team caused the race-losing error.
Hamilton appeared to be cruising to a sixth win at Monza when Kevin Magnussen's Haas innocuously pulled up and retired near the pit lane entry, bringing out a Safety Car and, with the marshals opting to push the car into the pit lane, forcing the pits to be shut temporarily.
READ MORE: Hamilton accepts responsibility for race-wrecking pit stop error
However, as you can see in the video above, Hamilton had already committed to the pit lane when he received a message from race engineer Pete Bonnington telling him to stay out – but too late. The result was a 10-second stop/go penalty, leaving Hamilton to fight back through the field to seventh at the flag – but the situation could have been so easily avoided, according to Mercedes...
"Within our software, a lot of the messages we have are automatically detected by the software and they get relayed into us on the intercom," Shovlin explains on this week's episode of our F1 Nation podcast, which you can listen to in the player below. "So if there's a Safety Car, there's a voice that will say 'Safety Car', so if you're actually not looking at the monitor, you can't miss it.
"This is a fairly unusual one and not something that we have automated, and we need to look at that in the future because if we step through the timeline, there would have been time for us, by the time the message came up and someone had spotted it… Someone did spot it back at the factory, but by then, there was about a second or two, and with the various delays we wouldn't have got the message.
"And bear in mind at this point, we're all turned around looking at the pit stop, Ronnie [Mercedes Sporting Director Ron Meadows] is watching the guys, checking the tyres are coming out, so we're actually watching the stop, not looking behind us at the monitors.
READ MORE: Monza result 'a loss for Mercedes but a victory for Formula 1', says Wolff
"So we need to look at ourselves and say, if that happens again, there was clearly an opportunity to get him to stay out, albeit it's a small one, and we need to make sure that we can grab those opportunities because it was a pretty costly penalty."
A costly penalty indeed, with Hamilton spotted heading to the stewards to discuss the infraction during the subsequent mid-race stoppage after Charles Leclerc's crash. But according to Shovlin, it was a fair cop, as he cited Daniel Ricciardo's contentious five-second race penalty for changing tyres when the pit lane was closed during the 2016 Brazilian Grand Prix.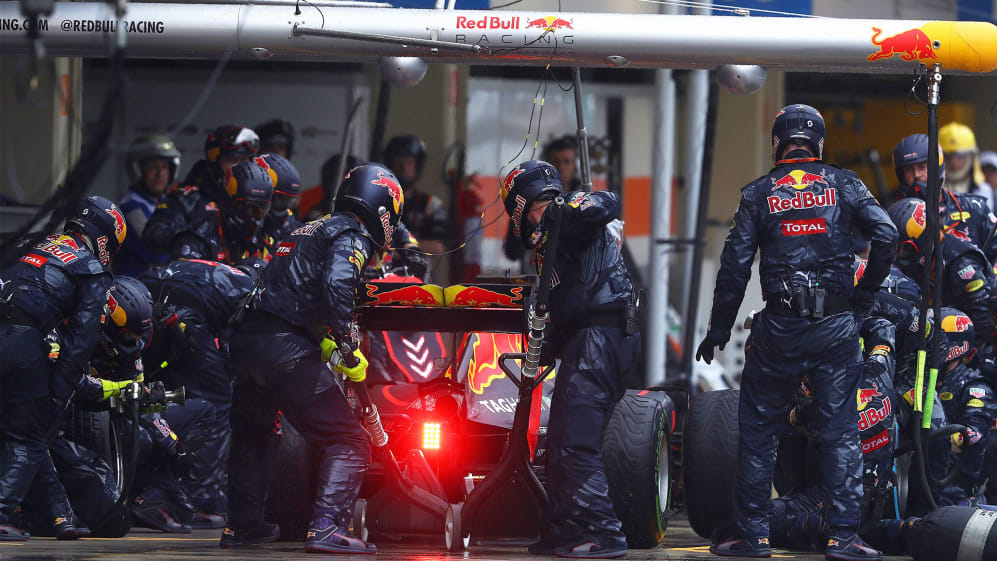 "It's one of the mandated penalties," he explains, "but it all dates back to Ricciardo and Brazil, the year of the wet race where he's come in and had a penalty that was deemed to be a bit small, given that he got a free pit stop. So the penalty itself is reasonable, because in many circumstances, if you did that, you have gained a whole pit stop on the grid. It was just unfortunate that for us, it didn't help us to do the stop, and it obviously cost us a whole lot."
Mercedes Team Principal Toto Wolff was generous enough in the aftermath of the Italian Grand Prix to call the result at Monza – with Pierre Gasly winning from McLaren's Carlos Sainz and Racing Point's Lance Stroll – "a loss for Mercedes" but "a victory for the sport". But he did have some stern words about what could be done in the future to avoid a repeat of Hamilton's pit lane situation...
"I think these funny crosses on the outside," said Wolff, referring to the light panels on the outside of Parabolica indicating that the pit lane was shut, "they should be red, first of all, and maybe they should be blinking, because the driver has his mind already onto the pit stop. And then at the pit lane entry, like we have had for bloody 50 years, put a damn red light that's red, so the driver comes and sees, there's a red light, well then you don't enter! Why make things complicated if they can be easy?"
Listen to Andrew Shovlin's expert explanation of Mercedes' Monza misfortunes in this week's episode of F1 Nation – as well as hosts Tom Clarkson and Alex Jacques dissecting Pierre Gasly's mental resilience, and four-time champion Alain Prost and paddock PR legend Ann Bradshaw on the Williams family's legacy – in the player above, or on Apple Podcasts, Spotify or your favourite podcasting platform.