'The stars aligned and he took the opportunity' – Gasly's fellow drivers hail his maiden victory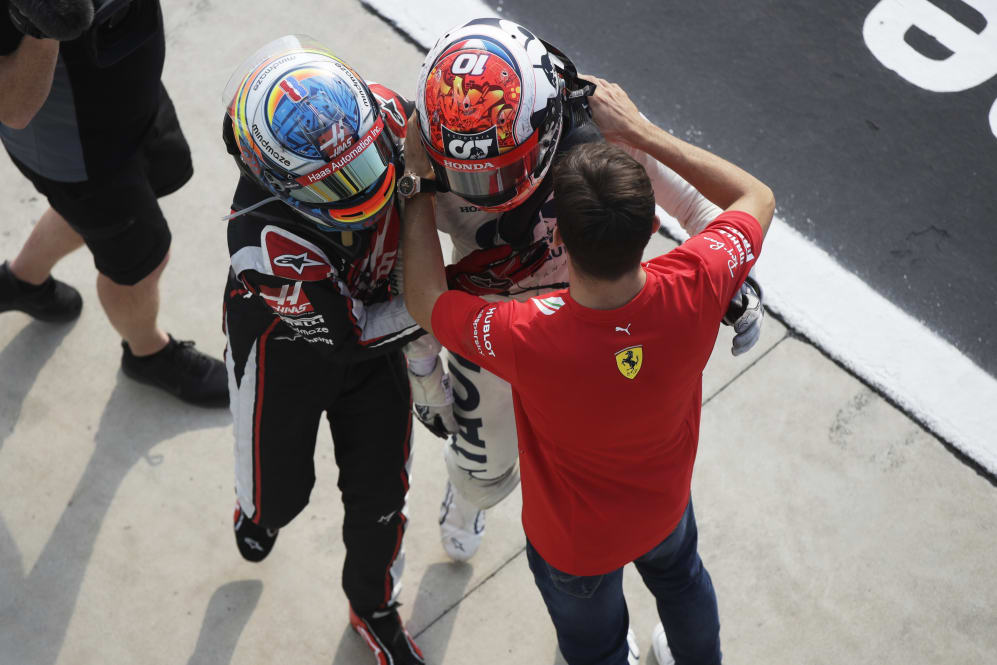 You don't often see Formula 1 drivers queueing up to lavish praise on one of their rivals if they win a race. But there was a raft of bonhomie in the paddock as Pierre Gasly scooped up his maiden victory at the Italian Grand Prix for AlphaTauri.
Lewis Hamilton played a significant role in both Gasly's maiden podium at Interlagos and then his maiden win at Monza. And the six-time champion was quick to pay tribute to the Frenchman, and his sometime Call Of Duty partner – while not failing to miss an opportunity to take a crack at rivals Red Bull for having "unfairly" demoted Gasly midway through last season, in Hamilton's words.
IN PICTURES: The best shots of Pierre Gasly's historic maiden victory in Monza
"Congratulations to Pierre," said Hamilton after the race, where he finished seventh after receiving a stop/go penalty. "I think that's an amazing result, considering he was dropped from the top team, from Red Bull – unfairly I think.
"I've obviously seen what he's been through, from being dropped from the top team and now he's beaten the top team. I think it's just fantastic to see him recover and to see him grow. I'm generally really happy for him… It's been good for him to build up, to build confidence and get a fantastic result today, so huge congrats to him."
Max Verstappen endured a stinker of a race in Italy, retiring on Lap 30 with a power unit issue – but the Dutchman was nonetheless gracious enough to praise both his former Red Bull team mate, and the Toro Rosso/AlphaTauri squad with whom he began his F1 career in 2015.
"I'm of course very happy for Pierre," said Verstappen. "The whole weekend they were very fast, and then of course to win the race here was, I think, very emotional and a great result for them. It's a great group of people and I hope they're going to enjoy this one tonight because they deserve it. So, great – also very happy for Pierre."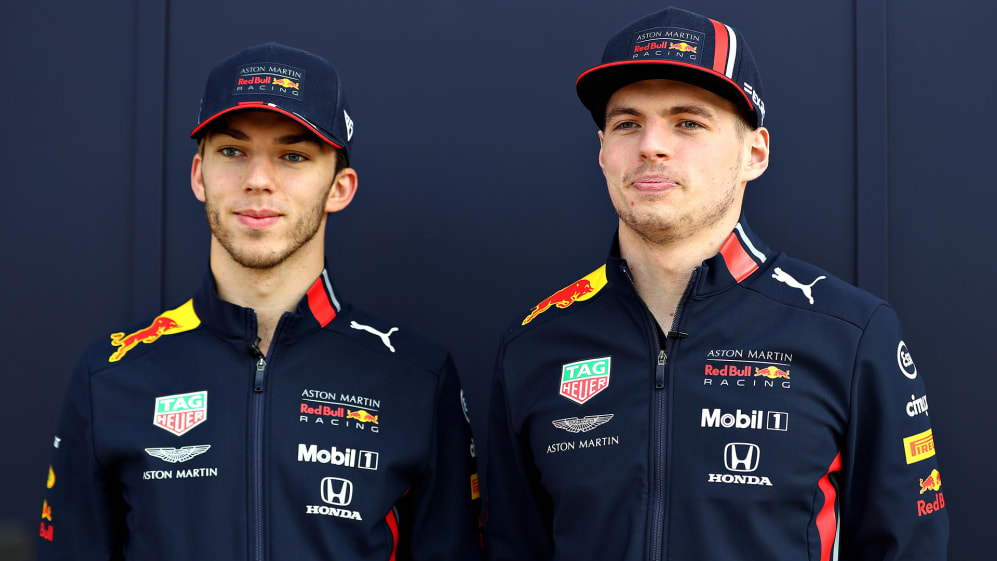 Perhaps no driver in the paddock was happier than Gasly's fellow Frenchman Romain Grosjean, who practically ignored his own performance in the post-race interviews to gush about Gasly's achievements, as he claimed France's first win since Olivier Panis' Monaco Grand Prix victory in 1996 – the year Gasly was born…
"I'm pleased with my race but I'm very, very pleased for Pierre," said Grosjean, whose reaction to finding out that Gasly had won is worth watching in the video below. "He's been showing all year long his pace, his racecraft and today was the day when the stars were aligned and he took the opportunity.
"He's a great guy, and it's an incredible day for France – 24 years that we haven't had a race winner, and there he is, standing on the podium, with the Marseillaise [France's national anthem]. I'm so happy for him."
MUST-SEE: French TV commentators go wild as Gasly wins in Monza
Gasly was moved up to Red Bull from Toro Rosso at the start of 2019 when Daniel Ricciardo switched over to Renault. And with Ricciardo's own maiden win at the 2014 Canadian Grand Prix having also come on a day when Mercedes were expected to cruise to victory, the Australian could understand better than most Gasly's emotions.
"Pierre deserves a congrats," said Ricciardo, who finished the race in sixth, sandwiched between the two Mercedes. "He held on, and it's not easy – the red flags really mess with your rhythm. Mentally, it's pretty chaotic in your head so to hold strong, I think he deserves that.
READ MORE: How not one but two Magnussen incidents paved the way for Gasly's maiden win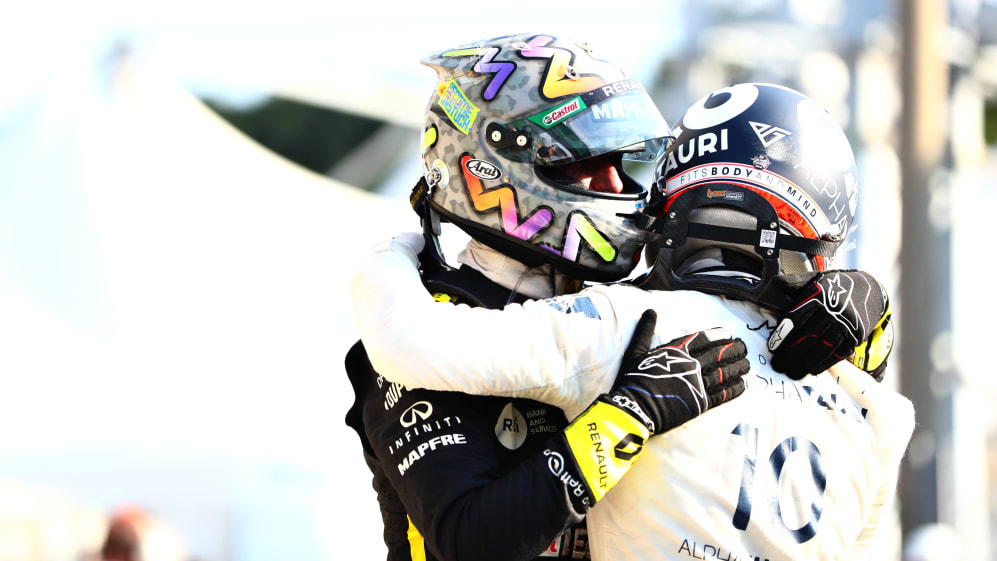 "There's a bit of right time, right place, but I also don't want to take it away from him. Your first race win in Formula 1, it's never handed to you. You have to do the work and it was a tough race mentally as well for all of us; to stop-start, it's not easy, so hats off to Pierre today."
READ MORE: Tost praises 'fantastic' race from Gasly - but scotches talk of imminent Red Bull return
Meanwhile, a host of F1 drivers past and present also paid tribute on social media, with Charles Leclerc – who hung back after his race-ending crash to congratulate Gasly in parc ferme – writing of his friend's victory that he "deserves it so much", while former F1 driver turned commentator Martin Brundle hailed the achievement as "a momentous day" for the AlphaTauri driver, as the French sporting newspaper L'Equipe devoted their front page to 'The Magic Gasly'.
This tweet has been removed from Twitter
This tweet has been removed from Twitter
This tweet has been removed from Twitter
This tweet has been removed from Twitter
This tweet has been removed from Twitter
This tweet has been removed from Twitter
This tweet has been removed from Twitter
This tweet has been removed from Twitter
This tweet has been removed from Twitter
This tweet has been removed from Twitter
This tweet has been removed from Twitter
This tweet has been removed from Twitter