Monza result 'a loss for Mercedes but a victory for Formula 1', says Wolff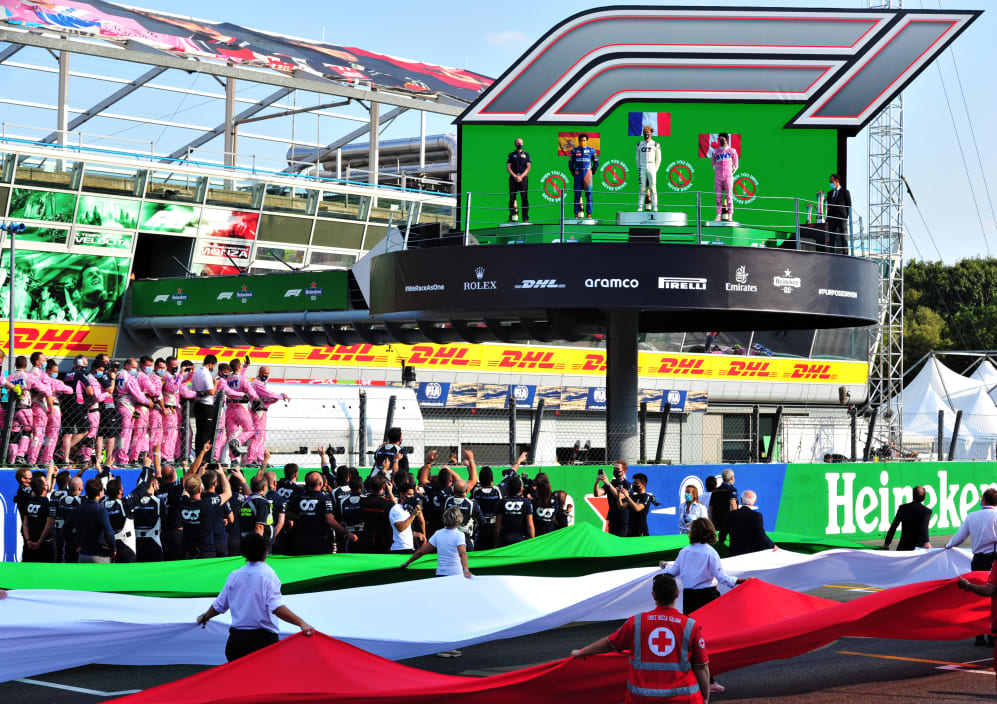 At a race where Mercedes were expected to romp to victory, Mercedes Team Principal Toto Wolff was forced to watch as neither of his drivers featured in the top three for the first time since the 2019 Brazilian Grand Prix. But Wolff managed to be magnanimous in defeat, as he said that Pierre Gasly's victory for AlphaTauri had been a win for Formula 1.
Mercedes' race unravelled at Monza, as first Valtteri Bottas suffered a poor start, with the Finn then unable to make progress as he came home fifth. Then race leader Lewis Hamilton unwittingly entered the pit lane while it was closed, receiving a 10-second stop/go penalty that left him P7 at the flag, as Gasly won from McLaren's Carlos Sainz and Racing Point's Lance Stroll.
READ MORE: 'The stars aligned and he took the opportunity' – Gasly's fellow drivers hail his maiden victory
But Wolff – his mood perhaps brightened by the fact that Mercedes' closest competitors Red Bull failed to score at all at Monza – was able to see the bigger picture of what had been an incredible Italian Grand Prix.
"This is a loss for Mercedes and a loss for the other big teams, but this is a victory for the sport," said Wolff. "There was great entertainment today, with a call that took the leader out, which we can debate.
"[But] I think it is so refreshing to see the podium and the young guys fighting in front. I looked at the podium and it was great. They all deserved it. Their teams made the right calls, they drove very well, the battle for the victory was good and seeing them up there is very good news for the sport… You have to see it from that side and they provided great entertainment.
READ MORE: Bottas baffled by poor Italian GP start and 'phantom puncture' which saw him drop down order
"I obviously know Lance very well and he really deserved to be there," Wolff added. "It's his second podium, he's been on the front row here in Monza, so it's a track that suits him. And for the others, congratulations. AlphaTauri, previously Toro Rosso, had a win here with Seb [Vettel, in 2008], so it seems to be going well for them here too, and for Carlos, it was overdue to be there. He was on the podium already, but I think for McLaren a fantastic race, and seeing these three teams up there – well deserved."
It was only the second time in the eight races this season that Wolff has failed to see a Mercedes driver finish on the top step of the podium. But with the Austrian currently considering his future in the sport, Wolff was asked after the race whether achieving a perfect season – which Mercedes came closest to when they won 19 out of 21 races in 2016 – was a motivation that could keep him in Formula 1.
READ MORE: Mercedes boss Wolff admits he's in a 'moment of reflection' regarding his future
"Win all races? As a competitor, obviously I would like to have this record and say we'd won all races," said Wolff. "But I think Formula 1 would suffer a great deal. I think we all need races like today where the pecking order is different, where new faces appear on the podium, because they simply raced well and the team took the right decisions. I like this shaking up the order and in that respect, as I said to you before, Mercedes lost the race, but all of Formula 1 won and this is very important also."
Meanwhile, Mercedes' "loss" still saw the team net 17 points – the third highest tally of any team at Monza – to increase their lead to 123 points over Red Bull.