Mercedes still lacking 'car and power unit' to match Red Bull in qualifying, says Wolff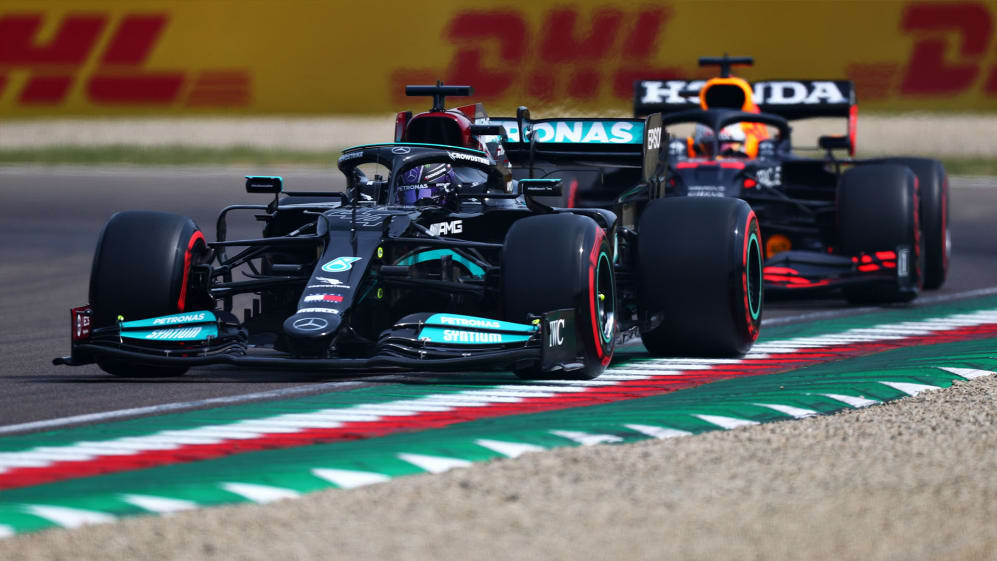 Mercedes' Lewis Hamilton may have secured the 99th pole position of his career at the 2021 Emilia Romagna Grand Prix, but according to his team boss Toto Wolff, the Silver Arrows are still lacking the car to dominate Saturdays in the way they've become used to.
Hamilton, Red Bull's Sergio Perez and Max Verstappen all finished within a tenth of each other in qualifying at Imola, Hamilton on pole from Perez by just 0.035s – with Verstappen just 0.052s further back.
READ MORE: Mercedes 'very stretched' on cost cap after Bottas's crash with Russell in Imola, says Wolff
But with a mistake from Verstappen at the exit of Tamburello that could have cost him as much as three-tenths, Wolff was in no doubt that Mercedes still only had the second quickest car on the grid in qualifying trim currently.
"We are still having a deficit with the car," said Wolff, speaking after the race at Imola. "We ended up on pole, but if Max puts in a clean lap, we're probably two-and-a-half tenths behind, maybe three. And that is simply what the pecking order is at the moment.
"We're slowly starting to understand it," added Wolff, "but according to the paper, we're still not having a car and power unit that can match the Red Bull-Honda."
Despite their qualifying deficit, Mercedes still find themselves in their usual position of leading both the drivers' and constructors' championships currently – Hamilton one point up on Verstappen, while Mercedes are seven points clear of Red Bull in the teams' fight.
And Wolff said he'd been encouraged by the race pace of Mercedes' W12 at Imola, which had allowed Hamilton to fight his way back from P9 after his infamous trip into the Tosa gravel to P2 by the race end – with Wolff suggesting that Mercedes had even had superior long run pace to Red Bull at Imola.
READ MORE: Bottas not expecting Mercedes – or any team – to dominate races in 2021
"[We're] leading the championship with the fastest lap [at Imola] and what actually gives it a silver lining, or positive connotation… is that we seem to have a really quick race car," said Wolff. "We had that in Bahrain too, and today, I would say clearly the quickest car. Now we just need to sort out qualifying performance."
Round three of what looks set to be a season-long battle between Verstappen and Hamilton, meanwhile, is coming up this weekend, when the duo face-off at the Portuguese Grand Prix at Portimao – that track where Hamilton claimed a record-breaking 92nd F1 victory in 2020, as Verstappen finished a distant third.