Mercedes unveil plans for state-of-the-art 'Silicon Valley-style' F1 campus of the future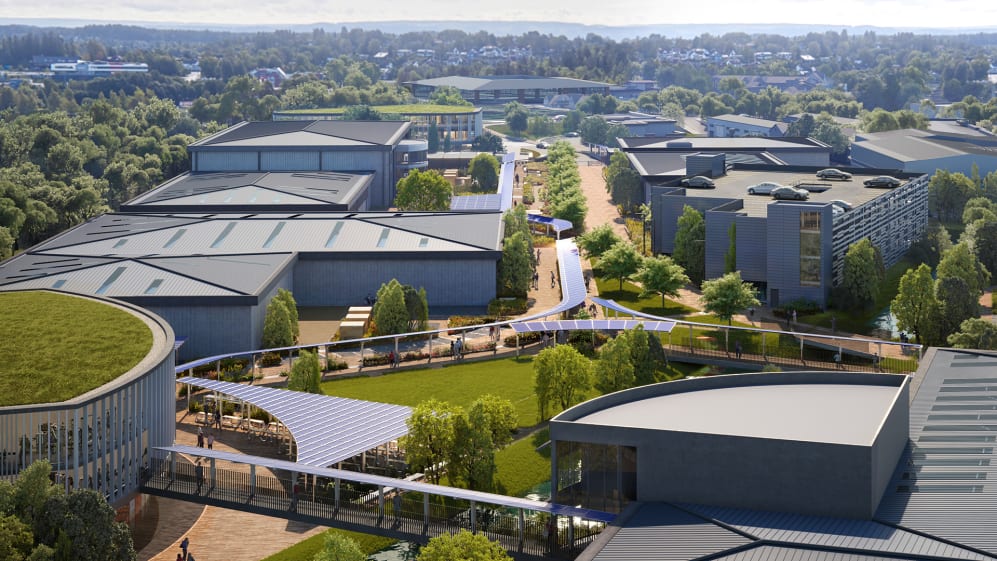 Mercedes have presented the next stage in a £70 million renovation of their Formula 1 factory in Brackley, the UK, as the team work hard on and off the track to return to winning ways.
Mercedes moved into the site in 2010, when they returned to F1 as a works team after acquiring Brawn GP, with previous guises Honda and British American Racing – stretching back to the turn of the 21st century – also based there.
WATCH: What are sustainable fuels, how are they made – and how could this affect you?
Having carried out 30 different projects to reshape the design and production facilities in their factory since 2017, Mercedes are now working towards an expanded "Silicon Valley-style" parkland campus, which is set to house modern buildings, restaurant facilities, gyms and more.
The team's Net Zero targets sit at the heart of the plans, with power to come from 100% renewable energy via onsite and offsite sources, while a new, relocated car park – which will make the campus a pedestrian zone – is set to incorporate a full solar array.
Mercedes' upgraded facilities will also be more efficient in how they are used, with the team aiming for a 50% reduction in water consumption per person per day and to achieve greater than 60% recycling of office waste.
"Our campus was originally built to accommodate 350 people," said Mercedes Team Principal and CEO Toto Wolff. "Today, we are at 1,250."
The new phase of development will see the outfit make a £30 million investment commitment, having purchased the Brackley site outright in 2022.
"The development of the campus over the last five years was done at an astonishing pace," Wolff continued. "Now, what we are planning to do is to expand with multiple new buildings and creating a modern style campus. There will be breakout areas, restaurants, and a state-of-the-art gym and marketing building."
READ MORE: 'Where did Ferrari and Mercedes go?' – Horner baffled by rivals after latest Red Bull 1-2
The campus developments will include the creation of a new Health and Wellbeing Centre, a gateway Marketing Building at the entrance to the site as well as a brand-new parking structure, part of which will be shared with Brackley Town Football Club.
This will offer matchday improvements for the community and enable a nearly 'car-free' environment within the campus. The parking structure will also feature a full solar array, to enable charging of over 70 electric vehicles through Mercedes' own renewable energy infrastructure.
Wolff added: "This is all being done for our people. Here, form follows function – not the other way round. It's all being done to create a great place to work and spend time. We want it to become its own little village, with all the amenities and benefits that you would expect from a Silicon Valley-style environment."
Alongside their Brackley headquarters, Mercedes have a dedicated engine facility – Mercedes AMG High Performance Powertrains – located some 27 miles to the north in the village of Brixworth.
For more information on the Brackley HQ development click here.