Mercedes - we were 'impetuous' and 'miscalculated' Brazil strategy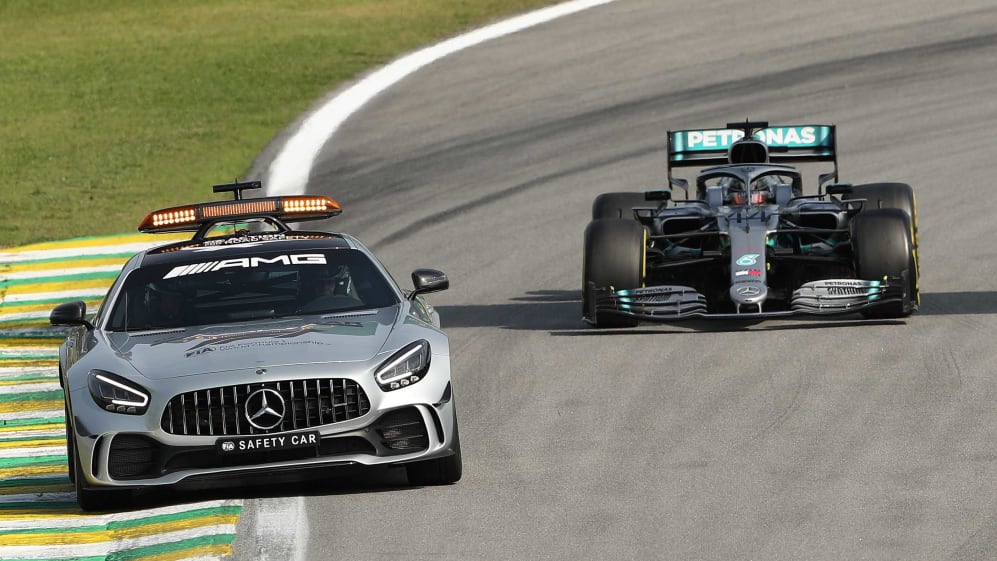 Mercedes were taken aback by their lack of race pace in Brazil, which led Technical Director James Allison to brand their strategy as "impetuous" – a rash gamble for a Lewis Hamilton victory during the last Safety Car period that didn't quite pay off…
It was an incredible double-retirement for Ferrari that brought out that Safety Car and prompted Hamilton to pit on lap 66 for soft tyres in a bid to battle for the win. Yet the caution period lasted longer than anticipated, giving the drivers just two laps of racing at the end of a wild Grand Prix.
READ MORE: The Winners and Losers of the Brazilian Grand Prix
When asked why Mercedes decided to pit Hamilton so late, Allison replied: "I wish I could give you a good answer to that because the simple one was that we were just a bit impetuous.
"We were not quick enough in the race to win in a commanding fashion, we were reaching a bit at the end, and we paid a price for doing something that was too optimistic.
DRIVER OF THE DAY: Victorious Verstappen adds fan honours to Brazil haul
"We hoped that there would be more laps available but I couldn't anticipate the amount of debris on the track [after the Ferrari crash]."
Max Verstappen was in the lead after fitting soft tyres on lap 54 under the first Safety Car that was brought out for Valtteri Bottas's retirement – due to an oil pressure issue – and it led Hamilton to pit from second for softs during the last Safety Car. He emerged fourth, which Allison admitted was a 'miscalculation'.
READ MORE: Leclerc and Vettel apologise for race-ending clash as Ferrari boss reserves judgement on blame
"First of all we miscalculated: we thought we would lose one place but… we lost two. We thought we'd have a quick pass of [Alex] Albon and then have a go at Verstappen."
But it was anything but easy to pass Red Bull's Alex Albon, who was set for his maiden F1 podium before Hamilton lunged into him at Bico de Pato (Turn 11) on the restart, the world champion earning himself a five-second penalty and losing out on P3 – much to the delight of Carlos Sainz who ended a 2,072-day podium drought for McLaren as a result.
Hamilton, who accepted blame for the collision, said: "You can never be quite 100% sure but they gave me the option [to pit].
"On the restart it would've been hard to have kept [them behind]. Albon was all over me before the Safety Car had happened and I was running out of fronts, so I either stayed out, fronts cooled again because I'm on the harder tyre and struggled with the heating and lost position or, I would've ended up in the same position, at least.
READ MORE: 'This is the best day of my life' says Gasly after stunning Brazil podium
"So I pitted, but it didn't work out."
An aggressive strategy from Mercedes didn't quite pan out in Brazil, then, but Hamilton did pledge that he'd be bolder having clinched his sixth title. Roll on Abu Dhabi.