Title win allows me to be 'more aggressive' in Brazil – Hamilton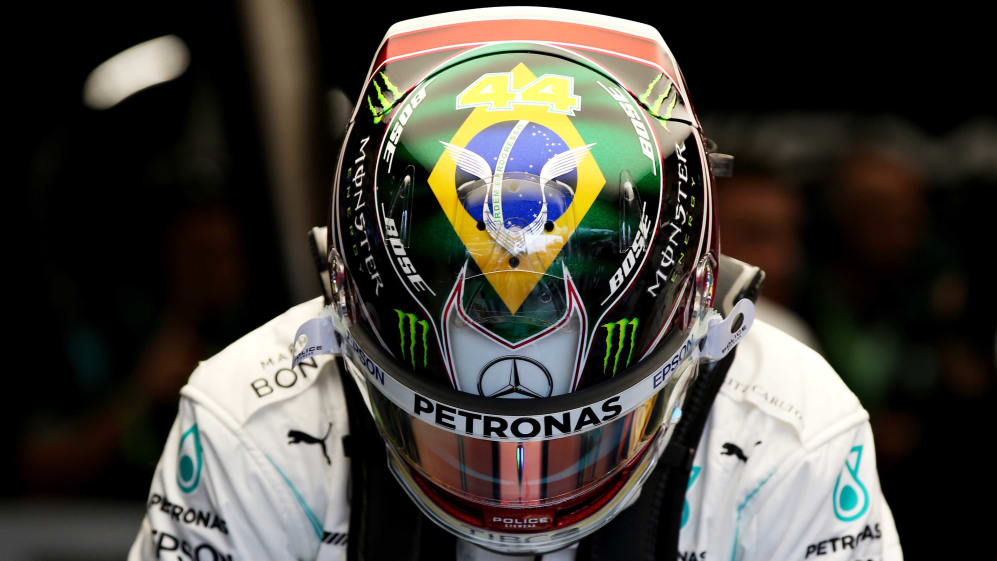 Lewis Hamilton may have wrapped up his drivers' title and Mercedes' their sixth constructors' championship, but there's work to do in the final two races – a couple of "freebies" that Hamilton said will let him be "more aggressive" and get a head start on next season...
Nobody would have expected Hamilton to take his foot off the accelerator after title #6 was clinched, but a change of approach – and some experimentation – in Brazil and Abu Dhabi could pay dividends for the Silver Arrows, who will want to hit the ground running for their 2020 title defence.
READ MORE: 'I went to brake and there was nothing there' – Albon reflects on difficult opening day in Brazil
"I still want to win the races, it's just as hard to win these races that are coming up, but it's almost a different approach for me now because you can be a little bit more aggressive and try some different strategies and different ways in how you go about the weekend and the processes," said Hamilton after day one in Sao Paulo.
I think [Toto Wolff] has such a presence in this team that even whilst he's not here, he's still here
"We've got two freebies, basically, to try some new things that can [help us] next year. Obviously next year we only have six days as opposed to eight of testing so every tiny bit of an advantage you can gain in terms of changing things and gaining and being dynamic hopefully can pay dividends next year, so that's our goal," he explained.
Hamilton finished fifth in FP2 behind team mate Valtteri Bottas, and didn't set a time in a wet FP1 session, but he was optimistic about Mercedes' chances against FP2 leaders Ferrari.
READ MORE: FP2 report and highlights
"It was actually a relatively good day, I got a lot of work done in the session where we didn't have anything else to do, I got a lot of work done.
"The second session was good, nice and smooth, obviously the Ferraris are quick this weekend – or it seems today. They're generally beating us on the straights so it'll be interesting to see how that pans out."
As Toto Wolff misses his first GP since 2013 this weekend, it'll be a different atmosphere in the Mercedes garage – but Hamilton maintained that Wolff's absence would make little difference to the team's performance.
He said: "It's just such a breath of fresh air [without Wolff]! I'm kidding.
READ MORE: New contract discussions 'daunting' says champion Hamilton
"I think he has such a presence in this team that even whilst he's not here, he's still here. Everything that's been set up is because of him and all the people that he's put in place and everybody's still here knuckling down as normal.
"I know he's done the debrief on the other end and listening to everything that we're saying, so I think everyone's behaving as well as they can."