Midfield move would put Vettel in 'foreign territory', says Ricciardo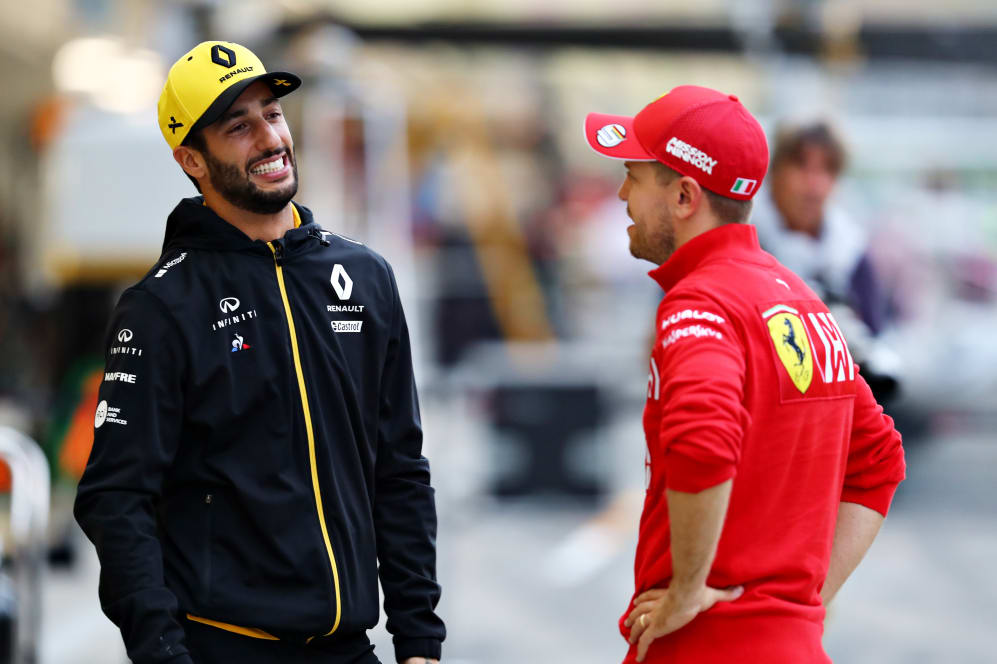 Daniel Ricciardo knows what it's like to move from a race-winning team to a midfield one, having swapped Red Bull for Renault in 2019, so he's well-placed to comment on Sebastian Vettel's possible move in the same direction.
Vettel is believed to have the option to join Racing Point next season, should he choose to stay in F1 after his Ferrari contract expires at the end of this year, and while the pink cars have shown themselves capable of punching above their weight, joining them will mean Vettel will likely not have a car capable of winning races consistently in the short term.
READ MORE: Vettel admits he's failed in Schumacher-inspired 'mission' - but has no regrets about Ferrari move
In the 12 full seasons Vettel has contested, he's had at least one rostrum every year (and scored on average 10 podiums per years). He's also won at least one race in 10 of his 12 campaigns.
Ricciardo, who spent a year as Vettel's team mate – and beat him – in 2014, says Vettel will have to adjust to a different sort of life in F1 if he decides he wants to race on.
If it is the case that he goes into a midfield team, it is foreign territory for him
"For Seb, in his situation he has had pretty much his whole career in the sport running at the front," said Ricciardo. "I would say that probably every year he has contested in F1 he has been on the podium, if not won.
"If it is the case that he goes into a midfield team, it is foreign territory for him. It requires a bit more of an open mind, and some patience, but that is up to him and where he sees the next chapter of his career.
READ MORE: Vettel confirms Racing Point talks but says future 'is still open
"If he still has the will and drive to compete at the top level, then I hundred percent think he should continue in the sport. But if it is in the midfield it is normally a longer play. You have to show commitment not just for another 12 months but two or three years.
"But that is something only he could answer. As a previous teammate, I like Seb, I certainly respect him in the sport. That is why if he wishes to continue I hope he finds a place where he is happy."
Vettel has insisted he will take his time over his future, saying all options are still open. In the meantime, his fans await his next move.