Mugello filming day gave Ferrari an edge, says Leclerc after 'positive' Friday performance
Prior to the Tuscan Grand Prix, only Ferrari had run a turbo-hybrid F1 car at Mugello, after completing a filming day at the track earlier in the year. And Charles Leclerc credited that experience with a more positive Friday for the team than they've enjoyed at recent races, as they prepare to celebrate their 1,000th Grand Prix this weekend.
Leclerc and team mate Sebastian Vettel drove a 2018-spec SF71H at Mugello for a filming day in June, affording the two drivers precious track time at the Ferrari-owned circuit, even if they were only allowed to complete 100 kilometres of running on demonstration-spec tyres.
IN PICTURES: Ferrari hit the track with retro-liveried car in Mugello
But Leclerc believed that that had been enough to help Ferrari hit the ground running on the Friday of the Tuscan Grand Prix weekend, as he ended Free Practice 1 an eyebrow-raising third, just 0.307s off Valtteri Bottas' leading time – although he slipped back to P10 in FP2, 1.411s off the pace.
"Yes, it was positive," he said of his FP1 performance. "On the other hand, when it's going positively, we need to understand why, and to be honest, it was a bit of a surprise for everyone. I have my personal opinion – we've done a filming day which probably helped us also to get in a rhythm of the track, where for all of the other drivers, it was a new track.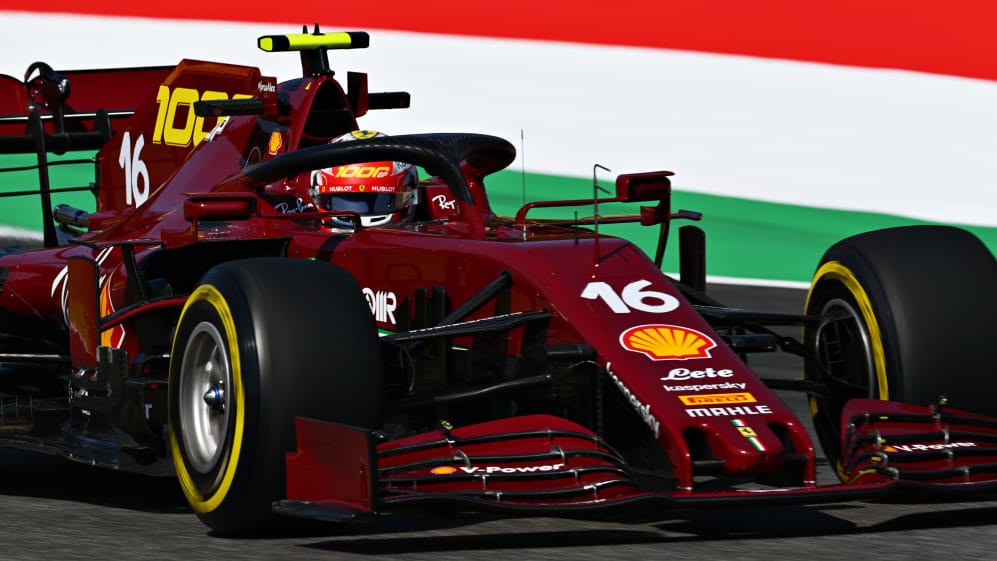 "So maybe this helped us a littler bit, but in FP2, it was more where we expected to be. But I believe it's all very close and I think that we can do a positive step forwards for tomorrow, so I have some optimism."
Both Leclerc and Vettel suffered spins at Mugello's Correntaio right-hander during FP2, with Leclerc saying that there was still some optimisation to be done on the balance of his special burgundy-liveried SF1000 ahead of qualifying.
Ferrari at 1000: The enduring appeal of F1's most iconic brand
"Today I was not very happy with the balance," he said. "That's why I feel that there are some positives from today, because we are still quite fine with the performance, but I believe there is something to gain on the balance for tomorrow.
"I struggled a bit more in the second session. We went on the hard tyre, which was very, very difficult to drive, actually [we had] quite a bit of issues on the hard tyre. But on the soft, I re-found the feeling that I had during the first session this morning, so that was good."
Leclerc was at least more encouraged than Vettel, who gave a flat "no" when asked whether he thought he could get the SF1000 working to his liking around Mugello, adding: "I think we can make it better, but it will be a fight.
READ MORE: 'It's a serious track!' – Drivers rave about Mugello after day 1 of Tuscan GP practice
"Obviously it's quite a tough circuit in terms of needing the balance that you would like from the car," added Vettel, who announced coming into the weekend that he would drive for Aston Martin in 2021. "But I'm sure we will find some small bits.
"We're working on it, and I think we still have plenty of work ahead to try and improve it, so we will see. I'm not happy yet, but it's Friday and that's what Fridays are for."